We need 'fund and forget' approach for our Higher Education: Prakash Javadekar
We need 'fund and forget' approach for our Higher Education: Prakash Javadekar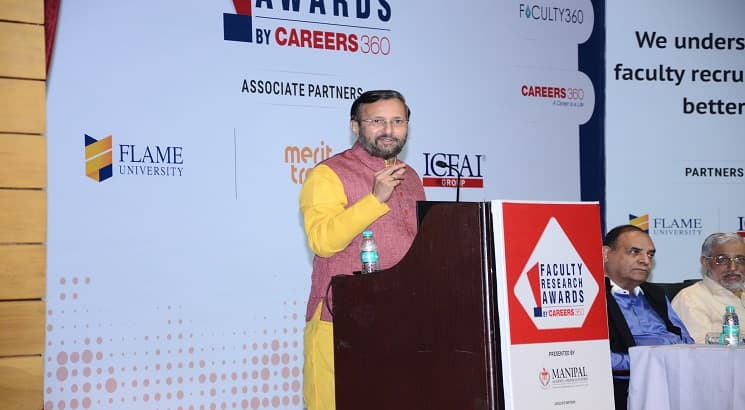 NEW DELHI, MARCH 21: Setting the tone for more autonomy for institutions in India's higher education system, Union Minister Prakash Javadekar pitched for'fund and forget' policy under which institutions can be provided with Government funds without any Government control in the academic processes.
The Union HRD Minister was speaking at the First Faculty Research Awards 2018 where top researchers across 24 academic disciplines were Awarded with cash and citation.
Highlighting the importance of autonomy to the institutions in higher education domain, the Minister said that too much of bureacratic control hampers the progress and innovation potential of instiutions. "I have told the Parliament to lets us learn to 'fund' and 'forget' because unless we learn this we will not progress. Accountability will be there when the money is given by the Government, but we are envisaging less Government control," he said, adding "The brand value of the institutions are built on the basis of research and innovation that they bring in academia and towards improving lives of people."
Lauding the transparency of the Faculty Research Awards which is based on data available in public domain, he said, "It is good that faculties have been selected based on their SCOPUS Score not by any recommendation, not on anything else. I want to congratulate Careers360 for coming up with this kind of initiative."
Javadekar said, "I am happy with the Careers360 Faculty Research Awards, as these are the faculties who have done good research work. There are many whose 100s of papers have been published in last three years. This happens only with continuously researching on various topics and you cannot be Ph.D. without adding something new to the existing knowledge."
Graded Autonomy for Universities
The minister said the Government is committed towards minimising Government control over public and private institution. "We have come up with the concept of graded autonomy, the institutions that have acquired NAAC grade of 3.26 and above and equivalent NBA accreditation are on that list. He said that five central universities, 21 state universities, 24 deemed universities, and two private universities have been accorded graded autonomy. There are 8 colleges also which have been given the graded autonomy. For detail story on Graded autonomy Read
Rules for IIMs
The HRD Minister said that the Government has made the Indian Institutes of Management (IIMs) completely autonomous. "They will be on their own, we need to believe in our higher education institutions. Many of the new IIMs are not in favour of this move, but I believe in complete freedom to generate positive energy," said Javadekar.
"Many times what happens is that when you have Government services, complacency creeps in and there is lack of accountability. We will formulate the rules by June this year and the IIMs will function as per those rules. This is the level of trust Government has on its best institutes because they have to strive, they have to compete. Their brands will only be established when they do good research,' he said.
As per the new IIM Act, Government has already committed IIMs the freedom to hire foreign faculties, admit foreign students, offer packages, more incentives for good faculties so that it doesn't bureaucratic.
Institutes of Eminence
The Minister said that Government will soon come up with the list of Institutes of Eminence – 10 each in public and private domain, which are expected to become World Class in next 10 years. "With complete academic and administrative freedom, they must acquire a place among the top 100 universities in the world and that can happen only with a vision and action plan. Within two months the list will be declared and they will start functioning. The role of UGC will only be of granting degree status and there will be complete autonomy for these institutions," he said.
Teachers Award
The Government is also working on formulating new rules for 'Teachers Award' which will be similar to the changes done in the 'Padma Awards'. "We are changing the whole rule of giving awards to teachers who work on the grass root level and still do innovations, research and showcase true spirit of teacher-ship," he said. He also said that Government will soon begin a one-month induction course for college teachers where they will be trained on innovative pedagogies and also to communication effectively," HRD Minister said.
Faculty Research Awards 2018
As many as 254 academic researchers across 24 disciplines were shortlisted towards determining the Awards constituted by Careers360. The researchers were shortlisted basis the publicly available data of their research work in different areas like Engineering, Medicine, Science, Management, Economics, and Environmental Science. Read the detail story here.
---
Follow us for the latest education news on colleges and universities, admission, courses, exams, schools, research, NEP and education policies and more..
To get in touch, write to us at news@careers360.com.