What is "cache setting" in Tamil?
What is "cache setting" in Tamil?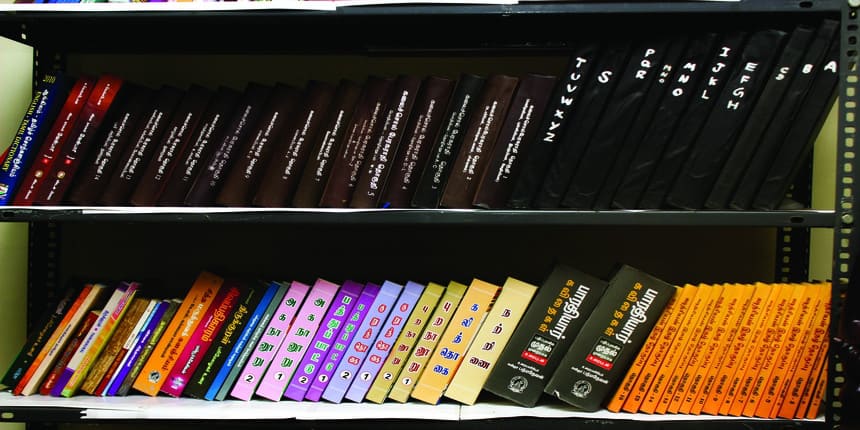 NEW DELHI: Once the final government order is issued, the official Tamil equivalent for "selfie" will be "tan padam".
On November 8, at a function in Ethiraj College, Chennai, Tamil Nadu's school education minister, K.A. Sengottaiyan, announced that the Tamil lexicon was about to expand by about 9,000 words. It will now include "pizhai arikai" (bug report or error report), "idaimaatru amaipu" (cache setting) and "tharaval thirutu", or e-piracy.
Established in the 1970s, the state government's Directorate of Tamil Etymological Dictionary Project is the official custodian of the Tamil vocabulary.
Over the decades, the Project has run different schemes and programmes that have resulted in around 3.77 lakh Tamil words being identified and "registered", said its director, Thanga Kamaraj. These will be compiled into a bilingual dictionary (English and Tamil) running into 31 volumes with 13,323 pages. Tamil Nadu is the only state to have made this effort.
Once the order is out, the 9,000 new words will be inducted into this list.
Clearing words
The Project has a team of 10 members – all of them scholars – associated with it. "The members meet twice every month in Chennai, at the directorate, and they clear a word after some discussion and argument," said Kamaraj adding, "Tamil is a very ancient language, it is one of the classical languages."
But it is not just old words that the directorate's panel identifies and clears. It is also responsible for ensuring that the language itself stays updated. For any language to stay in use, it must have words that can convey contemporary experiences. As its website says: "Just as military soldiers are necessary to protect a country, words are necessary to protect the language."
To make sure even the most millennial of experiences are not beyond articulation in Tamil, the 9,000 new words include terms like "thannoor unavu virumbi" – the Tamil equivalent of "locavore", itself a neologism describing an individual who eats only locally-grown food. Similarly, the mobile application, Dubsmash, is "oli meippadu", cardio walk is "nenjaga nalanadai", a cyber café is "inaiyakkoodam" and cyber security, "inaiya paadhukaapu".
In 2016, a separate branch within the Directorate, the Tamil Kalaikazhagam (or Tamil Academy) was created "with the purpose of introducing pure and equivalent Tamil terms for the foreign words which are commonly used both in writing and speaking by the people in their daily life and media", says a brochure on the directorate's origins and activities. Apart from the academic staff already with the directorate, 30 experts have been brought on board as honorary members.
Words "collected" by academic staff are also submitted to the panel of experts. Tamil scholars, professors and other teachers have also suggested terms. From November 2016 to March 2019, the committee sat 34 times and "approved" 7,603 words out of the 18,520 suggestions.
Getting others involved
In 2018, the state government set aside funds for another project called Sorkuvai, or "word corpus". Rs. 1 crore will be used per year to "collect all the Tamil words and put them in an ordered manner".
Suggestions from the public are also welcome. The words "given by the Tamil scholars, patrons, students, learned persons and public" are to be uploaded on the Sorkuvai website after approval by experts for "public usage", says the directorate's note. The committee for this met for the first time in February 2019.
The funds enabled significant outreach. A toll-free number was set up. By calling 14469 or 1800-599-14469, "anyone from any corner of the nation can clarify their doubts and explanations regarding Tamil Words", says the government note. Plus, the project involves meetings and "dictionary awareness seminars" at various universities and colleges.
Technical terms
The communicative power of a language is challenged most by advances in the sciences and technology. In March, 2019, five Tamil scholars and 30 of medicine met at Dr .MGR Medical University in Guindy. The doctors submitted 1,267 medical terms and also suggested ways to "remove technical difficulties when making the technical terms for medicine". It is not clear whether it was suggested by this group but the 9,000 new words now include "thuyil nadayar", Tamil for "somnambulist".
The Sorkuvai scheme will ultimately involve a "Student Word Corpus Association" that will be spread over 1,000 colleges in Tamil Nadu, says the government note. The association will make students aware of Tamil lexicography and "train them to coin new words".
Academics at Anna University's Centre for Development of Tamil in Engineering and Technology have submitted a proposal as well.
The centre was established around 20 years ago by former Vice-Chancellor, VC Kulandaiswamy, to "develop and coin" new words for engineering and technology. "The idea was to equalise Tamil and English in science and tech," said its present director, S Arulchelvan. The Centre published an English-to-Tamil dictionary of terms in computer science in 2000, a similar dictionary for engineering and technology in 2006 and an encyclopaedia on environmental science that both translates English terms into Tamil and explains in Tamil in 2007. The Centre furnished Tamil equivalents for terms like "blocked impurity band detector" and "JPEG".
"Since it was developing words for different areas of science and technology, separate committees would be formed for the different branches," said Arulchelvan. "For computer science, for example, the committee would include computer science professors who would supply the latest and most important terminology in the field and language experts who scrutinized the suggested translation and approved the new coinage."
However, it has been some years since the centre has coined any new word. "This requires a lot of funds," said Arulchelvan explaining the lull. "Professors have to be invited from different universities and books purchased."
Communicating science
While they wait for their association with Sorkuvai to be formalized, the Anna University centre has been conducting capacity-building workshops for scholars across Tamil Nadu. "Research scholars are writing only in English and that is also understood by a limited group of students," said Arulchelvan. "Their work is not reaching the public. The media is also not able to publish science articles because journalists themselves don't understand the concepts. I wanted to break this gap so we were training the researchers and professors to write on scientific subjects for the common audience."
He further added that more than 40 percent students in technical institutions are from rural backgrounds. "Even though they have studied in English-medium schools, they cannot understand the subject immediately and need more explanation in their mother-tongue."
Write to us at news@careers360.com
Stay updated with latest Education News
More From Shreya Roy Chowdhury