"By 2030 India will not just be the largest economy, but also a developed, prosperous and knowledge focused one"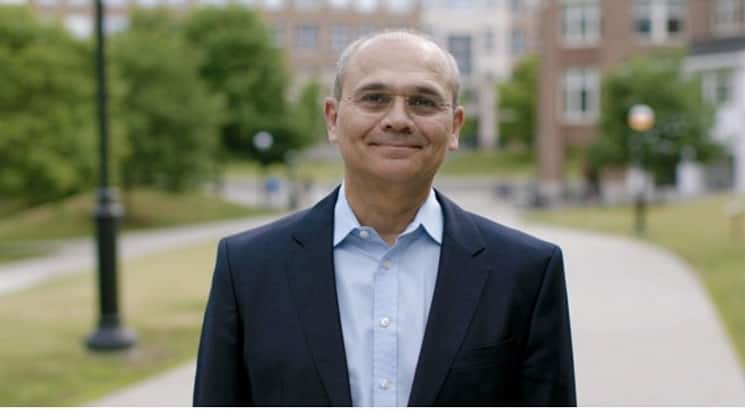 Dr. Jamshed Bharucha, Vice Chancellor, SRM University – AP, Amaravati speaks to Careers360 on challenges and measures to be adopted to tap the immense potential of India's demographic dividend, and the ways universities need to transform keeping the changing global scenario in mind...

Q. SRM University, AP is a new university, what are the challenges and opportunities of heading a new university?

A. Being part of a new University that is still growing from the ground up is an opportunity as well as a daunting challenge. What really lured me back to India and to SRM AP specifically was to be a part of the future building a quality institution that will be at par with some of the best in the world. I believe that I can and will make a difference. We are committed to changing the rules of engagement in education and focus on holistic development of students who will make a difference as future leaders and professionals.
The challenge for any new University is to attract faculty and students while ensuring that quality education can be imparted. SRM AP has been lucky in the sense that since our inception, we focused on these aspects and brought together the top academic leaders globally in our quest for quality. Once we had a strong thought process in place, we ensured that we worked towards it unceasingly. Today, our board boasts of the top academicians globally who provide us strategic direction. This also helps us in attracting faculty. With a strong team and faculty in place, attracting students is not a difficult task.

One of the main opportunity that we have is to build our systems and processes in such a way so as to be able to focus on talent, research and students. Since we don't have legacy issues, we are nimble footed and able to mould our offerings without any problems. Our focus is on developing an institution that combines academic rigour, the excitement of discovery, creativity and entrepreneurship -- and delivers cutting-edge research-based education, creating new knowledge and innovations. We have tie-ups with leading universities across the world. This will ensure that our students become successful and productive participants in the global economy and in shaping the future of the world. It is indeed a great opportunity to help build future generations' careers and indeed lives with quality-oriented education.

Q. Universities are stressing more on liberal arts these days, what are the benefits of joining a liberal arts programme?

A. Globally, STEM remains the number 1 choice of the students, but Liberal Arts is making a huge impact too.
A Liberal Arts degree empowers one with an amazing choice so far as a career or profession is concerned. Employers are also happier with candidates from a liberal arts program since most positions that have a communication angle, and these students typically have been trained in soft-skills, critical and creative thinking and problem-solving.

At SRM AP, the Liberal Arts program is multi-disciplinary, so it adds to the students' level of understanding of multiple subjects. This allows them multiple options to excel in and makes them multi-faceted.

Q. You are an Ivy leaguer, what Indian higher education institutions can learn and implement from Ivy League institutions?

A. There is explosive growth underway in India and the Government is undertaking massive reforms in higher education and research sectors. To reap the benefits from these demographics, we need to focus on education. It is especially invigorating to invest in nation building of sorts, where we equip the younger generation with key skills that will lead to personal and professional development.

The Ivy League has a strong legacy of putting students first and making available all resources to a student so that they excel in their profession/life. They also have a strong research focus and a very collaborative approach.
I firmly believe that what we can bring to our students here is ensuring that they have an education that is second to none and that we create well-rounded professionals who can excel in their chosen fields. Research is and will remain a focal area for us.
I'd just like to add here that SRM University AP is a greenfield project, agile on its feet and growing rapidly. This makes the university unique in India and on par with the most innovative global universities and we will take the best from the Ivy League Institutions, customize it to suit our unique requirements and make rapid strides.

Q. How do you plan to promote research at your university?

A. If India is to maintain its path to global economic and knowledge leadership, it must become a leader in both basic and applied research. For many students, involvement in research is the best form of education, so teaching and research often go hand in hand. To ensure that this happens, it is imperative that we foster an ecosystem for students to study things beyond their prescribed syllabus.
We are building state-of-the-art research facilities for our faculty and students. For example, our unique Next Tech Lab offers plenty of opportunities for students for innovation and experimentation.

We provide Undergraduate Research Opportunities Programme (UROP) in the second year to enable students to delve into areas of their interest. Students get semester-abroad study opportunities and gain industry exposure through practice school in the third year. We expect that students will pursue a career-linked capstone project in the final year.

Q. As per an estimate around 140 million youth will knock the doors of higher education by 2030, how prepared are Indian institutions to cater to such large group of the population?

A. If India is to reap the demographic dividend from its young population, we need to have quality educational institutions focused on career/professional development. An educated citizen is a conscientious citizen and can contribute to the growth of the India story.

While we have a large number of educational institutions, which can take this kind of mammoth intake, I believe that the focus needs to shift from quantity to quality. The Indian government, with its proposed Higher Education bill, is also talking about educational outcomes. Things on the ground are also changing – slowly but surely.

I am sure that by 2030, India will be able to meet this challenge well and we will not just be the largest economy, but also a developed, prosperous and knowledge focused one.

Q. Employability is a major challenge when it comes to Indian universities, how this can be addressed?

A. Employability is a big issue in India. Most statistics put these numbers as abysmally low and point out the biggest issue – very few premier institutions and a large number of sub-standard institutions. The government is cognizant of this fact and is bridging the gap. Some of the other reasons for low employability of graduating students are poor course content, poor faculty and pedagogy, poor infrastructure, low industry interface and probably lack of vision.

The government needs to ensure that norms are put in place so that no student suffers the ignominy of being unemployable despite spending time, resources on getting an education. Since the problem areas are easily identified, the solutions must also come from there. The government needs to ensure that stringent norms ensure that all universities, government or private are made to follow a set criterion for quality education. In addition, the government needs to allocate funds to ensure the curriculum is always updated and in line with industry needs.

We at SRM AP have an inter-disciplinary curriculum; active forms of learning — based on the science of learning — that engage students in their learning instead of just feeding them information to regurgitate; and world-class research. Our Active Learning Classrooms and break-out rooms are designed to maximize interaction by students with their professors and among themselves, and we are innovating with technology-enabled and hybrid forms of learning in partnership with top professors abroad. And this needs to be the model for quality education.

Q. The number of private universities is growing rapidly, how do you look at this trend?

A. The growth of private universities is an indication of how education is becoming mainstream in India. But like I said earlier, ensuring that the quality is sacrosanct is the job of the regulators and this is what will make this country progress rapidly.
---
Follow us for the latest education news on colleges and universities, admission, courses, exams, schools, research, NEP and education policies and more..
To get in touch, write to us at news@careers360.com.