5 Indian institutions among top 500 globally, IISc retains top position: THE World University Rankings 2019
5 Indian institutions among top 500 globally, IISc retains top position: THE World University Rankings 2019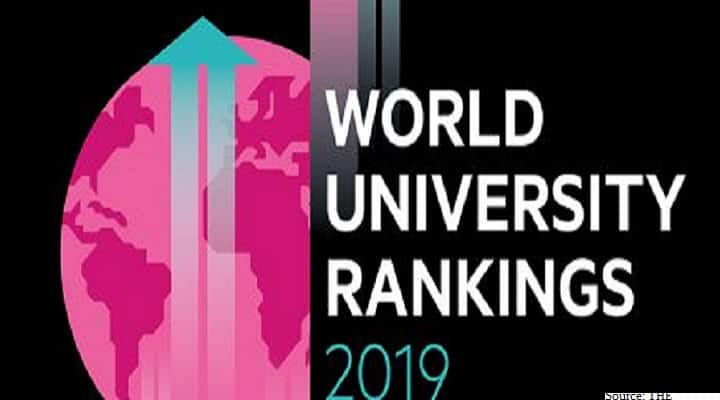 NEW DELHI, SEPTEMBER 26: As many as five universities from India have been ranked among the top 500 universities in the World in the Times Higher Education (THE) World University Rankings 2019. The Indian Institute of Science (IISc) Bengaluru is once again the best institution from India, which has been ranked between top 251-300.
The three public funded institutions recently granted Institutions of Eminence (IoE) status by the University Grants Commission (UGC), the IISc, Indian Institute of Technology (IIT) Mumbai and IIT Delhi with an aim to improve their international rankings have given the mixed response this year. The IIT Delhi has improved upon its previous year's score but has been ranked between 501-600. While IIT Bombay has slipped from its previous year's rank of 351–400 to 401-500 this year.

There are some surprises as well in the 2019 Rankings as the IIT Indore has been ranked in the range of 351-400 with an overall score of 41.7, the institute did not figure in last year's Ranking. The IIT Roorkee has also improved its Rank and has jumped 100 positions from its previous years Rank to 401-500.

Among the private institutions, JSS Academy of Higher Education and Research is the best performer, its rank is between 401-500; Amita University has also improved its previous years rank and has jumped 200 ranks, its rank is between 601–800.

The UGC has also accorded IoE status to three private institutions, Birla Institute of Technology and Science (BITS), Pilani; Manipal Academy of Higher Education (MAHE), are the two institutions that are in existence. BITS Pilani and MAHE both have retained their previous year's Rank with a slight improvement in their score.

The THE has ranked more than 1,250 universities this year which include 49 from India, the other institutions include IIT Kanpur, IIT Kharagpur, Savitribai Phule Pune University ranked between 501-600. The Banaras Hindu University; University of Delhi; Indian Institute of Science Education and Research, Pune; IIT Guwahati; IIT Madras; IIT Bhubaneswar; IIT Hyderabad; Jadavpur University; National Institute of Technology, Rourkela; Panjab University and Tezpur University ranked between 601-800.
| | | | |
| --- | --- | --- | --- |
| Serial No. | Name of Institution | 2019 Rank | Overall Score |
| 1 | Indian Institute of Science, Bengaluru | 251–300 | 46.4-49.4 |
| 2 | Indian Institute of Technology, Indore | 351–400 | 41.7–43.9 |
| 3 | Indian Institute of Technology, Bombay | 401–500 | 37.1–41.6 |
| 4 | Indian Institute of Technology, Roorkee | 401–500 | 37.1–41.6 |
| 5 | JSS Academy of Higher Education and Research, Mysore | 401–500 | 37.1–41.6 |
Best in world
Among the top universities in the world USA and UK dominate the top 10 places. While seven US universities take their rightful place in the top 10, University of Oxford and Cambridge top the list. Oxford retains its top position for the third consecutive year. University of Cambridge and Stanford University hold on to their second and third ranks.
USA maintains its previous years number with 41 universities in the top 100. This year only 11 British universities grace the top 100 as opposed to the 2018 rankings where 12 UK universities featured in the top 100.
The top 25 list remains more or less the same with two major exceptions; Tsinghua University improves 8 ranks to feature at number 22 and London School of Economics and Political Science which had previously featured at 25th position, is now ranked at 26th.
ETH Zurich, University of Toronto, Tsinghua University and National University of Singapore are the only non American and British universities which feature in the top 25 list.
| | | |
| --- | --- | --- |
| Top University | 2019 Rank | 2018 Rank |
| University of Oxford | 1 | 1 |
| University of Cambridge | 2 | 2 |
| Stanford University | 3 | 3 |
| Massachusetts Institute of Technology | 4 | 5 |
| California Institute of Technology | 5 | 3 |
| Harvard University | 6 | 6 |
| Princeton University | 7 | 7 |
| Yale University | 8 | 12 |
| Imperial College London | 9 | 8 |
| University of Chicago | 10 | 9 |
Stay updated with latest Education News