This Arunachal officer is crowdfunding scholarships for DU students
A young officer in Changlang district of Arunachal Pradesh is crowdfunding scholarships to support students' higher education.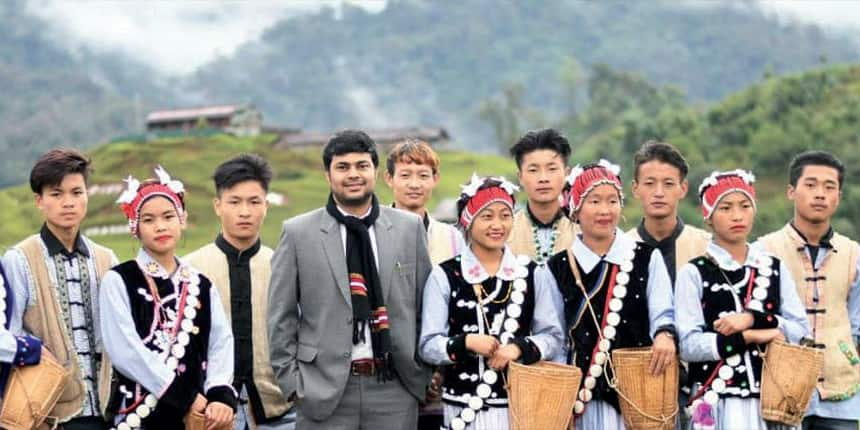 NEW DELHI: Devansh Yadav, 30, and from Mathura, Uttar Pradesh, is into his second year as deputy commissioner of Changlang district in Arunachal Pradesh.
Recommended:  Use DU College Predictor to Know Your Admission Chances in DU Colleges Based on Your 12th Percentage  CLICK HERE
In October 2020, a few months into his tenure, Yadav organised a crowdfunding campaign and managed to collect Rs. 4.5 lakh to fund the studies of five students in the University of Delhi. The district administration, led by Yadav, also lobbied with two Members of Legislative Assembly (MLAs) to sponsor a scholarship to fund higher education for students. In Changlang district, higher education is a huge problem.
The district, which is tucked in between Assam and the porous borders of Myanmar, and has a tenth of the state's population, has only two higher education institutes, one college and one Industrial Training Institute (ITI).
"Changlang has ten percent of Arunachal Pradesh's population but the number of students entering Arunachal Pradesh Civil Services as well as other coveted jobs is very limited. This is because their education level in terms of higher education is not very good," said Yadav
According to the 2011 Census, the literacy rate of Changlang, which is at 59.8 percent, is lower than the state average.
Counselling students
A tribal-dominated district, Changlang is largely cut off from the rest of Arunachal Pradesh due to poor road connectivity through its rough, hilly terrains. "Changlang traditionally has had poor connectivity with the mainland and the terrain of the area is also rough. So, it has been one of the poverty-stricken areas in Arunachal Pradesh," explained Yadav.
"Generally after completing their schooling till Class 10, students either drop out or go to one of the universities in the developed parts of Arunachal Pradesh. Most complete their undergraduate studies and try to apply for government jobs. Also, most students pursue arts stream because options for science stream are
very limited."
The district administration initiated a programme to provide counselling sessions in an effort to help students with the admission procedures in various universities within and without the state. The administration selected some bright students based on their Class 12 marks and, with the help of volunteers, provided them counselling sessions on how to apply to universities such as the University of Delhi.
Crowdfunding studies
The decision to crowdfund their studies was borne out of necessity.
"Many of them were from families that rely on agricultural labour and even after selection they were asking us how they would go to Delhi. That is when we decided we needed public support and started a crowdfunding initiative," Yadav said.
The nearest university from Changlang is over 150 kilometers away. Coming from modest backgrounds, students often found it difficult to bear the expense of attending college. Changlang students have no option but to be residential students even in colleges within Arunachal Pradesh.
With Yadav's leadership, the administration was able to raise Rs. 4.5 lakh within a month.
Scholarship scheme
Following the success of the initiative, the district administration started a scholarship scheme to look after the expenses of students who secure admission in Delhi University as well as other universities.
"The scholarship is on a need-basis. For the academic year 2020-21, one round of scholarships has been given. By the end of the year, we'll take another round so at least two batches of students who are in immediate need will be provided with financial assistance," Yadav said.
Currently, the administration is funding five students and providing accommodation for three more outside the state. The three district toppers in the Class 12 board exams in 2020 are all pursuing BA in political science in different colleges of Delhi University.
"For next year, we will need a more permanent solution. I just hope that the MLAs continue to support the scheme for the coming few years." he added.
Many problems
But problems are aplenty for the education sector in Changlang.
A baseline survey of Changlang district, conducted by the ministry of minority affairs in 2008 found that the majority of the population enrolled in the educational institutions of the area drop out at the intermediate [Classes 11 and 12] level of education or even earlier. The primary reason for leaving school was found to be the need to earn for the family and the inability to afford further education. More recent figures for the district specifically were not available but, according to a response filed by the ministry of education in Parliament in March 2021, Arunachal Pradesh as a whole had the highest dropout rate at the secondary level (Class 9 and beyond) – 36 percent –in 2018-19. Its dropout rate at the primary level (till Class 5) was 13.8 percent, the second highest in the country and behind just Meghalaya with 16.9%. This was despite elementary education being a Fundamental Right and supported by a central law, the Right to Education Act 2009.
Officials said that the constant migration among tribes along the borders has further complicated efforts to take stock of the issue for the district. Changlang is also one of the three districts in Arunachal Pradesh which has the Armed Forces (Special Powers) Act in place which grants special powers to the armed forces in "disturbed areas".
"The main problem is that when new people come, although they are not coming in large numbers, whenever there is any such movement, it usually happens within families. People of the same tribes are residing on both sides of the border. This becomes hard to track," said Yadav.
The constant movement is also a strain of the district's resources, he added. "Providing new schools, new primary health centres and similar new infrastructure comes with low quality because you are diluting existing resources and manpower."
In order to pool resources, the administration has decided to merge schools in Changlang and convert them into residential schools. The state government has provisions to provide stipends for students who have to travel long distances, they said
Yadav hopes that the administration will be able to sustain the scholarship programme in the future. "Such initiatives were taken by previous administrations also. At the local level, deputy commissioners like myself can do this with a little bit of effort. As for what will happen in the coming years, that depends on who the next deputy commissioner will be but during my tenure the scholarship will continue," he said.
Write to us at news@careers360.com.
Know More About
NIRF Rank
11
Rating
3.9/5
Download Brochure