'We are reeling': One Delhi zone lost 3 teachers to COVID-19 in a week
'We are reeling': One Delhi zone lost 3 teachers to COVID-19 in a week
Coronavirus: The Najafgarh zone lost four municipal, two government school teachers in April. At least one passed away untreated for lack of oxygen.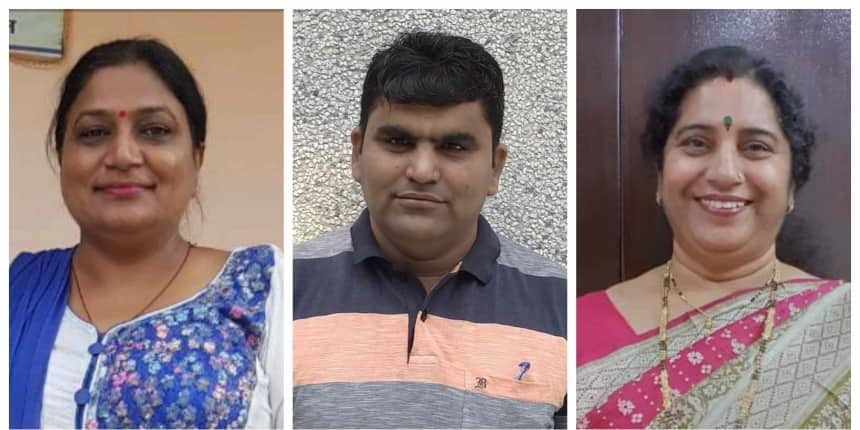 COVID-19 has claimed the lives of hundreds of school, college and university teachers across the country. In a new series, Careers360 tells the stories of some of them and the communities they left behind.
NEW DELHI: The people of Kanganheri and his colleagues agree, you could count on Krishan Kumar to get things done.
Officially, he was a teacher at the municipal primary school in Kanganheri village in South-West district, Delhi. But that was just one of the many roles he fulfilled. Kumar was also the school's computer operator; he was responsible for conducting local surveys to keep track of out-of-school children and get them enrolled; during the 2020 lockdown due to COVID-19, he was deputed to Kapashera sub-division to help with the distribution of food among workers and families facing financial hardship. He was also ward number 40's man for disbursing salaries and scholarships and paying bills and so efficient at the job, colleagues jokingly called him "DDO of the ward", the drawing and disbursing officer.
Kumar had COVID-19 and in the third week of April, his oxygen level dropped to 50. "He was rushed to nine-10 hospitals but could not find a bed," said Naresh Bhardwaj from the Najafgarh branch of the All Delhi Primary Teachers' Association. Kumar passed away untreated; he was 43.
From April 22 to 25, three teachers from the Narafgarh zone of South Delhi Municipal Corporation (SDMC) passed away in the deadly second wave of COVID-19. From April 22 to 24, Delhi alone recorded over 71,000 fresh cases of COVID-19 and over 1,000 deaths. The sharp increase left the city short of everything – hospital beds, oxygen, medicines. Kumar went untreated; Renu Singhal, 55 and last posted in the second shift of SDMC Primary School Najafgarh No 1, was hospitalised but could not survive; Binju Bala, 49, from the SDMC Primary School, Matiala-I died as well.
"We are reeling," said Bhardwaj. "It's a huge loss. The teaching community has lost dedicated, hard-working people who were always eager to help others at all times. They were very popular among staff, parents and students." And the list of teachers lost is only growing. "Today, our friend and vice-principal of GSSS (Government Senior Secondary School) Malikpur, Dinesh Kumar Sharma, left us forever," Bhardwaj said. "Two days ago, TGT [trained graduate teacher] mathematics, Santosh Kumar Dixit, GSSS Najafgarh No. 4 (Dharampura) left." By Friday evening, a sixth teacher of the zone had died in the pandemic – Nidhi Gangele from a municipal primary school in Palam Enclave.
'God made a mistake'
Singhal died in hospital, just days after her husband passed way. Singhal had joined Najafgarh No. 1 in 1991 and never left, not even when she had the opportunity to take up the post of principal elsewhere.
"She was so attached to the school, she turned down the promotion. She didn't want to go anywhere else," said Yashpal Yadav who worked with her at the schools from the time of his appointment in 1994 till 2017 when he was promoted and took charge of SDMC Primary School, Gopal Nagar. In all those years, he never heard her raise her voice at colleagues, parents or children, Yadav said.
Municipal schools increasingly serve the poorest communities in Delhi. Singhal's students have fathers who drive rickshaws, selling items on carts or are daily-wage workers. "There was a time when government didn't give clothes to children. She would buy them sweaters. If any child came to school in slippers, she would hand some money to the parents and ask them to send the child in shoes and socks," recalled Yadav. "She was extremely humble, generous and cooperative. God made a big mistake."
The Singhal couple have left behind a married son and a daughter who was set to marry in May 2021. Binju Bala is survived by a son and a daughter; Kumar, by his elderly mother, wife, daughter (13) and son (10); Gangele, by her husband and teenaged daughter.
'Best teacher in the zone'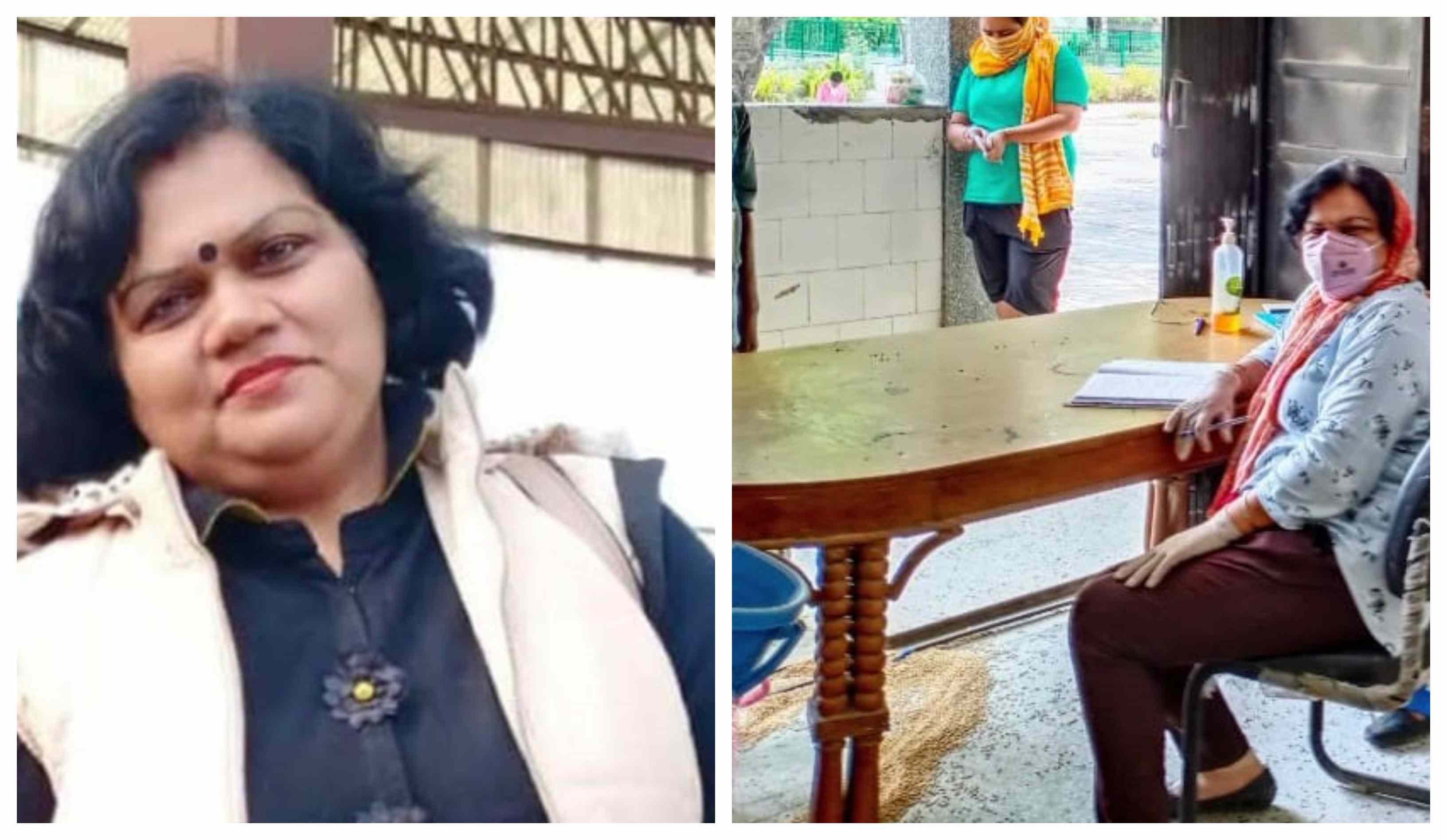 Nidhi Gangele. Last year, she was on COVID-duty at her school (R)
Gangele, whose husband also teaches in a municipal, was well-known in the zone for being "creative" and guiding her students into building exceptionally clever science projects. "She was always active in the annual zonal science fairs and had won an award for being the best teacher in the zone and also held a Nigam Teachers Award," said Bhardwaj. Binju Bala taught nursery classes and "knew how to nurture nursery and kindergarten children", he said.
Kumar taught at Kanganheri for over a decade, said the school principal Shish Ram, and was good at everything he did. "He taught well; he would organize both games and classes well; the ward's salaries would be disbursed on time because he was in charge," said Shish Ram.
Jagdish Yadav, school management committee (SMC) chairman and Kanganheri's pradhan – the head of the village administration – spoke of Kumar in similarly glowing terms. "I feel awful that I couldn't even go to see him since I'm unwell myself," said Yadav. "He was one of the good teachers in this village – soft-spoken, hardworking, sincere, a very nice person."
Like Kumar, most of these teachers had served in Delhi's fight against the COVID-19 pandemic over the past one year, said Bharadwaj. Teachers have been deployed to distribute food, run quarantine centres, even monitor deaths. Last year, after around 400 teachers tested positive, the Government School Teachers' Association (GSTA) sought better protections for teachers on COVID-duty. In the second-wave, teachers' unions from Uttar Pradesh have reported hundreds of deaths among primary school teachers within a span of a few weeks and the panchayat elections are being blamed.
Read more:
Write to us at news@careers360.com.
More From Shreya Roy Chowdhury