Big role for online education in raising GER to 50%: NAAC chairman
Big role for online education in raising GER to 50%: NAAC chairman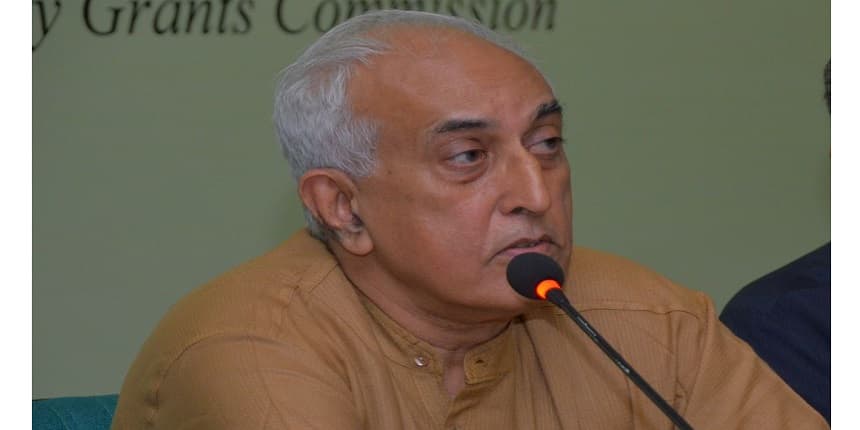 NEW DELHI: On July 29, the Union Cabinet cleared the draft National Education Policy that has been in the works for five years.
Proposed in it are sweeping changes for the higher education sector, including a proposal to double the gross enrollment ratio, which typically rises at a glacial pace each year, to 50% by 2035. It prescribes other, sweeping and costly reforms as well, including the establishment of multidisciplinary universities and abolishing the system of affiliation for colleges.
Virander Singh Chauhan, executive chairman of the National Assessment and Accreditation Council (NAAC), who has played key role in reviewing and drafting of the NEP spoke to Careers360 about the possibilities and challenges of implementing the reforms envisioned in the NEP 2020.
Q. The NEP talks of doubling the GER in 10 years where we struggle to increase it by more than one percentage point in a year. What will be the strategy, private or online education?
A. It cannot happen overnight. We have around 3.6 crore children in the higher education system and we aim to increase it to 7 crore. It will be done through a multi-pronged approach, in which digital or online education will play an important role, new universities will also be opened up and details will be worked out soon. Digital technology will play an important role, like the government recently allowed top 100 universities to start online programmes, so it will play an important role but quality aspect will also have to be while allowing online degree.
Q.The restructuring of higher education will require a huge amount of funding, how will that be done?
A: The first thing we will have to understand is that this is a vision document, as there was a demand from very stakeholders to reform the education sector.
There is also a need which was being felt to increase focus on public-funded institutions like schools, colleges or universities. The best thing about this policy is it has taken into consideration the past policies, opinion of stakeholders, and I was myself part of the committee which was looking into the suggestions and complaints which were coming about it, and accordingly, changes were done.
It is true that these changes would require a good amount of money and as per the NEP, the government is ready to commit 5-6% of GDP to education. This has also been suggested by various past committees constituted for education reform, like the Sam Pitroda committee.
Q. How will the National Research Foundation fund institutions?
A: We all know that some of the colleges which are among the top 100 in the country have very good quality faculty but they lack infrastructure and other things. So, the NRF will entirely focus on education institutions, and details about it are still to be worked out, but this will encourage teachers, scientists from these institutions and help them in doing good quality research.
This is also important, as right now the institutions which are well funded are mostly central universities or IITs, IISERs, etc, but the majority of the education takes place in state universities and its affiliated colleges.
Q. The states will also have to commit more funds.
A. I think if the states have to take benefit out of the new policy, they should invest in education. We have seen an example of RUSA, Rashtriya Uchchattar Shiksha Abhiyan, which is a partial success story. Centre will also give money, and there will also be the provision of accountability, like for what purpose money is needed, and how much is required for which project. So, the NEP is a foundation which has been prepared right now and the government is willing to fund education.
Q. How will the three categories of institutions work?
A. There is not going to be some hard separation which will come like a diktat from the top, that a particular university is research-driven, another is not.
I don't think there will be any university which will say I will only teach, other will say I will only do research, however, if a university comes forward and say that we are more focussed on teaching and please support us in strengthening the teaching infrastructure or getting good teachers, they will be helped like that.
I am of the view that research cannot be forced, we can encourage it if we try to force it will only result in plagiarism and such activities.
The government will for sure provide the funding, otherwise, where it will come from but institutions will have to come forward, states will have to come forward. Even private universities and the researchers working there will get funding for research, at par with any government institution, on a competitive basis, though there will be no funding for infrastructure at private universities.
Q. Will NEP be tabled in the Parliament?
A. Yes, this will be taken to the Parliament in the next session. It got delayed but the final draft of the policy that is in front of us is one of the best versions.
Q. There is a greater emphasis on technology in NEP, while during the past four months we have seen schools, colleges and students struggle. How do you see this?
A. Yes, we have ourselves experienced different types of challenges during meetings and conferences. It is not going to improve tomorrow, it will be a slow process, but we should not turn away from it. We have to understand that the NEP is the foundation on which we have to build the new education system for the future and to think everything will change from tomorrow will not be possible.
Q. A section of academia is not very happy with the proposal to replace the statutory bodies in universities with Board of Governors. What was the objective behind doing that?
A. Any university in the country enjoys autonomy, there is no problem in that, but the problem comes when a Vice Chancellor retires, the posts remain vacant for months and an acting VC is appointed. This was working well when the country had 25-30, or 50 universities, but now when we have around 1,000 universities, this is not good for the system.
So, there should be a body which should be responsible to see that not even for a day the post of VC or Registrar remains vacant. It should set the process of appointment in motion much before the present VC is about to complete his term. See the example of Delhi University, where appointments of teachers have not happened for years, thousands of posts are lying vacant, thousands are working on an ad-hoc basis. If a teacher working as an ad-hoc is good, hire him. If he is not good, replace him. But for how long will he continue to work as ad-hoc? So, the governing bodies which will be formed will look into all these issues.
Q. The policy also talks of the creation of the National Accreditation Council (NAC), how will this function?
A. At present as the Chairman of NAAC, I can say that the accreditation by NAAC is mandatory for all the higher education institution. When NAAC was created the idea was to accredit every institution the country if assessing them is not possible, later grading was made part of accreditation.
So, despite being made mandatory many of the institutions did not come for accreditation, thus it was felt to decentralise the accreditation system. NAAC has got vision but the workload is way too much. So, it has been decided that NAAC will be an overarching body with other agencies also doing the accreditation work. I am personally of the view that if we have run a large system, you need to decentralise it, you cannot run it otherwise.
Also read:
Write to us at news@careers360.com.