NEP 2020: What does it say about schools and universities?
NEP 2020: What does it say about schools and universities?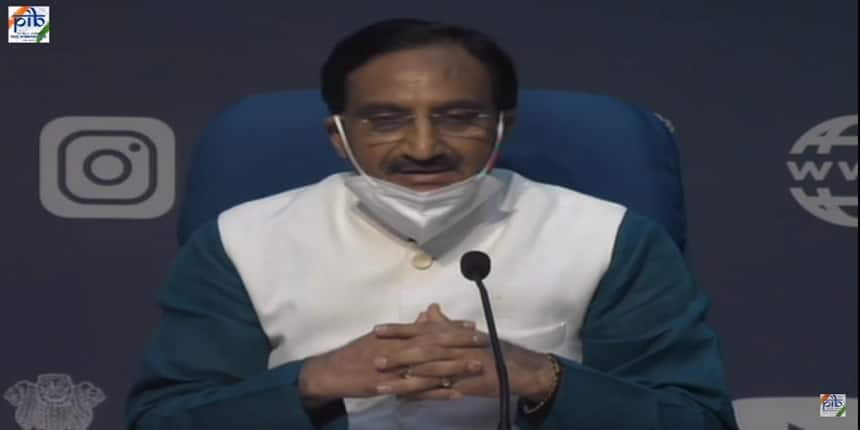 NEW DELHI: After almost five years after the first committee to draft a new National Education Policy, NEP, was constituted, on Wednesday, the Union Cabinet approved the NEP 2020.
The education policy 2020 aims to restructure both school and higher education in India. The NEP envisions a 'Light and Tight' single regulatory higher education system and a school education system that focuses more on experiential learning than rote learning.
Earlier today, the government also renamed the Union Ministry of Human Resource Development (MHRD) Ministry of Education, as proposed in the NEP, to bring focus back on education and learning. The K. Kasturirangan Committee submitted its draft of the NEP in May, 2019.
For higher education, it proposes an undergraduate programme that will last three or four years and offer multiple exits with certificate, diploma or degree qualifications. It proposes to have a single regulator that will prescribe uniform norms for every type of institution irrespective of the nature of its management and ensure compliance through a system of voluntary disclosures. There is also a proposal to fix the fees.
For school education, the emphasis is on early childhood education. The policy proposes univeralisating secondary school education and early childhood care education (for ages three to six) by 2030. The NEP also announces for formulation of a new and comprehensive National Curricular Framework for School Education, NCFSE 2020-21, which will be revisited and updated once every 5-10 years.
The policy emphasises on the use of technology at both school and higher education levels.
Union minister for HRD, Ramesh Pokhriyal 'Nishank' said: "Our New Education Policy will turn India into a knowledge society. The policy proposes to increase public spending on education to 6% of the country's Gross Domestic Product, or GDP -- a promise made since the 1960's but never kept."
NEP 2020: Higher education
Under the NEP, all education institutions will be held to similar standards of audit and disclosure. And the system will be governed by a single regulator, the Higher Education Commission of India.
It states that all fees set by private HEIs will be transparently and fully disclosed, and there shall be no arbitrary increases. Amit Khare, secretary, higher education, also added that there will be "fee fixation" across institutions as well.
Higher education institutions will be reorganised into three types of institutions -- research, teaching and autonomous degree granting ones. New multidisciplinary institutions will be established.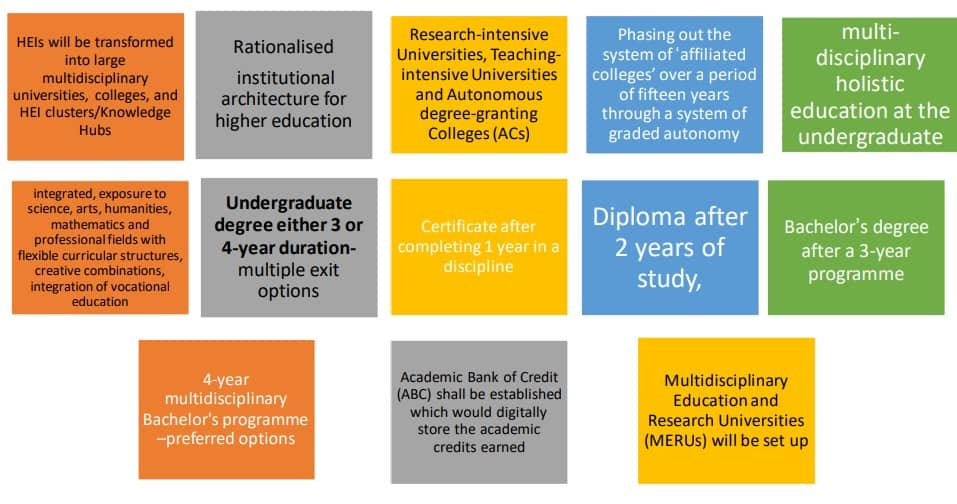 In fact, the NEP's main vision for higher education is one of multidisciplinary and flexible learning and it is to be achieved by 2040. Khare suggested it will be possible to study physics with fashion design because of a system of studying a combination of "major" and "minor" subjects. Rejoining courses will be eased by the recording and transfer of "credits" will be eased by the Digilocker and "academic credit bank".
The policy includes the establishment of a National Research Foundation.
As per the new Policy, the undergraduate degree will be of either three or four-year duration, with multiple exit options. It states that students will be awarded a certificate after completing 1 year in a discipline or field including vocational and professional areas, or a diploma after 2 years of study, or a Bachelor's degree after a 3-year programme. The four-year multidisciplinary bachelor's programme, however, shall be the preferred option.
Internationalisation of Education
The draft NEP states that high performing Indian universities will be encouraged to set up campuses in other countries. Similarly the top 100 universities in the world will be facilitated to operate in India by opening their campuses.
Government will also create a legislative framework under which foreign universities will be given special dispensation regarding regulatory, governance, and content norms on par with other autonomous institutions of India.
NEP 2020: School Education
The biggest challenges the NEP 2020 sets for school education are universalising early childhood care and education for ages three to six and universalising secondary schooling or education in Classes 9 to 12. The NEP 2020, aims to achieve 100% Gross Enrolment Ratio (GER) from pre-school to secondary levels by 2030.
The curriculum will be restructured into a 5+3+3+4 model covering ages three to 18. However, school education secretary, Anita Karwal, added that a reduction in course content is also in the offing. A National Curricular and Pedagogical Framework for Early Childhood Care and Education (NCPFECCE) for children up to the age of eight, will be developed.
Curriculum frameworks will be drawn up for both these groups. The policy suggests the creation of a National Assessment Centre -- Performance Assessment, Review, and Analysis of Knowledge for Holistic Development, or PARAKH -- "setting norms, standards, and guidelines for student assessment and evaluation for all recognized school boards". This will be the first instance of central influence on the business of state education boards.
National missions for foundational literacy and numeracy will be established to achieve both by 2025.
For improving professional standards of teachers a common guiding set of National Professional Standards for Teachers (NPST) will be developed by 2022. Teacher education will gradually be moved into multidisciplinary colleges and universities by 2030, with minimum degree qualification for teaching being the four-year integrated BEd programme..
NEP 2020: Schools Quality
All the states and union territories will set up an independent, state-wide, State School Standards Authority (SSSA) which will establish a minimal set of standards. "This information shall be self-disclosed and will be made available on a public website maintained by the SSSA," says the policy.
This will be instituted for all stages of education including pre-school education - private, public, and philanthropic - to ensure compliance with essential quality standards.
Public and private schools will be assessed and accredited on the same criteria, benchmarks, and processes.
NEP 2020: Education technology
The New Education Policy 2020 suggests creating an autonomous body, the National Educational Technology Forum (NETF), to provide a platform for the free exchange of ideas on the use of technology to enhance learning, assessment and planning for school and higher education.
However, education technology will be employed both in school and higher education and for both teaching-learning and education administration.
Also read:
Write to us at news@careers360.com.