NEP 2020: Undergraduate education reform, multidisciplinary approach
NEP 2020: Undergraduate education reform, multidisciplinary approach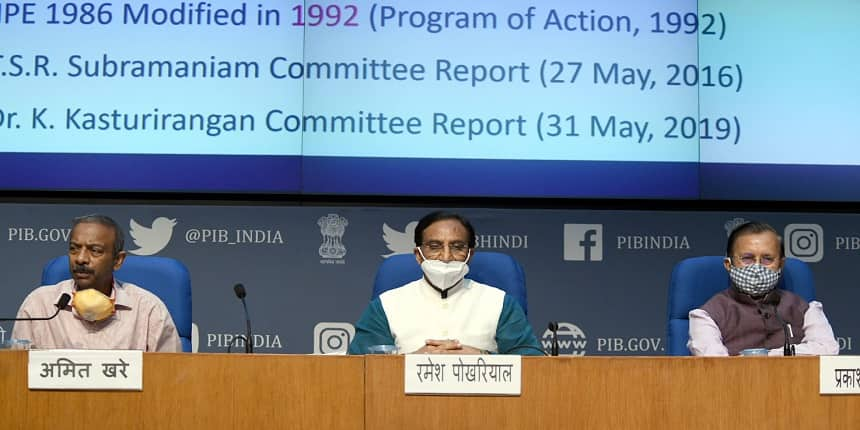 NEW DELHI: The New Education Policy approved today by the Union Cabinet makes way for restructuring the higher education system in the country. The NEP 2020 envisions one large multidisciplinary Higher Education Institution (HEI) in or near every district, by 2030.
The NEP also aims to double the Gross Enrolment Ratio (GER) in higher education by 2025, from the current 26.3% to 50%. Establishment of a National Research Foundation to further the research activities in HEIs has been suggested in the NEP. It also talks about creating a 'light but tight' regulation system by a single regulator for higher education and process of monitoring that relies on voluntary disclosures rather than inspections, said higher education secretary, Amit Khare.
The NEP suggests several reform measures as according to the policy, the existing system of education is fragmented with less emphasis on the development of cognitive skills and learning outcomes and rigid separation of disciplines. In the NEP's scheme of things, the system of affiliated colleges will be replaced by institutions that can be divided into three broad categories - research, teaching and autonomous degree granting institutions.
It states that the large affiliating universities resulting in low standards of undergraduate education, therefore the New Education Policy suggests moving towards multidisciplinary universities and colleges, with more HEIs across India moving towards faculty and institutional autonomy.
NEP 2020: Mixed responses
The policy has received mixed responses from various quarters, with a section of the academia arguing that the NEP 2020 paves the way for privatisation of education. "AAD has been keeping an eye on budget allocation on Higher Education during the present dispensation and found that there has been continuous decline and massive fund cut. The minuscule allocation to education in the recent budgets, which is presently less than 1%, leaves little confidence in the claim of 6% allocation," said a statement from Academics for Action and Development, a group of academics from various institutions of Delhi University.
They further argue that NEP's allowing "internationalisation of education" will only facilitate the entry of the foreign universities to tap the Indian educational market for their own benefits. AAD's statement said: "This is a 'return of Macaulay' - building an education system in the interest of foreigners and wealthy ones. The first step towards dismantling the public-funded Higher Education in India is doing away with the UGC."
NEP 2020: Restructuring UG studies
As per the New Policy, the undergraduate degree will be of either three and four-year duration, with multiple exit options. Students will be eligible to get a certificate after completing one year; diploma after two years, and a Bachelor's degree after completing three years. The four-year multidisciplinary bachelor's programme will be the preferred option.
As per the NEP 2020, the four-year programme may also lead to a degree 'with research' if the student completes a rigorous research project in their major area of study.
The NEP states that the curricula of all the HEIs shall include credit-based courses and projects in the areas of community engagement and service, environmental education, and value-based education for students.
An Academic Bank of Credit (ABC) will also be established, which will digitally store the academic credits earned from various recognized HEIs, thus enabling the student to avail degrees from an HEI taking into account credits earned previously. It will also ease the re-entry of students who may exit early and then return to work toward a full degree.
Education reform Multidisciplinary approach
Some of the key reform measures to be undertaken as per the NEP will be the abolition of single-stream HEIs in a phased manner and turned into multidisciplinary institutions or "clusters".
It also talks about removing the system of affiliated colleges over 15 years through a system of graded autonomy.
To remove different types of classifications of universities, the NEP seeks removal of different categories that exist now -- 'deemed to be university', 'affiliating university', 'affiliating technical university', 'unitary university' -- each with their own regulations. These will be replaced by a single category, governed by a single set of norms.
Multidisciplinary Education and Research Universities
In a further push toward multidisciplinarity, the NEP suggests creating model public universities for holistic and multidisciplinary education, at par with Indian Institutes of Technology (IITs) and Indian Institutes of Management (IIMs) called Multidisciplinary Education and Research Universities, or MERUs. These institutions will aim to attain the highest global standards in quality education.
Existing institutions will focus on research and innovation by setting up start-up incubation centres and similar centres and focus on interdisciplinary research including in the humanities and social sciences research. The policy mentions that even leading engineering institutions, such as the IITs, will move towards multidisciplinary education with more arts and humanities.
The NEP suggests growth in both public and private institutions, with a strong emphasis on developing a large number of outstanding public institutions. It states, "By 2040, all institutions shall aim to become multidisciplinary institutions, each of which will aim to have 3,000 or more students."
NEP 2020: Higher education fees
The NEP also suggests measures for regulating the fee structure of HEIs, it states "All fees and charges set by private HEIs will be transparently and fully disclosed, and there shall be no arbitrary increases in these fees/charges during the period of enrolment of any student."
It also seeks to create a fee determination mechanism which will ensure reasonable recovery of cost while ensuring that HEIs discharge their social obligations.
Also read:
Write to us at news@careers360.com.
Stay updated with latest Education News