CBSE Released Passing Marks for Class X and XII Board Exams 2020
CBSE Released Passing Marks for Class X and XII Board Exams 2020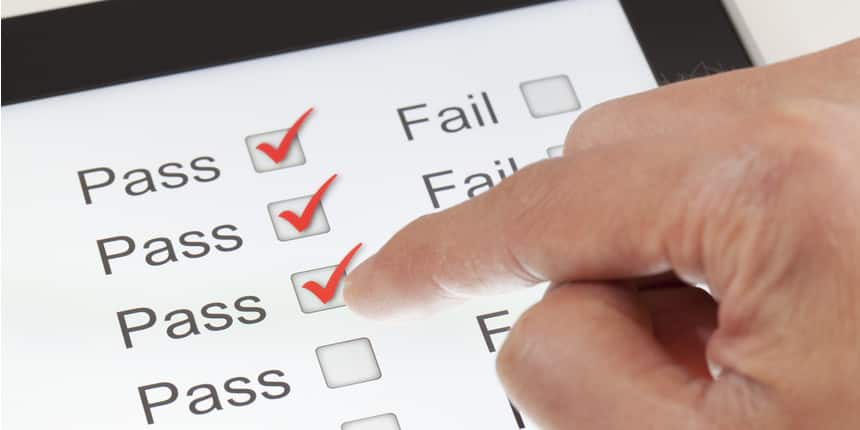 NEW DELHI, NOVEMBER 13, 2019: CBSE has released the subject-wise passing marks for class 10th and 12th examination. The minimum passing marks for each subject is different. Students appearing in the CBSE Class 10th and 12th examinations must check these passing marks criteria. CBSE class 10th and 12th board exams will be conducted in the month of February/ March 2020. The CBSE practical exams 2020 will be held from January 1 to February 7, 2020. The passing marks criteria issued by CBSE are mentioned below.
UPDATE: AAKASH iACST - Get Instant Scholarship up to 90% CLICK here
CBSE Result Links
The theory paper for class 12th exam will be of 60, 70, 80, or 100 marks. The practical examination will be of 20, 30 or 40 marks. Details of passing marks criteria are given below.
As per the CBSE circular, students of class 12th are required to obtain 33% marks in theory and practical examination separately, along with 33% aggregate marks in each subject.

In the theory-based papers like Engish, Hindi, students need to score a minimum of 26 marks out of 80 to pass the examination.

The internal assessment will be of 20 marks out of which 6 marks are required to pass the exam.

For practical subjects like Biology, Chemistry, students must obtain 23 marks out of 70 in theory paper. Whereas in the practical examination, 9 marks out of 30 are required.

The passing marks for theory paper out of 80 are 26, out of 70 marks students need to attain 23 marks and out of 60 marks, 19 marks are required to pass the examination.

For practical examination, out of 40, 13 marks are required. Out of 30 marks, 9 marks are needed to pass the exam. Similarly, in the internal assessment of 20 marks, a student must obtain 6 marks to pass the exam.
The exam duration for CBSE class 10th examination will be of 3 hours. The total marks for theory paper will vary from 80, 70 to 50 marks. Wherein, the practical examination will be of 20, 30 or 50 marks respectively.
Students of class 10th need to attain an aggregate of 33% marks out of 100 in both theory and practical exams to pass the examination.

The passing marks of theory and practicals will not be added separately. Therefore the total marks will be calculated as a whole.
Click here to the subject-wise Class X & XII minimum passing marks