Chandigarh University becomes first private state university in Punjab to be accredited A+ grade by NAAC
Chandigarh University becomes first private state university in Punjab to be accredited A+ grade by NAAC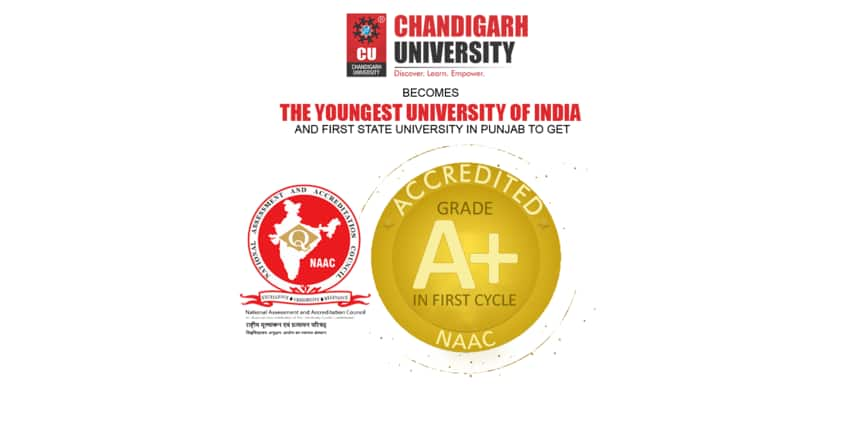 New Delhi, September 30 : Chandigarh University has been awarded the prestigious A+ grade by National Assessment and Accreditation Council (NAAC) of India. The university scored a Cumulative Grade Point Average (CGPA) of 3.2 in a 4 point scale, becoming the only private university in Punjab to bag the prestigious A+ grade. Chandigarh University is also the first university in India to be awarded this grade in first cycle of accreditation.
Satnam Singh Sandhu, Chancellor of Chandigarh University said,"It is hard-work done by our students and faculty for 7 years that have resulted in getting this recognition which has endorsed our academic framework and policies that we have been practicing since inception. Explaining about the academic practises, the Chancellor said "Chandigarh University is equipped with modern labs and R&D facilities for learning and research in every field of study. We have adopted flexible choice-based academic model that gives freedom to the students to undergo learning in multiple disciplines along with transparent and continuous evaluation process that helps in holistic development of our students, he added"
Chandigarh university is continuously engaged in research and innovation in the field of social causes and has filed 400 patents and led to the establishment of 30 startups in the last 3 years. The university is also pioneering in designing the new age programs of study as per the requirement of industry thus making our students more acceptable to the corporate and industrial world.
Chandigarh University is also excelling in the field of sports with 10 championships and 86 international and national medals in our bag. If we talk about the placements, more than 627 multinational companies offered a record 6314 jobs during the academic session 2018-19. The university is flourishing in different aspects of student services, research, academic model, achievements of students and faculty in sports and cultural activities, industry liasoning and acceptance among others.
By studying in an institution that is NAAC accredited, students get a chance to learn in a cutting edge environment and earn a degree that would have global recognition. They get instant recognition of an alumnus of a credible institute and get better placement opportunities as the industry prefers hiring with higher-graded institutions. On the other hand, the university through NAAC accreditation gets to know its strengths, weaknesses, and opportunities through an informed review process. The higher NAAC Grade university promotes various intra and inter-institutional interactions. The research funding agencies and industry prefer professors of the A+ Grade Institutes or Universities for allocating the high-end projects.
Explaining the accreditation process, Dr. SS Sehgal from Chandigarh University said, "In the previous scheme, before 2017, the entire assessment was based on the peer team visit which was revised and now under the new process, 70 percent of the assessment is based on the data submitted by the institution/university which is assessed by a third party which makes the process of accreditation even more tougher and stringent".
The A+ grade has placed Chandigarh University amongst the India's most elite and prestigious Higher Educational Institutions (HEI) which is maintaining top standards in delivering and disseminating of quality education to its students. Established in 2012, Chandigarh University has become the youngest university of the country be assessed and accredited by NAAC. The NAAC accreditation will open various new avenues for the University and its students.
Stay updated with latest Education News
More From Team Careers360