Classes Vs Corona: Parents end up jotting down notes
Classes Vs Corona: Parents end up jotting down notes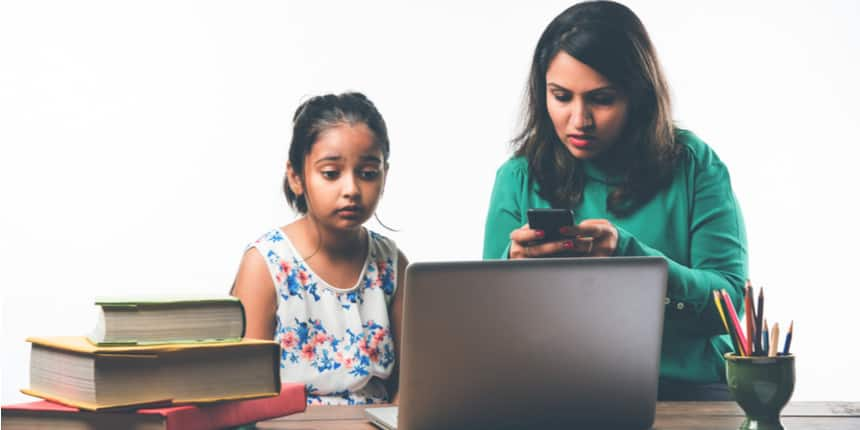 NEW DELHI: Aradhya Prakash, newly promoted to Class 6, has been struggling to cope with online lessons. Her new classroom is an application window and she does not sit with her friends. "I liked going to school but this is different," she said.
As the new school session begins in online mode, private school authorities are making efforts to keep teaching going despite the country-wide lockdown to curb the spread of coronavirus. Web applications, social media and messaging groups are now becoming the tools to continue the classes.
"The [online] class always ends abruptly because of the fixed timings of video calls," Prakash said. "I have to wait for the next class to ask questions. I do not like to ask questions on WhatsApp," she added.
Many institutions are relying on applications made for video-conferencing rather than teaching. Applications like Zoom have a time limit of 40 minutes.
The young children, not accustomed to the online methods of teaching are finding it more difficult to acclimatise to the new setting.
One laptop, two students
Aradhya's father is more concerned about the lack of equipment like a printer and a single laptop.
"Aradhya has to complete her worksheets assigned to her after the classes. I do not have a printer so I keep awake all night to make handwrite the worksheets," said Satyaprakash. "I do not know what will happen when my elder daughter's classes will commence, what if their classes overlap," he added anxiously.
Instead of following the regular school time-table, teachers have restricted it to three to four classes a day. "This is a temporary strategy, I think the school will continue to take one or two classes a day till the summer vacations are announced," he added.
Sunita Atal's six-year-old son Vivart has not warmed up to the idea of virtual classes either. "At this young age, it is difficult to make them concentrate on the lesson. It is even more difficult in the physical absence of a teacher," said Atal.
With the lack of teaching aids typically used by primary school teachers, the classes are now dull for the young kids. "The teachers continue to give lectures at a pace and we [parents] end up just jotting down notes. Then I have to teach him everything again," she explained. "At school, my son used to do his work on his own, he enjoyed the classes," she added.
Atal also criticised the disorganised way of conducting classes without giving proper guidelines and time to prepare for lessons.
Missing school
Meanwhile, older students are able to manage their classes despite the circumstances. "The online classes are beneficial; something is always better than nothing," reasoned Kriti Singh, a Class 12 student. "We have separate doubt-clearing sessions for each class. Due to technical difficulties, two classes were cancelled but then we are required to submit assignments every day which helps in covering the topic," she added.
Some have found taking online classes better than the classroom experience. "I have been able to understand the topics better at home because it [classroom] can get distracting sometimes, says Srija Singh, also a Class 12 student in a private school. "I rather miss going to school because it's my last year and I wanted to go more often," she added.
Also read:
Write to us at news@careers360.com