Cook, Clean and Study: Why online schooling hurts girls most
Cook, Clean and Study: Why online schooling hurts girls most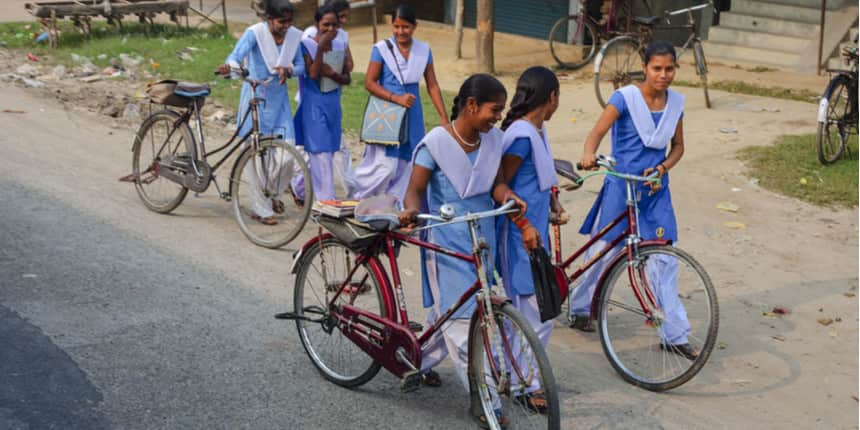 NEW DELHI: Classes are on for Sanjana Kumari, 10, but she has missed practically all.
Since schools shut in mid-March to control the spread of coronavirus and a centrally-enforced lockdown followed, classes moved online and on messaging services. But the only mobile phone in her family, the most basic device required to access the internet or any type of messaging service, stays with her father.
"My father has a mobile phone but he says he needs it more, so classes on mobile phones are on, but I miss it," Kumari said. Despite that, she stays busy. In school, she could fully attend to her studies. At home, as the eldest of three sisters and a brother, the Class 5 student has had to cook, clean and baby-sit. She had done this all through the lockdown. "My father spends most of his time in bed these days. He suffers from some pain I don't understand and so, my mother has to go to work. She is a scrap picker," she said.
In Kushinagar district of Uttar Pradesh, Vandana Bharti had just appeared for the Class 10 board exams when the lockdown began. Bharti fears schools will remain closed even after the results are declared on July 15 and after that classes will begin online.
For her too, as for dozens of girls across the country, studying online and at home is easier in theory than in practice. Bharti, 16, is the youngest of five siblings of two sister and three brothers. Her elder sister is married and now, she is responsible for cooking and washing for all. The only mobile phone in the family, the most basic device required for online education, is always with her elder brother.
Household work and girls' education
A recent report by the international body, United National Educational Scientific and Cultural Organisation, or UNESCO, stated that school closures due to the lockdown have affected over 320 million children in India. About 158 million of them are girls.
Teachers and educationists say the lockdown has been especially hard on girls. As domestic chores becoming a priority for home-bound young girls, the lockdown has had a "de-accelerating impact on girls school education both at primary and secondary level", said Namita Ranganathan, educationist, Delhi University.
"It is not that the parents are against their daughter's education, they are willing to support the daughter's education, but still completing the household work comes first and is a must," she added.
Online education failing
Access to digital classes is limited for everyone.
Garima Bharti, principal of a government school at Delhi University campus, lamented that they cannot guide students even on phone as many students, coming from the most deprived sections of society, don't have one.
"In my school, most students are girls as parents prefer to send their male child to a public school," said Bharti pointing to another type of discrimination.
"The students do not have smartphones. And if five percent have, they don't know how to operate them. We tried taking classes on WhatsApp but most of the students missed the classes," said Bharti.
The government has engaged multiple channels for continuing of education including web portals, mobile apps, TV channels, radio and podcast such as Diksha, Swayam Prabha TV Channels, e- Pathshala and the National Repository of Open Educational Resources.
However, experts feel there is nothing to replace face-to-face education as digital education is challenging for developed countries like Sweden and USA.
R Govinda, the former Vice-Chancellor of the National Institute of Educational Planning and Administration (NIEPA), told the better India, "Schooling is going to change after the pandemic due to academic losses suffered from long closure. Due to digital interventions, we are going to have to reduce human interfaces for rural areas in the future. Technology is for the rich or the middle class. There is no replacement for direct tutoring by a teacher in the class, and digital interventions cannot replace face-to-face tutoring. How do we plan to run the school during a long-lasting pandemic? Do you want to run school holding a phone in one hand?"
The UNESCO's Global Education Monitoring report released last week said that none of the "learning strategies" adopted to ensure continuity during the COVID-19 outbreak has been inclusive. "Overall, about 40% of low and lower-middle-income countries have not supported learners at risk of exclusion during the COVID-19 pandemic, such as those living in remote areas, the poor, linguistic minorities and learners with disabilities," it said.
A 'gendered' approach
Stefania Giannini, UNESCO's assistant director-general for education, had told the Economic Times in an interview that shutting down of schools in such a situation is necessary, but in such a condition it comes with a warning, "potential for increased drop-out rates that will disproportionately affect adolescent girls, further entrench gender gaps in education and lead to increased risk of sexual exploitation, early pregnancy and early and forced marriage."
Suryaprabha Sadasivan, Vice-President, Public Policy, Chase India, told the Pioneer, "vital to have a gendered approach in the post-pandemic restoration of education" in India. "We need to factor in gender budgeting to support girl education in these times and it is also crucial to monitor girls' attendance or rejoining upon school reopening," she said. "A multi-pronged strategy is necessary to manage this crisis in order to build a resilient and inclusive education system in the long term."
Write to us at news@careers360.com
More From Pritha Roy Choudhury