Coronavirus: A former school teacher is facing down COVID-19 in Kerala
Coronavirus: A former school teacher is facing down COVID-19 in Kerala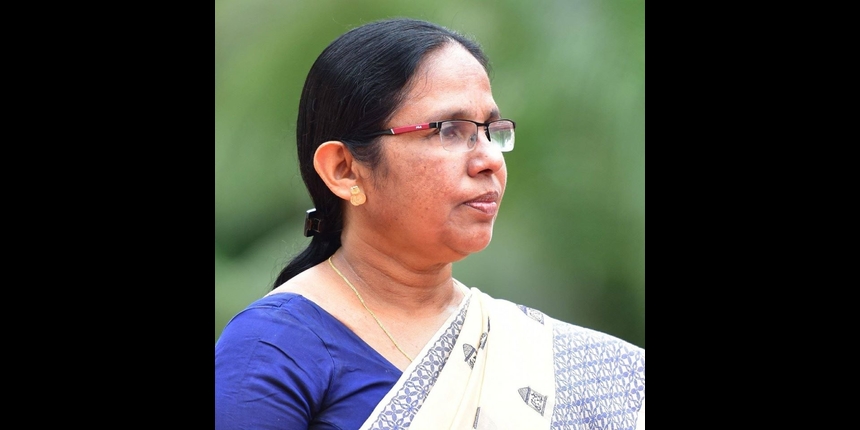 NEW DELHI: Scrolling through KK Shailaja's Facebook page reveals flowcharts that meticulously detail the travel history of COVID-19 patients in Kerala. Accompanying them are usually appeals to people who have been in those locations to contact the nearest health centre.
In addition, the page also provides regular updates on the status of patients, guidelines for citizens to protect themselves from coronavirus infections and solemn posts aimed at dispelling unscientific rumours about the disease and how it spreads.
For Shailaja, 63, now Kerala's health minister, has had some experience in explaining scientific concepts and instilling scientific temper. In a previous avatar, she was a science teacher at the Sivapuram High School in Kannur, according to her profile in the Kerala government website.
Shailaja is now tasked with combating coronavirus in Kerala and has been admired for her stoic, methodical handling of the crisis. Kerala was the first Indian state to report confirmed cases of infections and also the first to announce that some patients had recovered. But since February, when the first lot of quarantined patients were declared fit, the number of confirmed cases in India has risen dramatically. At last count there were 93 cases in India, including two deaths. Kerala alone has had 19 confirmed cases. On her watch, over 3,000 are under surveillance, some are in isolation at home, some at designated facilities.
Becoming a teacher
KK Shailaja left teaching to focus on politics but her career in education lefts its mark. She is now "KK Shailaja Teacher", both in her official Kerala Government profile and on social media. She is fondly referred to as "teacher" as well, a nickname derived from the Kerala school students' preferred way of addressing their tutors as "teacher" instead of "ma'am" or "miss".
Battling NIPAH
KK Shailaja took charge of the health and social justice departments in 2016.
Since 2016, Kerala has seen multiple crises that have challenged its healthcare system – viral outbreaks and floods of which COVID-19 is just the latest.
In 2018, people in Kerala were caught unawares by an outbreak of the NIPAH virus, an epidemic with a mortality rate of up to 75 percent according to the World Health Organization's estimate. A "rapid response control room" was set up promptly and was headed by Shailaja teacher herself. Nearly 3,000 people were quarantined and 17 people died. The minister later expressed regret to Livemint at not being able to identify the index patient and family in time. In 2019, she authored a book on her experiences on dealing with the NIPAH outbreak, titled Days of Defence, Lessons. Her role in containing the deadly NIPAH virus was quietly celebrated in 2019's commercially- hit Malayalam film Virus.
In 2019, Kerala saw another NIPAH outbreak but this time the state suffered no casualty. The response cell included 18 expert groups looking after various aspects of the containment strategy including isolation, contact tracing and logistics. Some of those same strategies have been employed with the coronavirus spread in Kerala.
She told Livemint in early February that her department had been tracking Kerala students in Wuhan and had been ready with a response cell way before they landed back in the state. "We had traced her (the first patient) before she came here. Airport authorities were asked to inform us as soon as her plane lands. So, when she landed, we sent her directly to an isolation ward set up in a hospital in her hometown, Thrissur. Since she had interacted with her family at the airport, they were also sent to isolation," she had said. The patient was one among the three that were cured of the disease. The latest outbreak in Kerala began when a family returned from Italy, which has seen the worst coronavirus outbreak outside of China, but did not inform the government in time.
Her work was praised extensively by citizens through their social media accounts:
History is going to remember Kk Shailaja teacher and her brilliant teams. Thank you government for all your hard work. #COVID19

— Jojo Noon (@JojoNoon5) March 12, 2020
@shailajateacher : KK Shailaja Teacher (Kerala's Health Minister) - You are among the finest ministers we have in India .. appreciate your efforts and your commitment towards Kerala Health and well being ..

— Suresh Nair (@Suresh_Nair_23) March 12, 2020
A #GameOfThrones type of a representation for our @shailajateacher

KK Shailaja tchr - First Of Her Name,Slayer Of Corona,Breaker Of Nipah, Protector Of Coconut Land 🔥

She is a meaningful leader for the people of kerala❤️.#COVID19PT #Corona #coronavirus #Coronavid19 #Kerala pic.twitter.com/UJaEOnBb9W

— Vishal Srt Vinuℹ️ (@vsv_writes) March 12, 2020
Write to us at news@careers360.com.
Stay updated with latest Education News