Coronavirus: UNICEF, WHO, IFRC jointly issue advisory for schools
Coronavirus: UNICEF, WHO, IFRC jointly issue advisory for schools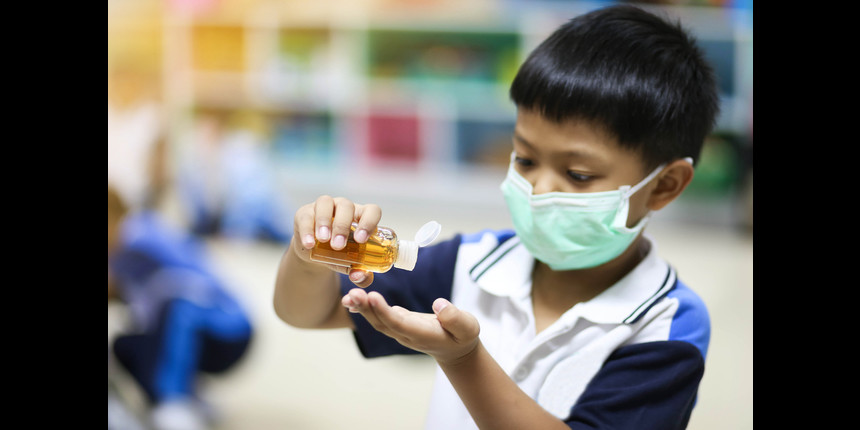 NEW DELHI: In a bid to prevent transmission of COVID-19, the disease caused by the novel coronavirus, in schools, three international non-profits have issued a joint advisory. These are the United Nations Children's Fund or UNICEF; the World Health Organisation, or WHO; and the International Federation of Red Cross, or IFRC.
The advisory aims to provide "clear and actionable guidance" for the "prevention, early detection and control of COVID-19 in schools and other educational facilities". In addition to preventive measures, the detailed advisory warns against stigmatizing students and staff who may have been exposed to the virus.
The guidance directly addresses school administrators, teachers, staff, parents as well as the children to reduce the fear and anxiety sparked by the rapid spread of the virus across countries.
On Wednesday, the World Health Organisation (WHO) called the spread of Coronavirus "pandemic" which has infected more than 1,20,000 people in 114 countries, killing about 4,300 of them, the New York Times reported.
Stringent Measures
To ensure "safe school operations", the advisory encourages the school administrators and staff to update or develop school emergency plans and contingency plans. Schools must follow these basic principles: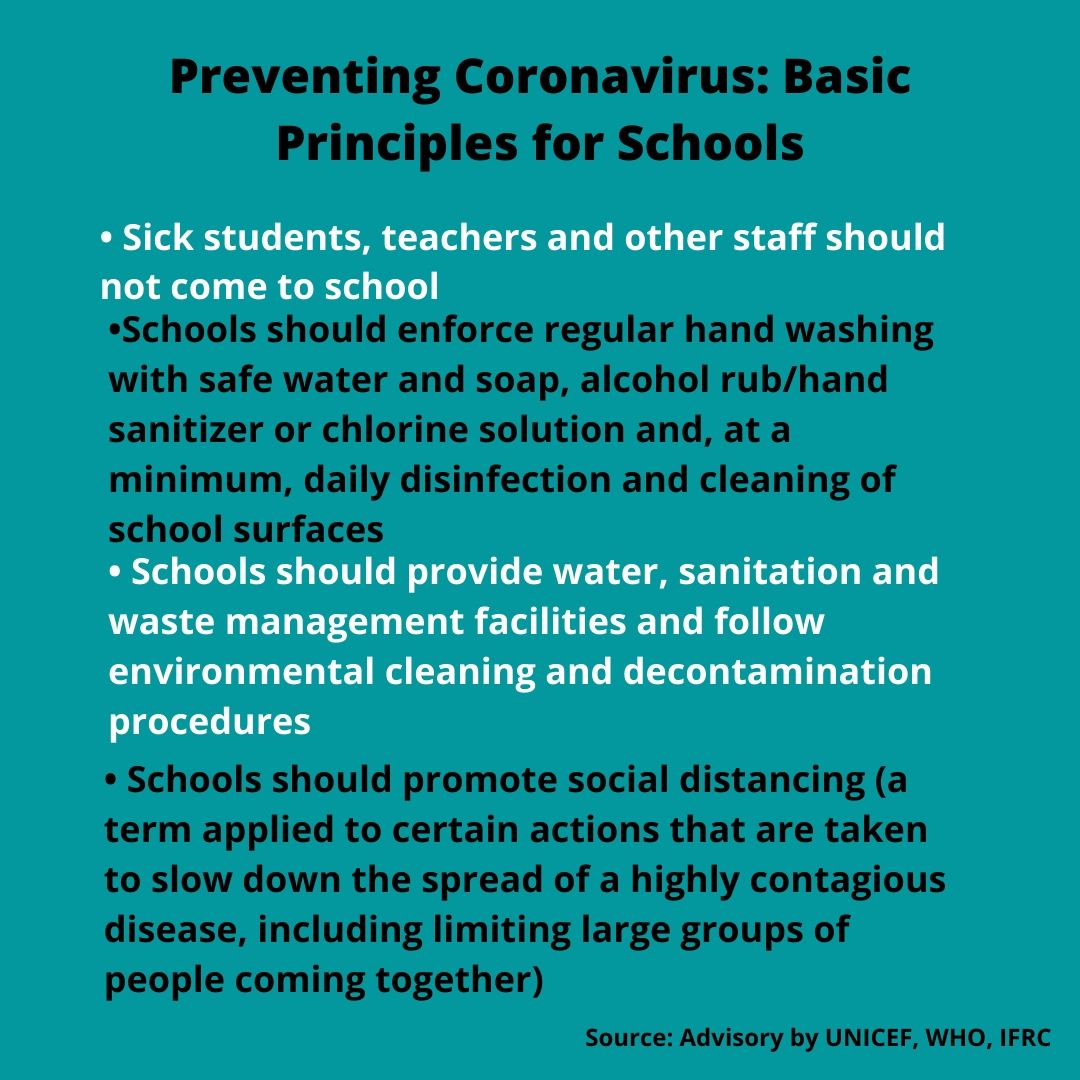 Social distancing
The document is especially emphatic about social distancing and has recommended a range of way this can be achieved in schools: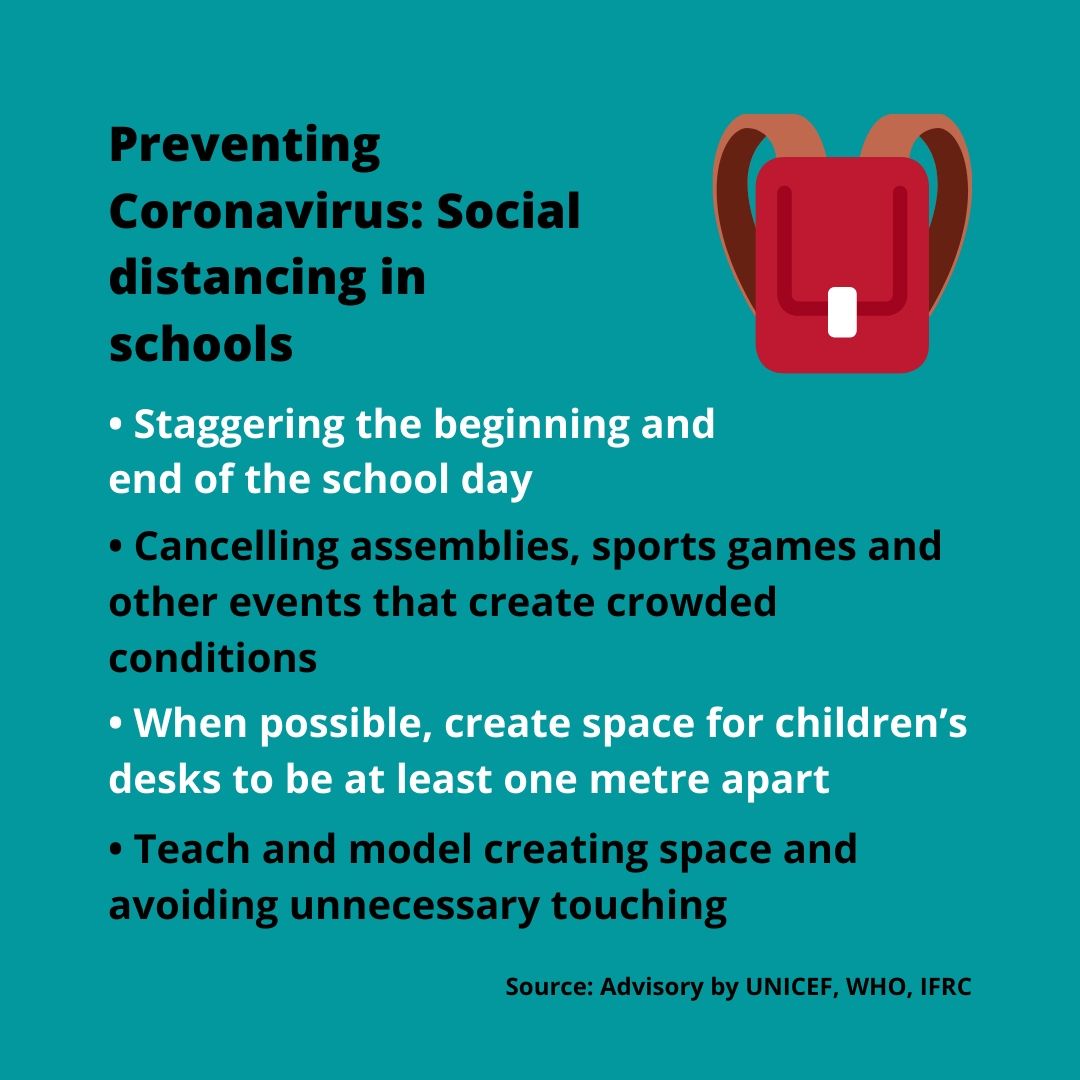 In case of temporary school closures, which has already happened in some parts of India, the organization has suggested continuation "access to education" by embracing technology. Several universities in the US have already adopted the "online or e-learning strategies" suggested. Meanwhile, the Hidayatullah National Law University (HNLU), Raipur, has shut their campus for eight days "expressing apprehension about the Coronavirus", reported The New Indian Express. The students have also been asked to vacate the hostel by Thursday evening. HNLU is the first one to close the campus in the country fearing the spread of Coronavirus.
'Coping with stress'
Identifying symptoms and early detection of the disease helps in the spread of the virus. The organisation has thus advised the parents to seek medical help in case the child shows typical symptoms.
Along with observing usual hygiene practices, the advisory also implores parents to help the child cope with stress triggered by the spread of the virus.
"Respond to children's reactions in a supportive way and explain to them that they are normal reactions to an abnormal situation. Listen to their concerns and take time to comfort them and give them affection, reassure them they're safe and praise them frequently," the advisory states.
Also read:
Coronavirus: Schools across states prepare to battle outbreak
Coronavirus scare in Noida, private school being sanitised: DM

Write to us at news@careers3560.com
Stay updated with latest Education News
More From Team Careers360