COVID-19 Lockdown: IIT, IIM and NIT students to help those stranded
COVID-19 Lockdown: IIT, IIM and NIT students to help those stranded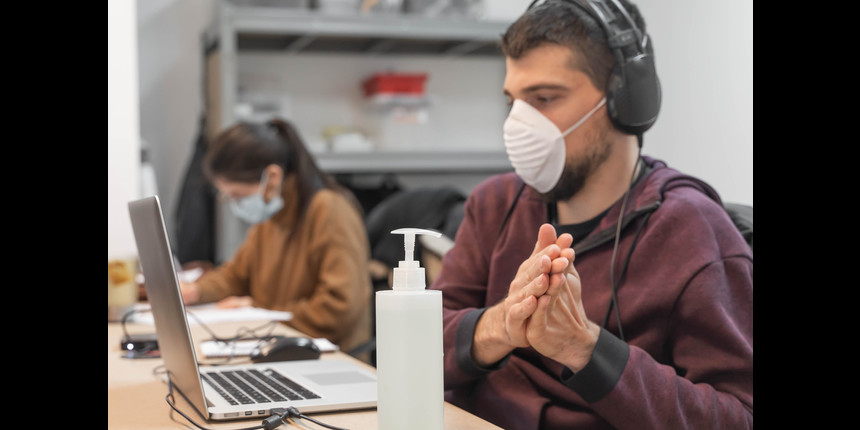 Radhika
|
Apr 1, 2020 - 11:47 a.m. IST
NEW DELHI: From the small town of Kaitha, Bihar, Ranu Priya called up the helpline number of 'Sahyog' shivering with fever. The nearest medical store from her house is over two kilometres away. In the country-wide lockdown, no one in her family dared to venture out, even in an emergency.
"I got the number in a WhatsApp forward and I called them to bring me medicines," she said. By evening, the medicines were delivered to her doorstep by a member of a non-profit organisation.
A section of students from some of the country's top higher educational institutes have formed a group called 'Sahyog' to aid the most vulnerable in the lockdown brought on by the COVID-19 pandemic.
A web application named after the group has been developed in collaboration with students of Indian Institutes of Technology (IITs), Indian Institutes of Management (IIMs), and National Institutes of Technology (NITs) to help people who are in dire need of essentials like medicine, masks and food connect with the providers.
The application went live on Tuesday and has already received 92 distress calls. The team has managed to provide assistance to 23 people. A toll-free helpline number, provided in the app, is monitored by volunteers which have prioritised calls from elderly and migrant labourers.
Three states
Soon after the announcement of lockdown, scores of migrant workers left the metropolitan cities to go back to their native places on foot in the absence of any means of transportation and without essential items.
The service is currently active in three states – Uttar Pradesh, Bihar and Jharkhand. In addition, as many as 40 non-profit organisations have been roped in to provide medical help, food requirements, drinking water and other basic needs.
"We know there are many out there who require help. NGOs were unable to locate such people. We have tried to bridge this gap. We are trying to build a common platform for these organisations to work." said Vikrant Singh, a PhD student from IIT-Guwahati.
Outreach
At its initial stage, due to the restrictions on movement, the student volunteers are providing all services in online mode.
As many as 750 volunteers from 600 colleges are helping to get access to arrangements provided by the nearest government resource centre or a non-profit organisation.
The user-friendly app is in Hindi only and allows people to post their queries and their requirements which are then redirected to the nearest government aid centre. People who wish to donate and provide resources can also post their information.
Busting myths
Addressing the need to provide verified information during the global pandemic, the students are also helping the public distinguish between rumours and facts regarding the response to COVID-19- a disease caused by novel coronavirus.
Rumours are cross-verified from sources like the World Health Organisation and Centres for Disease Control and Prevention - the national health agency of the US.
The team is also creating videos related to COVID-19 in local languages to make people living in remote areas aware of the risks and what they need to do.
Also read:
25 things for school children to do during the COVID-19 lockdown
COVID-19: RTE Forum writes to PM on tech, food, tests for children
Write to us at news@careers360.com
Stay updated with latest Education News