From Silchar to Aligarh, medical colleges prep for COVID-19
From Silchar to Aligarh, medical colleges prep for COVID-19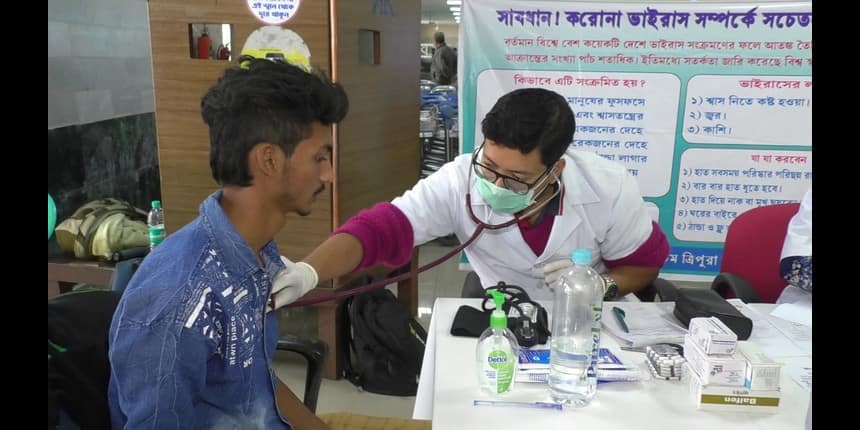 NEW DELHI: In Muzaffarpur, Bihar, doctors and students of the government-run Sri Krishna Medical College and Hospital are bracing for impact. They have 100 beds ready in an isolation ward to prepare for when the COVID-19 patients start pouring in.
The restrictions on movement imposed to control the spread of coronavirus has caused lakhs of workers to leave the cities for their home states, districts and villages. Plus, before the Central Government imposed a nation-wide 21-day lockdown on March 24, dozens of universities across India had suspended classes, closed their hostels and compelled students to return to their hometowns.
Now, medical colleges in small towns and districts, set many miles from any metropolis, are gearing up to deal with the spread of infection this exodus may have caused. Some, like the Muzaffarpur college, are very poorly-resourced and struggling to acquire the basics – masks, sanitisers, testing kits. Their doctors have allegedly gone without salary for two months. Others have suspended OPDs, created fever units, and trying to expand their capacity. Everywhere, postgraduate students of medicine are pitching in.
Limited resources
Sri Krishna Medical College has divided the 100 beds earmarked for COVID-19 into two sections – one for suspected cases and one for confirmed ones. But their preparation is being slowed by "severe shortage" of protective material like masks and hand sanitisers.
Doctors here fear for their own safety as well. "We are checking patients through the day and we do not know if the person is a positive case or not," said Vinayak Gautam, head, radiology, at the college. "We are facing problems identifying the positive cases. The number of test-kits should increase else it is becoming very tough."
Plus, he alleged that "the doctors did not get their salary for the past two months". At the college, postgraduate students will also man the isolation ward along with the staff and paramedics.
Preparing for epidemic
Even medical colleges in areas that are yet to see a positive case of coronavirus infection are girding up. Doctors in all of them believe there are far more cases than what the existing data reflects.
At Silchar Medical College, Assam, all suspected cases are first sent to the fever block. If they test positive for coronavirus, they are sent to the COVID-19 block and if they need ventilation, to the intensive care unit, or ICU. "It has been organised well. We believe there are a lot of positive cases whom we are not being able to identify as they do not visit the clinic or the hospital," Bidyut Nath, assistant professor, paediatrics, Silchar Medical College and Hospital, told Careers360. Silchar shares a border with Bangladesh.
Similarly, Assam Medical College in Dibrugarh, has devoted a building that can accommodate 200 patients entirely to COVID-19 even though the college is yet to find a case. "A lot of local people who had gone to other states in search of work are back here, so there might be cases simmering," said Hiranya Kumar Goswami, the principal.
Increasing capacity
Apart from creating COVID-19 or flu units, the colleges are also organising other material and equipment.
Goswami said Assam Medical College has 24 ventilators of which, they can use six for isolation care. "Additionally, we can procure 10 more ventilators, if the situation demands," he said.
Aligarh Muslim University has already prepared a 10 bedded isolation ward. "We have established a fever or flu clinic to identify exactly the kind of fever," said Shahid Ali Siddiqui from the department of radiotherapy, AMU, speaking to Careers360. "If we find it matches as per the ICMR (Indian Council for Medical Research) guidelines, we also have a diagnostic facility." The Jawaharlal Nehru Medical College and Hospital at AMU is a National Institute of Virology, or NIV-approved testing centre. "So far no case has been found positive," Siddiqui said. However, as the AMU Vice-Chancellor recently announced, the college is nevertheless procuring additional equipment to expand its daily testing capacity because the number of samples coming in from neighbouring Noida, Agra and other places has increased.
'Rushed in'
"It has definitely spread, so many have just rushed in from other states. People who had gone out to work in Puna, Mumbai, Delhi, Bangalore have suddenly come back," said Sanjay Patil, president, Indian Medical Association. They could have caught it from travellers carrying the virus who were not detected upon arrival at the airports. Patil added: "On arrival, checking is happening in the airports, railway stations etc. But only thermal checking is being done. So when a person pops paracetamol tablet just before reaching the state, his temperature remains fine."
Also read:
Write to us at news@careers360.com.
More From Pritha Roy Choudhury