Dalit activist crowdfunds Oxford University admission fee in 3 hours
Dalit activist crowdfunds Oxford University admission fee in 3 hours
Sumeet Samos had been accepted to Oxford University's MSc programme in South Asian studies but didn't have money for the admission deposit.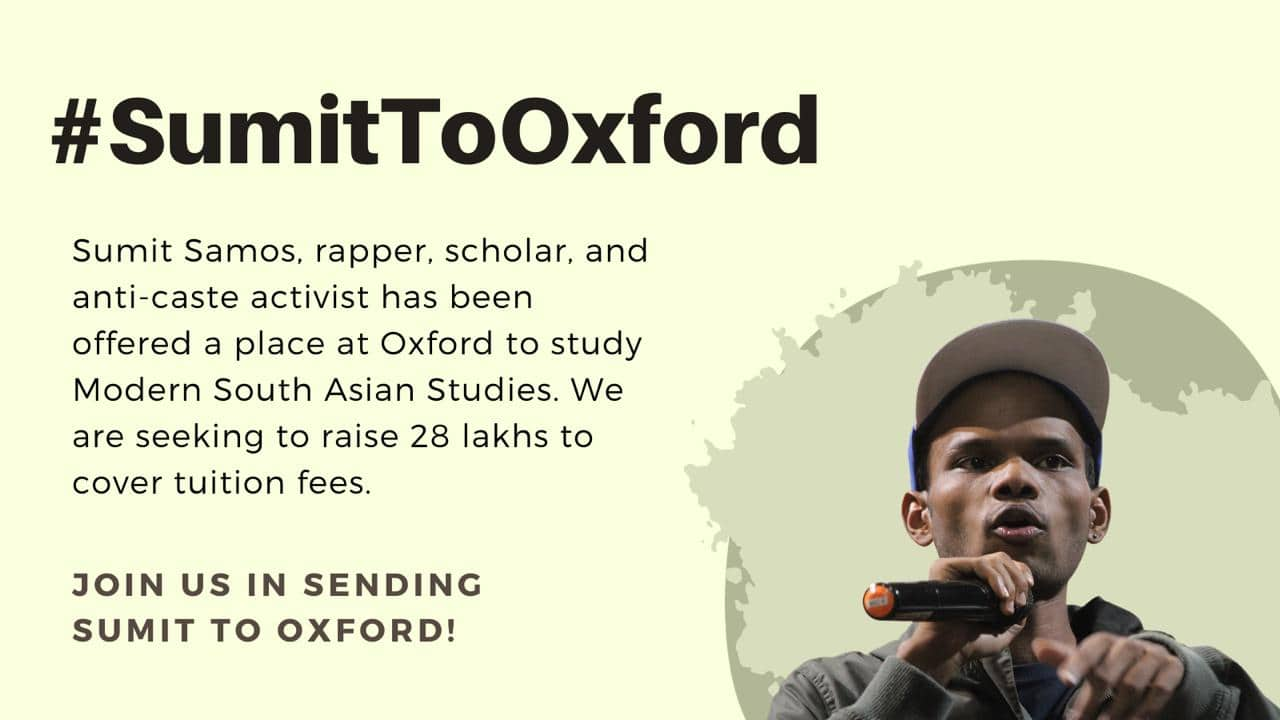 NEW DELHI: In a remarkable example of collective action, over 1,500 people came together on Tuesday to send Sumeet Samos to Oxford.
Samos, a Dalit activist and musician from the Koraput district, Odisha, had been accepted into the MSc programme in modern South Asian studies at Oxford University. Without resources of his own, Samos started an online crowdfunding campaign for the admission fee deposit. Within just three hours of launching the crowdfunding page, Samos was able to raise £26,240, equivalent to Rs 27,13,480. As many as 1,580 individual donors contributed.
"I'm overwhelmed by the outpouring of love people have given me. Some have been words of encouragement and some others have been able to send some money. Now that my course fees are covered in less than three hours, I am relieved that my seat will not be taken back," he wrote on Twitter.
Samos had initially requested the Odisha Government for financial assistance for course fees however, the request was declined on technical grounds. "The Odisha Government initially assured me that they would be contributing to my course fees, but they finally didn't because this degree would be my second Masters," Samos wrote in his crowdfunding statement.
Research on caste in higher education
An anti-caste activist, Samos has been vocal about caste discrimination in higher educational institutions. He has also worked at Radio Live, France, a platform created by radio journalists Aurélie Charon and Caroline Gillet to bring youths from different socio-economic backgrounds and from different countries to share their lived experiences. At Oxford University, Samos plans to further his research on Dalit students and related politics.
"I plan to do my research on caste in central universities in India - I want to chart the trajectory of Dalit-Bahujan students and their anti-caste political engagements starting from the Ambedkar Students Association in Hyderabad Central University in the 90s, formation of the Birsa Ambedkar Phule Students Association in Jawaharlal Nehru University in 2014, to Rohith Vemula movement in 2016," Samos further wrote in the appeal.
Samos intends to create a network and support system to make higher education more accessible for students from historically marginalised Scheduled Caste and Scheduled Tribe.
Write to us at news@careers360.com