'Design should be accessible to everyone': Winner of James Dyson Award
'Design should be accessible to everyone': Winner of James Dyson Award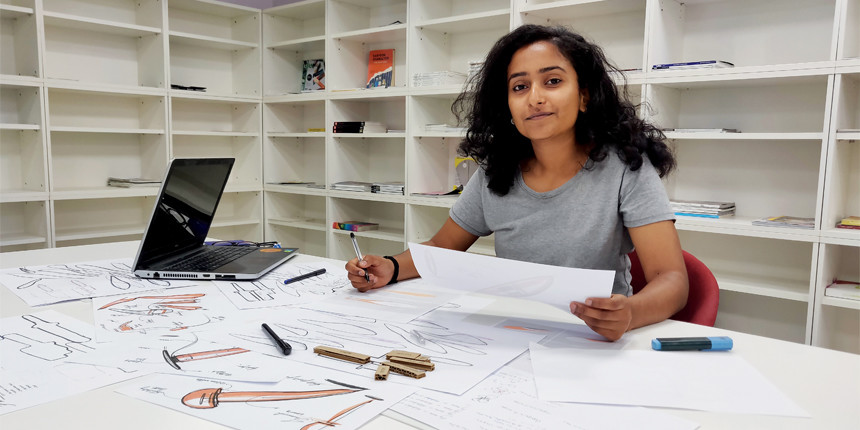 Ashwathy Satheesan, 23, described herself as a "very reserved person" and not one to seek the spotlight. "I never participated in competitions or any such activities during my school years," she said. Yet, in September, the student of National Institute of Design (NID), Ahmedabad, became the national winner of the James Dyson Award, an international award for design students.
Her winning entry was Fleo – a writing aid for people suffering from Parkinson's disease. A nervous system disorder that causes frequent muscle tremors, Parkinson's makes movement and hand gestures difficult. Satheesan's Fleo is a battery-operated pen that works on the principle of a gyroscope and keeps the nib stabilized throughout the tremors to aid writing. It works much in the same way gimbal stabilizers do for cameras.
Satheesan cannot quite explain why she chose to work on this but believes her childhood interactions with a neighbour who suffered from Parkinson's may have subconsciously influenced her decision. She grew up in Gandhinagar, Gujarat.
A "clueless" student
A fan of Rob from POGO channel's award-winning arts and crafts show, M.A.D, Satheesan always enjoyed making things from scrap. "I used to sketch portraits, make tiny models out of scrap for as long as I can remember," she says.
But it never occurred to her to convert this hobby into a career in design. In Class 10, she first learnt of design as a field of study and employment. She discovered NID through brief articles on design students in newspaper supplements.
In high school, she picked science. Even as a Class 12 student at St. Xavier's High School in Gandhinagar, Satheesan was clueless about her future. "I remember clearly that during my 12th, I was preparing for engineering entrance exams," she said. "I never really had any plans [of my own] but followed what my colleagues did. Even then, I didn't enjoy being in competitive environments."
Her parents, who were a constant support throughout her career, were the ones to nudge her toward design, Satheesan said.
Much like Rob (real name Harun Robert), the presenter of the do-it-yourself show, M.A.D, Satheesan would go on to study in NID, Ahmedabad. She remembers her "naïve" self on the day of the interview, when she took out her childhood sketches, put them in a folder and went to attend the portfolio showcase. Looking back, she is grateful for NID's admission process which looked for potential and interest rather than marks and accomplishment. "I did not know how big NID was...I don't think I would have got in if they conducted only entrance exams," she said.
The institution changed her entire outlook, she said. "It was only after joining NID that I understood that design was such a vast subject. People just perceive it as an aesthetic or style but design is a process. You can tackle any problem. You learn to solve human-centric problems," says Satheesan.
Parkinson's project
Satheesan attributes much of her problem-solving skills to her training in NID where she got to interact with industry people from across the country. The experience helped her understand the broader responsibilities of a designer. It was during her second-year semester project that she came up with Fleo.
With two weeks to finalise her semester-end project, Satheesan spent her time going to malls and public places in search of inspiration. She finally found it on a visit to the Parkinson's Disease and Movement Disorder Society in Ahmedabad and finalised her project. The feedback from the community was an essential part of her design endeavour. It took her several months of research and development to come up with a working design. She made countless mock-ups, went to the community, collected feedback, redesigned again to come up with a final version.
The issue she was trying to solve was tremors. There were only two approaches that she could think of: active controlling of tremors and passive controlling of tremors. An active controlling device will measure the tremors and apply a counterforce to keep the pen stable, while a passive controlling device absorbs the tremors. Since she was less confident about her expertise in active controlling, she turned to the passive approach. That is where gimbals and gyroscopes came in. Gimbals are assistive devices that work on the principle of a gyroscope to stabilise. For instance, they hold cameras on a steady axis even through heavy wobbling.
Always fascinated with the mechanics of gimbals, Satheesan did further research on the subject and was satisfied that they could provide the solution she was looking for. The nib of Fleo remains steady allowing for smooth writing even with frequent tremors.
"Confidence booster"
Speaking of the James Dyson award, Satheesan said it boosted her confidence.
"I just graduated when I got the award. The award gave me confidence that I am going down the right path. That validation was great for me. Getting some kind of support at that time was crucial," she says. "My parents have supported me from the beginning. So this is a very good platform to prove to them that I'm going down the right path."
Satheesan hopes to procure more funding to make Fleo cheaper and better. "I took up the project with the intention to create change," she said. "That is very important to me. The thought that this could help someone kept me going during the project," she says.
She believes the notions about the world of design must change too. "Initially, design was supposed to be for those who could afford it," she said. "But it should be accessible to everyone".
Stay updated with latest Education News