Disha Ravi Case: Arrest left student activists 'nervous' but determined
Disha Ravi Case: Arrest left student activists 'nervous' but determined
Anxious parents, silence on social media -- Disha Ravi's arrest has affected many students but a handful promise to continue 'fighting'.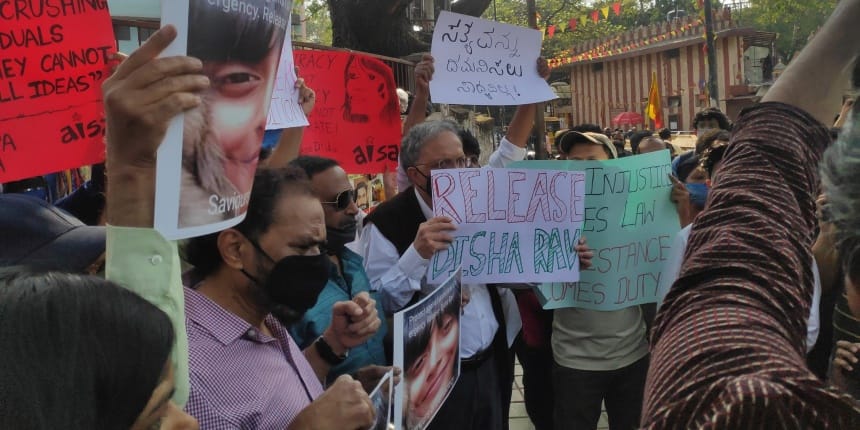 NEW DELHI: "Disha's arrest has definitely made me nervous," said Deshdeep Dhankar, a postgraduate student at the University of Hyderabad. "These arbitrary arrests are signs of an authoritarian rule. These are the methods to instil fear among us and suppress voices against the government."
The arrest of 22-year-old climate activist Disha Ravi on Sunday caused a furore but has also had a chilling effect on student activism and discussions, online and off. While some student groups continue to organise protests, many students are being forced to keep a low profile after Ravi's arrest. The arrest has also triggered paranoia among parents who are discouraging their children from posting "anti-government" content on social media.
Several activists told Careers360 that their younger student counterparts, who typically participate in protests and demonstrations, are now anxious. "It is a sad state of affairs that even climate activists are being made to feel under threat. They [young activists] are unwilling to share their contacts," said an activist requesting anonymity. Moreover, posts on Instagram and Twitter have sprung up educating people on using VPNs, encrypted versions of documents, chats and emails to avoid risks.
Ravi, the founder of Fridays For Future's (FFF) India chapter, was arrested on charges of sedition for allegedly editing and distributing a Google document tweeted by Swedish environmental activist Greta Thunberg. Last year, the FFF India faced censorship by the Modi Government for raising concerns about the draft Environment Impact Assessment notification 2020. The organization even faced action under anti-terrorism law Unlawful Activities (Prevention) Act which was later withdrawn.
"I think most of us on the team are quite shaken by the incident and most of us are trying to stay safe at this point. Many of us also knew Disha personally, so it is a difficult time for most," said an email by FFF, Karnataka sent to Careers360. "It seems like the signal we are getting is to stay silent and not question the government on anything. We are young people who care about having a safe world to live in [during] a climate crisis. But [anyone] voicing a real concern is being penalised," it further added.
On February 13, the Delhi Police's cybercrime cell unit picked up Ravi from her Banglore residence after which a Delhi court sent her to police custody for five days, ANI reported. "She started [a] WhatsApp Group and collaborated to make the Toolkit doc [document]," the Delhi Police tweeted on Sunday. Ravi, as per the Delhi Police, is a "key conspirator" behind the January 26 violence that broke out in the capital.
Disha Ravi, arrested by CyPAD Delhi Police, is an Editor of the Toolkit Google Doc & key conspirator in document's formulation & dissemination. She started WhatsApp Group & collaborated to make the Toolkit doc. She worked closely with them to draft the Doc. @PMOIndia @HMOIndia https://t.co/e8QGkyDIVv

— #DilKiPolice Delhi Police (@DelhiPolice) February 14, 2021
Instilled fear in parents
The recent arrest of Ravi, according to the young activists, has brought the risks of activism alive to many.
Students, through demonstrations, strikes and gathering mass support create pressure to release fellow members who are often picked up by the police on false charges. However, serious charges like sedition have also compelled them, often by parents, to be careful of what they post on social media.
"As far as UP is concerned, these arrests have instilled the fear in parents who are now actively forbidding their children from participating in protests and demonstrations. When social media posts against the government become prime time news, it obviously becomes difficult for parents to understand.," said Priyesh Pandey, a student activist studying at Banaras Hindu University.
"Majority of the students or critics opt for WhatsApp chats and Instagram stories to criticize the system," said a student activist from an engineering college in Delhi who has noticed many student activists shift to other messaging platforms. "Everyone is scared unless you have a strong political backing," he said.
The toolkit
Young activists and students also called Ravi's arrest a "hypocritical" move as toolkits are routinely used by political parties and organisations for organising various online campaigns and to draw attention to issues.
"A toolkit is commonly used to organise and mobilize crowds for protests and social issues. People share hashtags and tweets on Google docs to engage more people. People who have high numbers of followers are asked to participate and get more people to know about a particular issue," said Dhankar.
"Political parties also run social media campaigns based on toolkits which are shared with international organisations," said Abhilasha Shrivastava, an environmental activist. "These are ways of running a campaign which is widely used by this current regime as well. Then why was Disha put under custody?" asked Shrivastava.
"The toolkit was used as a piece of incriminating evidence is a bit funny and scary at the same time," said Priyesh Pandey. "Funny because the recent tweets by Sachin Tendulkar and other celebrities were also part of a toolkit."
Organising and resisting
However, some students are finding alternative ways to continue supporting and furthering issues they believe in. "Young activists are definitely worried about the circumstances and do not want to engage in activities directly but they will not sit idle either. I met several students in Mollem, Goa, who are making small video clips to educate people about the 'save Mollem campaign'," said Shrivastava about the campaign to protect the Mollem National Park.
"Activism was already considered risky and this notion has become popular after the current government got elected. Many activists have been charged under UAPA and many others have been put behind bars without proper investigation," said Bharati Pandey, an 18-year-old member of Uttarakhand Student Organisation and a second-year college student. "Several students from our organisation were busy in relief work in Chamoli but...after a meeting with members of the organization, we intend to release a statement against this arrest and we may also organise a protest," she added.
Priyesh Pandey was charged with sedition for participating in the students' movement against sexist rules on BHU campus in 2017. " I have been charged with multiple non-bailable offences. I have spent 25 days in jail during the CAA-NRC movement [Citizenship (Amendment) Act and National Register for Citizens] in 2019. He further alleged that surveillance on activists is so common in Uttar Pradesh that police constables have directly warned them about phone tappings.
After protesting against Nodeep Kaur's "illegal arrest", Priyesh Pandey said that the Joint Action Committee, a group of students working for social justice at BHU is also planning to conduct a protest for Disha Ravi as well. Nodeep Kaur, a 23-year-old Dalit labourer and trade union activist from Punjab was arrested on January 12 under various charges including attempt to murder after she participated in a protest by labourers at Haryana's Kundli, NDTV reported. She was granted bail in two cases on Monday.
"We [student activists] are constantly met with opposition from the system whether it is environmental causes, human rights or anything. The arrests have become a common part of what we do," said Bharati Pandey.
"We never thought this could happen but if it is Disha today we could be in her place tomorrow. We need to stand in solidarity now more than ever," said Dhankar.
Write to us at news@careers360.com