'A way to live with each other': How foreign student groups are functioning in Indian campuses
'A way to live with each other': How foreign student groups are functioning in Indian campuses
Graduation ceremonies, picnics, dealing with authorities – foreign students' associations help overseas students find their fee in India.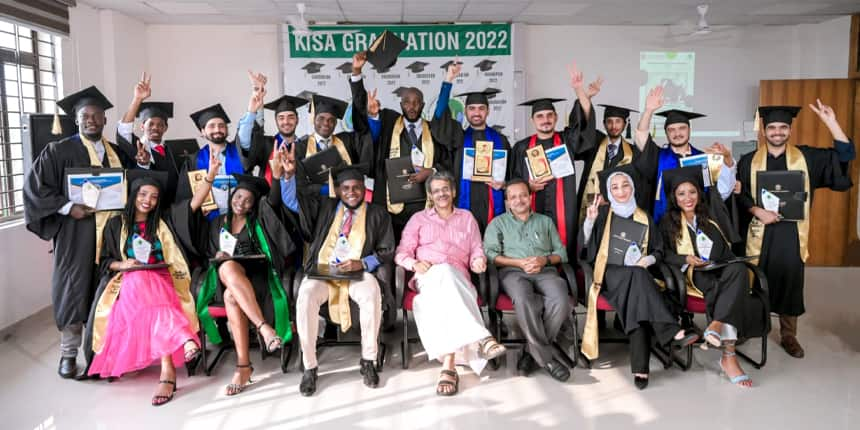 Sanjay
|
Mar 23, 2023 - 6:26 p.m. IST
NEW DELHI: The private universities in Greater Noida have often been the sites of conflict between their international students – many from African countries – and the local communities. In 2017, five Nigerian students were accused of supplying drugs to a local youth and were arrested. They were released for the lack of evidence but there were reports of locals attacking students.
Adama Diawara, co-founder of Afro-Asian Student Connection in India, noticed that international students were facing cultural and social problems. "Hence, we came up with a way to live with each other in the best harmonious and diversified society and formed an Afro-Asian Student Connection in India in 2020," he said.
The group has members from 21 countries so far. "Our organisation addresses the issues faced by international students in Indian educational campuses, diplomatically through our respective embassies," said Diawara who's from Mali and an MBA student at the private Sharda University in Greater Noida.
With an increase in the number of foreign students enrolled in Indian higher education institutions, several international student groups are working to "provide a safe, secure and healthy academic environment" to them. The student-run associations help international students fight incidents of racial discrimination, help secure rented accommodation and apply for scholarships. The groups also organise events to raise awareness among international students about India and provide a sense of community.
According to the education ministry's All India Survey on Higher Education (AISHE), enrollment of foreign students in India's higher education system has risen from 33,151 in 2011-12 to 48,035 in 2020-21, a 44% increase. The number of countries from where students are coming to study in India has also increased from 155 to 163 over the same period.
Solving problems
"African students mainly face visa-related issues, discrimination from locals, and high rent demand from landlords. African students also face racism from some Indians in different cities. They also face problems during the documentation process for admission, rent agreement and different security-related forms for foreign students," said Abubakar Ibrahim, publicity director of Association of African Students in India (AASI). "We contact the related embassies and high commissions to help students in getting their problems resolved."
AASI was established in 1961 by the late president of Malawi, professor Bingu Wa Mutharika, at University of Delhi. It assists and guides students from African countries studying in India. It has units in every state and more than 15,000 African students from over 15 countries as members.
Conflict between local and foreign students occurs often. In October 2018, Sharda University saw a ruckus between Indian and Afghan students. In October 2022, Indian and Nigerian students clashed on the football field at GD Goenka University campus in Haryana's Gurugram.
Diawara said that the Gurugram incident was "unfortunate" in which African students were "mistreated" and took place due to "misunderstanding". While based in Noida, Afro-Asian Student Connection in India "works for the welfare of international students across the country whenever it gets information regarding incidents of racial discrimination against international students", Diawara said.
Also Read | 'Pay fees directly to university, not agent,' study abroad consultants advise
Social connections, academic support
Swapon Roy, in MA sociology at Jawaharlal Nehru University (JNU), Delhi said international students struggle to make friends and form social connections at JNU. He is the general secretary of International Students Association (ISA), JNU which has 114 international students from 16 countries.
"International students feel isolated and alone, especially if they are the only international students in their class. JNU's rigorous academic programmes can be challenging for international students unfamiliar with the Indian education system. They may need to work harder to keep up with the coursework and maintain good grades," Roy said.
ISA organises picnics and meet-ups to help international students make friends and form social connections with their peers. "The ISA [also] provides academic support to international students, including study groups, workshops, and one-on-one tutoring sessions, to help them keep up with their coursework and maintain good grades. The ISA assists international students in finding suitable accommodation within or outside the JNU campus," he added.
International students' community
Even without overt conflicts, foreign students often struggle due to the absence of a community of like-minded persons sharing cultural and social backgrounds. These groups bring members together through events and programmes.
"We have collaborated with the Indian Council for Cultural Relations (ICCR) and four universities in the state of Kerala, to host annual international students' events at Cochin University of Science and Technology (CUSAT), University of Calicut, Mahatma Gandhi University and University of Kerala. We also celebrate the graduation and appreciation ceremony of outgoing international students who have completed their course of studies from various universities and colleges in Kerala. These events create an environment where students feel that they have found a community of their own people," said Mateus Andjele, a student of Mahatma Gandhi University and spokesperson of the Kerala International Students Association (KISA) of India.
KISA provides assistance to foreign students enrolled in various courses at educational Institutions in Kerala. It was established in March 2017. It has more than 200 students from over 15 countries.
Also Read | Deakin University's GIFT City Gujarat campus will admit 50-60 students in first batch: VC
At JNU, all international students are also members of the ISA. "It gives them space to communicate their ideas, discuss their problems and organize various inter-cultural activities, thus creating a home away from home. The events provide a platform to them to share their cultural and social activities," said Roy.
Afro-Asian Students' Connection in India hosts events for African and Asian students in order to "unify communities and also help freshers to understand the host country's rules and regulations", said Diawara. Their last event was a graduation ceremony for African and Asian students held in 2022 in Greater Noida.
What foreign students study
According to the latest AISHE 2020-21 report, India hosts foreign students from 163 countries. In 2020-21, the highest share of foreign students were from Nepal (28.26%), followed by Afghanistan (8.49%), Bangladesh (5.72%), United States (5.12%), Bhutan (3.8%) and Sudan (3.33%).
The AISHE data also shows that the total number of foreign students has practically plateaued since 2016-17, growing by less than 1% in the five subsequent years. Over the same period the number of male foreign students grew while the number of women fell.
| | | | |
| --- | --- | --- | --- |
| Academic Year | Male | Female | Total |
| 2016-17 | 31,779 | 15,796 | 47,575 |
| 2017-18 | 31,394 | 14,750 | 46,144 |
| 2018-19 | 32,398 | 15,029 | 47,427 |
| 2019-20 | 32,836 | 16,512 | 49,348 |
| 2020-21 | 32,603 | 15,432 | 48,035 |
The highest number of foreign students are enrolled in undergraduate courses (75.9%), followed by postgraduate programmes (16.2%), with enrollment in the rest of the levels constituting 7.9%.
Also Read | Indian universities eyeing African, Gulf nations, Thailand, Vietnam to set offshore campuses: UGC chief

There are 13 programmes which have more than 1,000 foreign students each and account for more than 75% of the foreign students.
| | |
| --- | --- |
| Course | Number of Students |
| B.Tech | 11,245 |
| B.Sc. | 3,439 |
| BBA | 3,314 |
| B.Com | 2,605 |
| B.E. | 2,541 |
| MBA | 2,099 |
| B.Pharma | 2,021 |
| BCA | 1,918 |
The largest number of foreign students come to these following 9 states
| | |
| --- | --- |
| States | Number of Students |
| Karnataka | 8,137 |
| Punjab | 6,557 |
| Maharashtra | 4,912 |
| Uttar Pradesh | 4,654 |
| Tamil Nadu | 3,685 |
| Delhi | 2,809 |
| Gujarat | 2,646 |
| Andhra Pradesh | 2,385 |
| Odisha | 2,180 |
---
Follow us for the latest education news on colleges and universities, admission, courses, exams, schools, research, NEP and education policies and more..
To get in touch, write to us at news@careers360.com.