'Law students need more practical exposure': GLC Mumbai Principal
Immediately upon taking charge as principal of the century-old GLC Mumbai, Asmita Adwait Vaidya faced the challenge of teaching during the pandemic.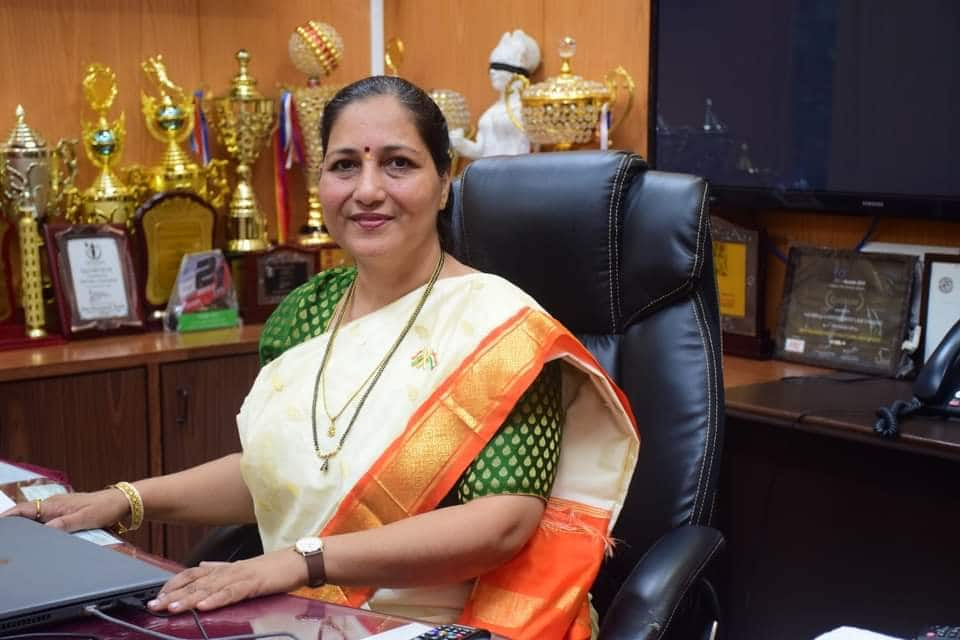 NEW DELHI: Asmita Adwait Vaidya took charge as principal of Government Law College Mumbai during the peak of the Covid pandemic. More than a century old, GLC Mumbai is affiliated to the University of Mumbai. Vaidya spoke to Careers360 about the challenges she faced, bridge courses she introduced to instill practical skills in students, and her vision of taking legal education forward.
Q. You joined the institute at the peak of the pandemic. How did you cope with such a volatile situation?
A. After I joined, I realized that administratively everything was running smoothly in the institute, but academically, students were not interested in coming to the college, either virtually or physically. So, I tried to boost their enthusiasm through meetings, conducted interactive sessions with students. I introduced the 'Ad-hoc Student Council' to ensure the smooth conduct of activities across courses. We now have different student committees running online as well. We constantly interact with students to understand what exactly they want to do. Considering this, we are conducting so many activities that each day is an activity day!
Also Read| 'Nation building': IITs, IIMs, NLUs have started public policy programmes
Q. How has Covid impacted law education? Has it widened the gap between teachers and students? What innovations has GLC implemented to address this?
A. Initially, we felt it was a big challenge but as days passed we realized that the virtual model of education is a huge opportunity for us through which we can help students learn several things. We are now able to bring in several people, including eminent lawyers and judges from across the globe for guest lectures or seminars. Not only from Mumbai, we now have speakers from Delhi, Haryana, and all over India. Of course, it is challenging because students do not communicate with the teachers directly, and even the teachers did not fully feel the spirit of giving a lecture before the camera. However, legal education is changing in the current scenario because people are becoming more aware, can learn anything on their own through the internet. They are learning so much and discussing them with teachers both offline and online. But, while students are into learning, they still lack direction, and we as an institute are trying to give that.
Also, the most significant task was to keep both students and staff busy with academic activities. I planned to conduct 75 different academic programmes based on diverse modes like 15 national-level webinars, including paper presentations. Then we have the guest-lecture series where students are actively participating and arranging speakers. We are also organizing quizzes, posters and skit contests. We are trying our level best to keep students academically busy.
Also Read| How law fellowships bridge the gap between LLB programmes and legal profession
Q. What has been the mode of evaluation of Mumbai University concerning law education during the Covid times?
A. This was a big challenge before the university itself because right from the mode of the examination to evaluation, everything was difficult. We decided to go for multiple-choice questions (MCQs) and descriptive types of question papers. Along with the task of evaluation and examination, every student had to be well-versed with the technicalities [of online examinations]. However, MCQs are quite easy for students.
We also have assignment-based evaluation wherein we want students to learn through their academic work and to enable these, teachers are trying to innovate. Teachers are providing such topics or case studies to students through which students can learn. There is no alternative considering the deteriorating interest of students.
Q. How has legal education changed in the past few years?
A. Now, [due to the pandemic] law education has lost its practical aspects as students cannot visit courts. Students are not given a chance to observe court proceedings or go for chamber visits. I feel students are missing this aspect. Also, there are many more parallel judicial systems like arbitration, mitigation at family or labour courts. Students are not getting practical exposure to these institutions either and that is the biggest part that we are losing. It cannot be done later and must be done during the course period, in parallel with theory.
Before the pandemic, students would visit and give presentations. So, they were quite busy with visits and sessions. But during the current times, despite things opening up, this practical aspect is lacking in the curriculum.
Also Read| Implement 27% OBC quota in NLUs, put CLAT 2022 on hold: Students' group after NEET verdict
Q. Several law graduates struggle to get placements or decent salary packages after passing out of law school. Why is it so?
A. Most students studying law think just about practising and never think about any other field. However, things are changing as law graduates are required in spheres like multinational corporations, and several others. There are about 20 other spheres for law graduates. Most students go on the same path of practising in the court, then give exams for being a judge and then get retired. Students need to look beyond traditional practice as well. In the era of digitisation, every firm requires a lawyer, whether it is a construction business or banking or insurance or any other. Students are not interested or not aware of such avenues. Lawyers have immense scope in the corporate sector, maritime field or in the army.
I believe no degree can give you money. Every student earns out of his/her hard work and it applies to law students as well. No institute can get you a job the second day you pass out of college. Your skills will get you one. Besides, internships don't provide much salary but experience, which is valuable, even for lawyers.
Also Read| 'We aim to groom next generation of air and space lawyers': RGNUL Punjab VC
Q. Several students feel that the co-curricular activities in law colleges are not in sync with the skills required by the industry. What are your views on this?
A. In my experience of the last 25 years or more, I find that there is a gap between the requirements in the legal industry and practical knowledge in colleges. So, to bridge the gap, we have started bridge or certificate courses for first-year students which includes communication skills as several students don't have that. This course trains students in reading, writing, listening and speaking. For second-year students, we have introduced a certificate course in "digilaw" which is the need of the hour as it teaches students to deal with virtual technicalities and other required skills for online courts, proceedings, etc.
In the third year, a student must know about the parallel judicial systems working in the country and learn about their nuances. Keeping this in mind, we created a course in "alternative dispute resolution" which includes arbitration, mitigation, counselling and other things. In the fourth year, students are taught about the procedures and hence we have introduced a course on trials. In the fifth year, we offer a course on advocacy skills. All these courses work as bridges where the curriculum is lacking. These are inculcating five important skills which help gain confidence and practical knowledge.
Also, through these courses, we are trying to inculcate such strong skills that they can directly appear at a High Court, just after they graduate.
Also Read| BCI will consider holding CLAT in regional languages, law ministry tells Rajya Sabha
Q. What is your vision for legal education in India?
A. Coming from different legal education systems and colleges of the country, I have realized that five-year LLB courses are quite long and must shrink to four years. This four-year course should be professional and in sync with the courts, subject-wise. I strongly believe in this way, both students and the legal industry will be benefitted. Considering the current scenario, if a student has five years of bachelor in law, then five years of practice, which makes ten long years. When will a student settle? Just like medical or engineering, undergraduate law courses must be shrunk to four years. Also, during this period, students should be directly attached with courts or lawyers, so that they attain practical knowledge.
---
Follow us for the latest education news on colleges and universities, admission, courses, exams, schools, research, NEP and education policies and more..
To get in touch, write to us at news@careers360.com.
Know More About
Rating
3.6/5
Download Brochure