At Invention Factory, IIT, NIT students step outside their 'branches' to solve problems
At Invention Factory, IIT, NIT students step outside their 'branches' to solve problems
At IIT Bombay, BTech students from across engineering colleges developed urine tests, induction stove adapters, anti-fogging masks, gas leak detectors and more.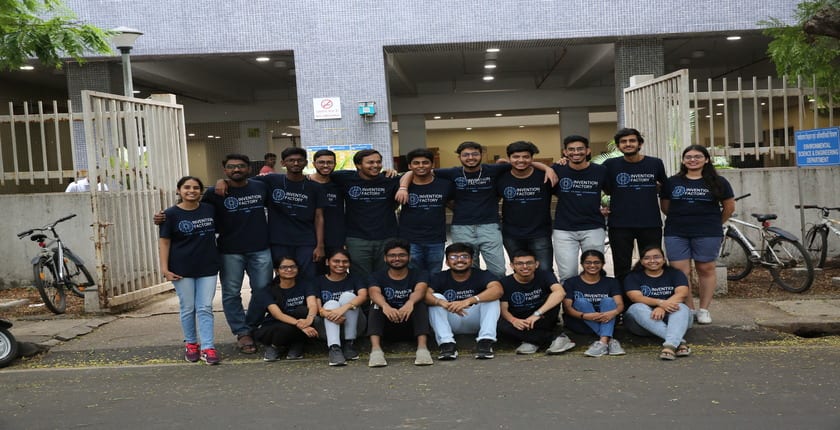 MUMBAI: Sharanya Garg, a second-year BTech student of Indian Institute of Technology (IIT) Madras found a solution for her ageing grandparents' complaint of needing repeated urine tests at a six-week-long "Invention Factory" (IF) programme hosted by IIT Bombay over June-July this year. While brainstorming during the first week of the programme, Garg and her teammate Pratham Mishra, in second year at IIT Kharagpur, thought of a device for manual urine testing. Over the next two weeks, they designed a prototype of a strip dispenser and detector that uses off-the-shelf urine strips and automatically calculates the results.
The Invention Factory is a six-week summer programme run by Maker Bhavan Foundation, a US-based non-profit that fosters innovation. From May 29 to July 7, 20 students from over half a dozen elite engineering colleges gathered at IIT Bombay. Organised into teams of two, they pitched ideas, invented products and presented prototypes to professors and evaluators. Ideas are presented even while still under development.
Eric Lima, professor of mechanical engineering at Cooper Union, New York, and co-founder of IF said: "During the second, third and fourth weeks, students still present to a diverse group of guest evaluators, even when developing their ideas and prototypes. This differentiates IF from other programmes where generally prototypes are presented only when they are finished, with no further improvement."
Garg added: "Most of us study engineering-related subjects but never get an opportunity to apply them. This programme opens up an opportunity to invent something. At IF, students help each other and solve social issues which is the biggest motivation to join the programme."
Also Read | SIIC IIT Kanpur hosts CSR roundtable discussion on 'Tech for Good'
Innovation and engineering
The IF started at IIT Gandhinagar in 2018 and included IIT Bombay in 2022 and IIT Jammu in 2023. The programme aims to get students excited about engineering and helps them solve real-world problems that rarely feature in BTech curricula. "In the first few semesters [of BTech], students are taught basic sciences. This leads to students losing their interest in the curriculum because they have studied most courses in Classes 11 and 12," said Damayanti Bhattacharya, CEO, Maker Bhavan Foundation. The programme was conceived by Alan Wolf, former professor of physics at Cooper Union and US patent lawyer, and Lima.
The first week is crucial – students must find a team, finalise a problem statement, get familiar with patents and patenting laws, and start building a prototype with a budget of Rs 50,000. 30 teams are working across three locations. At IIT Bombay, the programme started on May 29 and July 7 was "judgement day". Judges picked the top three inventions – the first prize is worth Rs 2 lakh; the second, Rs 1 lakh; and the third, Rs 50,000. The team of Rahul Singh and Chirag Satpathy from IIT Gandhinagar and NIT Trichy won the first prize; M Bhavana and Akanksha Saini from IIT Bombay and Gandhinagar were the first runner up and Roshini and Anika from IIT Madras bagged the second runner up position declared on July 7.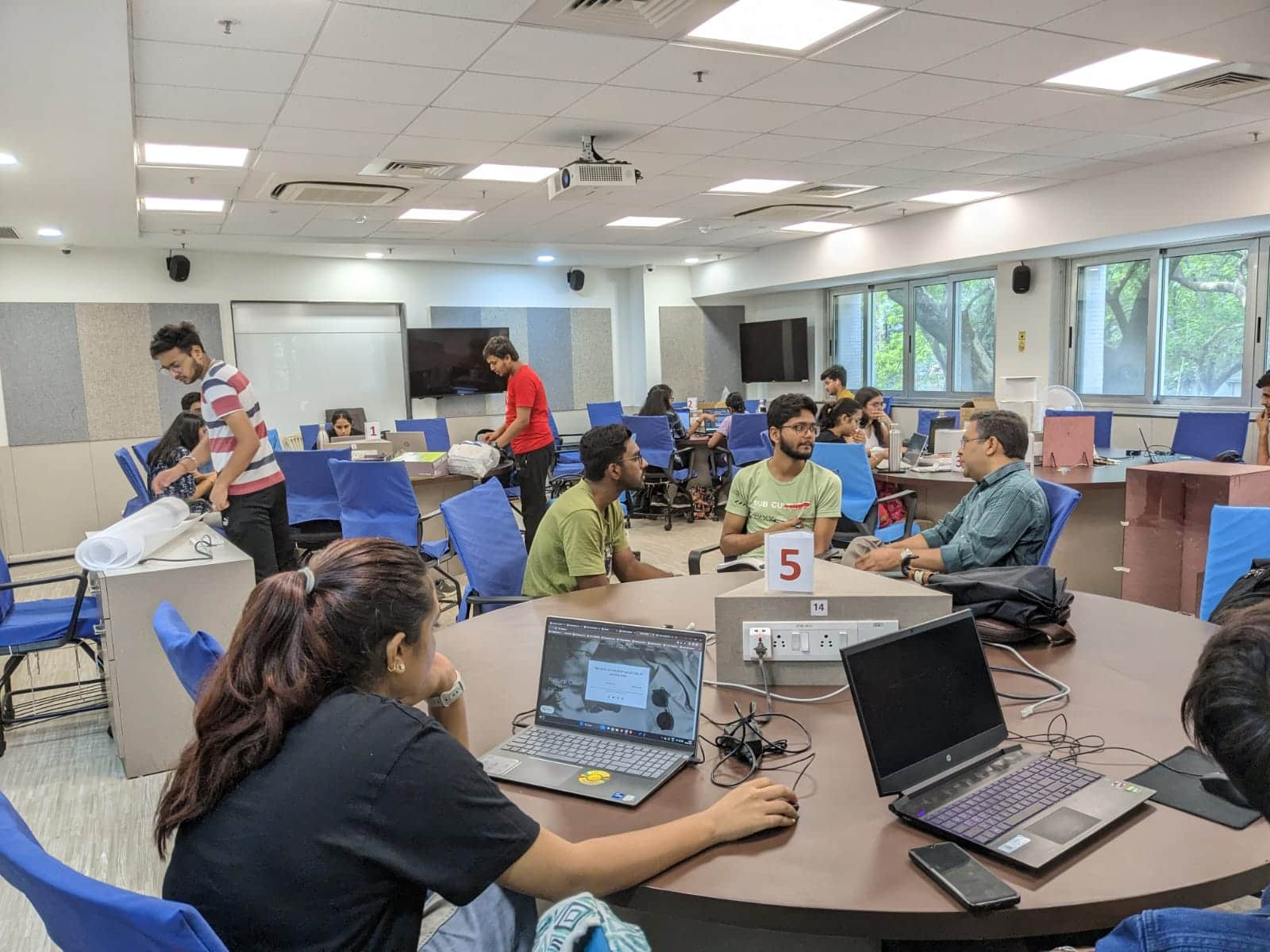 Students at Invention Factory discussing with faculty at IIT Bombay
Similar programmes will be conducted in IIT Gandhinagar and IIT Jammu as well.
Students come from the IITs, National Institutes of Technology (NIT) and Birla Institute of Technology and Science (BITS). The teams and faculty advisors work on identifying vital problems, said Wolf. "Along with a little bit of teaching, for a week, they identify a problem that alarms them to devise a solution to a problem. We teach them how to research through 'Prior Art' or previous patents to find novel ideas," added Wolf.
Some inventions can save lives; some may help disabled people walk; some may be gadgets for the home or kitchen, explained Nishant Sharma, professor, School of Industrial Design, IIT Bombay.
Also Read | 10 Years Of JEE Advanced: Toppers' scores drop; maths harder; chemistry easier; IIT seats up 68%
At IIT Bombay: Test and try
In the first week, many teams struggled to frame a problem statement. There was much discussion and questions which ultimately led to ideas and solutions, explained Chandra Sekhar Yerramalli, professor, mechanical engineering, IIT Bombay.
Samyukta Kagdelwar, in fourth year of ocean engineering and naval architecture at IIT Kharagpur, and her teammate Kushagra Chindak, in third year of mechanical engineering at IIT Bombay, had to drop their idea after working on it for three weeks. "After researching hypotonia [decreased muscle tone], inventing a device seemed hard with sensitivity and data calibration issues to be sorted within six weeks," said Kagdelwar. But that spadework led to their current project of developing a device for measuring strength and progress in autistic children, added Chindak.
Roshini S from the engineering and design department of IIT Madras added: "Many ideas were rejected based on the prototype's efficiency. We realised that our idea was not commercially efficient in the first presentation. Even while selecting ideas, we got some sense of workable ideas, pushing us to think more innovatively, considering the material, accuracy and several factors to build a refined prototype." Her team has invented an "induction stove adapter" that adapts flat induction stoves for cookware with curved bases.
Similarly, several ideas pitched by Shreyansh Saraswat, ME student at NIT Hamirpur and Kshitij, from electrical engineering, IIT Jammu, were rejected. "We tried and tested many things. We created prototypes that weren't very efficient, eventually designing a new one," said Saraswat.
Also Read | 'Only privilege was an internet connection': SC, ST, OBC, EWS students cracking IIT JEE without coaching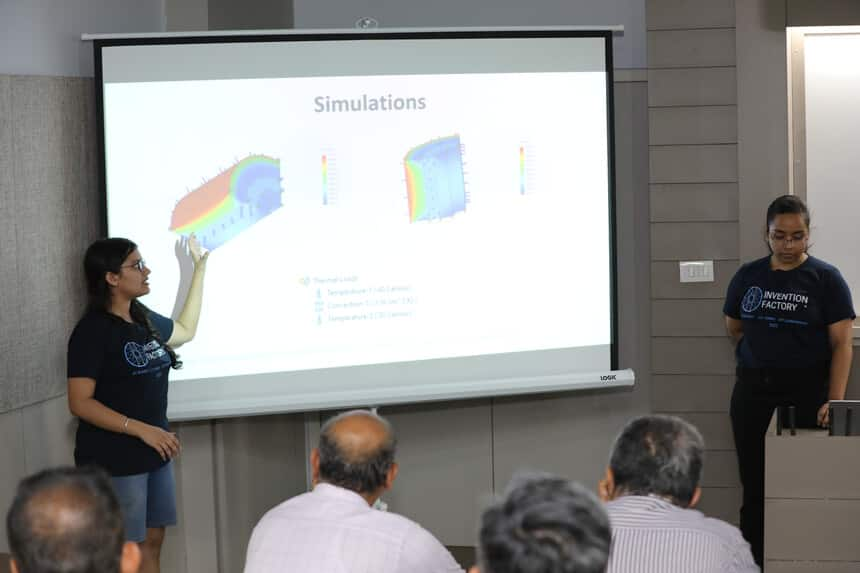 Students presenting their prototype in the third week of Invention Factory at IIT Bombay
Need for invention
Some teams had a clearer sense of what they wanted to work on. Siva KMR, from IIT Palakkad, found it difficult to wear masks inside the campus laboratories, as mandated by the administration. "As someone who always wears spectacles, wearing masks made my glasses fog up causing irritation and challenges to performing experiments. This led me to invent an 'anti-fogging mask'," he said.
Manas Agrawal from IIT Gandhinagar and Yuvraj Chugh from IIT Jammu were baffled by the cost of badminton shoes – the IIT Bombay stadium allows only gum soles. "We thought, why spend so much for just a few days?" This led to the invention of makeshift shoes with gum soles and a model of court guards renting them to players," said Agarwal. The team has invented a lightweight, economical extension that can convert regular sports shoes into gum sole shoes.
Similarly, Saraswat's prototype was built out of need. "As someone fond of mending my bicycles, I always wanted a universal spanner for quick repairs. After much research and experimentation, we invented a supporting device which prevents rotation of nuts and bolts in the same direction and can ease the process with one tool called 'twistlock spanner enhancer'," he explained.
Second and third-year ME students from IIT Gandhinagar and NIT Trichy, Rahul Singh and Chirag Satpathy said that constant feedback from professors helped them refine their product, the idea for which came from Singh's mother. "When I was asking my mother what device would be valuable to her, she said that nothing is happening to ensure the safety of gas stoves. We have invented a device that detects gas leaks and remotely controls the knob," he said.
Also Read | AICTE launches AICTE Connect Magazine focusing on research, development, innovation
Challenges and learning
Many students at IF were not well versed in presentation skills and knew few designing models and software. "Initially, we were trained with some designing models and given the freedom to use ChatGPT for scripting, coding and research," said Roshini.
Students have had to do patent searches throughout and ChatGPT helped solve most problems. "We also have to ensure that our prototype is novel from other prior art," added Singh from IIT Gandhinagar.
Students hesitant to speak publicly lost their inhibitions through the weekly pitching sessions which also helped polish presenting skills. "For me, the major challenge was to speak in public but now I am trying to overcome this through the programme," said Y Kalipavan from NIT Puducherry, working on a switch automator.
Also Read | IITs to adopt national credit accumulation and transfer framework
BTech students 'pushed to think'
The IF offers what a traditional BTech programme typically doesn't – the "push to think and come up with solutions along with questions", said Yeraamalli. It forces students out of their disciplinary silos as they must address every aspect of their product, he added.
"For instance, the group making a switchboard has to see every element including electrical, mechanical, features, accuracy and others. This is the opportunity for them to look at a problem as a problem and not from the perspective of an engineering branch."
There are few spaces like these on campuses. Having more such "makers spaces" and programmes on campus for students to do some real tinkering would be great, agreed Yeraamalli and Sharma.
---
Follow us for the latest education news on colleges and universities, admission, courses, exams, schools, research, NEP and education policies and more..
To get in touch, write to us at news@careers360.com.
More From Sheena Sachdeva