Engineering for Medicine: IITs focus on medtech in pandemic side-effect
Medical Technology: IITs saw a burst of innovation, development in testing, diagnostics during Covid-19 pandemic. They are building on that momentum.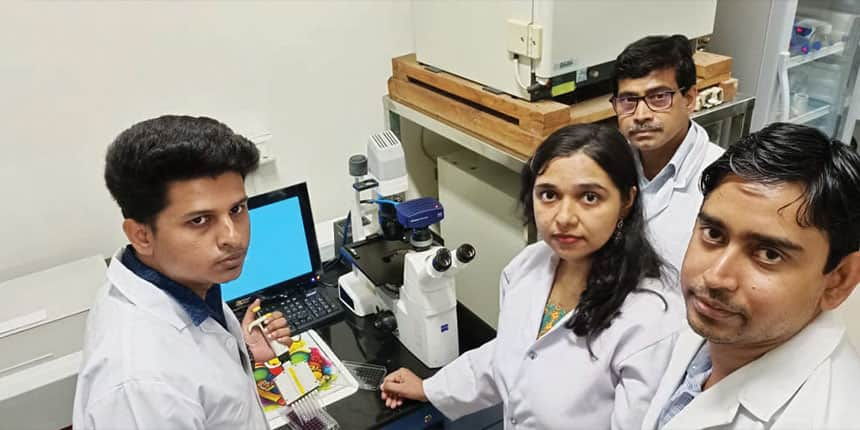 NEW DELHI: During the first wave of the Covid-19 pandemic in 2020, as the number of cases rose and hospitals filled with patients, the healthcare system and even the common citizens needed more of everything urgently – diagnostic kits, personal protective equipment (PPE) kits, masks, ventilators and more. In that situation, the Indian Institutes of Technology (IITs) were some of the first educational institutions to step up.
The IITs produced diagnostic kits and rapid tests; designed low-cost ventilators; special masks and PPE; sanitation systems in a short period of time. The IITs have continued to build on that momentum with new research centres, labs and collaborations.
India typically imports 87 percent of the total medical devices and equipment, worth approximately Rs. 50,000 crore every year, said B Ravi, institute chair professor, mechanical engineering department at IIT Bombay.
"We realized we can make the medical equipment required, our students can, although there are hiccups," said Amitabha Bandopadhyay, professor and in-charge bio-incubator facility, IIT Kanpur. He was part of the team that designed and built a viable low-cost ventilator within a week, in the early stages of the pandemic.
Also Read| IIT Guwahati sets up centre for healthcare technologies for rural areas
Healthcare Technology: Testing problems
While India has skill and manufacturing costs are low, the main deterrent to development of medical equipment was the cost of research and development, safety testing and human clinical trials. "These cannot be avoided due to regulatory requirements, nor compromised since they directly affect product quality and reliability," said Ravi, adding, "marketing and distribution are also important to improve the visibility and availability of the devices among target users."
Bandopadhyay, who co-authored the book, The Ventilator Project, says the aggressive work on biomedical equipment during the pandemic was mainly based on the media reports on the need for medical equipment. "We were new to the IIT system and even the students were new. During Covid that changed. What was required was in the newspaper headlines like, "We need the diagnostic kits, we need ventilators and many more things". When the problems were in the newspaper headlines we started making it, it was then we realized that this is the way to do it," he said.
However, according to Dinesh Kalyanasudaram, professor, Center for Biomedical Engineering, IIT Delhi, India would design medical equipment but they would struggle to cross technology level readiness (TLR 3) or prototype level. TRL is a method of assessing the development and maturity of a technology; it has seven levels. To be fully functional, a newly-designed piece of equipment has to pass through different stages of development starting with the primary or idea stage (TLR 1) to where the prototype is demonstrated in an environment in which it is meant to be used (TLR 7). TLR 3 is where the medical equipment is formed and this stage is followed by different levels of validation of the technology and testing.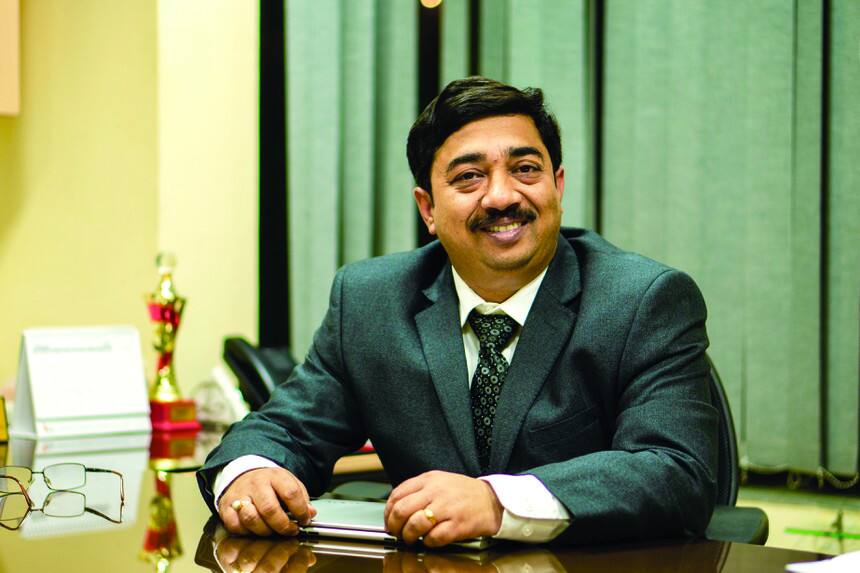 Amitabha Bandopadhyay, professor, IIT Kanpur ( Photo Courtesy - Amitabha Bandopadhyay)
Because of the lack of enough testing facilities, innovations in the domain were stalled. There are only a few International Organization for Standardization, or ISO-certified facilities in India where the prototypes could be tested and made functional apart from a few medical colleges. "One can make an affordable device but without testing and rating the device for safety, permission will not be granted for its use," said Ravi.
In early July, IIT Delhi inaugurated an ISO-certified testing facility for medical devices in India, mPRAGATI, establishing it in conjunction with the National Accreditation Board for Testing and Calibration Laboratories (NABL). The testing facility will also have provisions for human clinical trials. Gradually testing for invasive medical devices will also take place.
The medical technology facility allows development, manufacturing and testing of new devices. "Till now we were only creating devices, we were not testing. The testing facility will be open to everyone, not only IITs, but anyone who wants to test a prototype. In two years, it will be up and running," said Kalyanasundaram.
MedTech for Indian problems
Some problems are unique to India, said Bandopadhyay. "Cervical cancer is a very big issue in India, primarily because of ignorance. If this is detected at an early stage, it is curable," he said. The students of IIT Kanpur have developed technology for cervical cancer screening and the device can be given to Anganwadi workers once they are trained. "They can go to the villages and screen the entire village with the device. The device is a little expensive but there is no screening cost. No chemicals or strips are needed for this," added Bandopadhyay.
Also Read| NIT Silchar's PhD programme brings doctors, computer science engineers together
IIT Kanpur has tied up with King George's Medical University (KGMU), Lucknow. The institute has invited applications from graduates in any discipline, science, engineering, humanities or management who are interested in making innovations in the field of developing medical devices. The students after selection will be taken to KGMU for three months where they will be given complete access to all its functioning units. They will also be given basic theoretical knowledge of surgery, anatomy, physiology, electrical engineering, electronics, computer science and molecular biology.
These students will also visit the outpatient department, the surgical units from outside and witness the treatment given to patients suffering from neurological problems and urological problems.
"The students will keep a record of the instruments imported and find out if they have the skill set to make similar instruments. They will let us know. Then there will be a team of IIT Kanpur engineers and a team of doctors of KGMU who will finally select one or two devices that can be given to each of the students," said Bandopadhyay.
The students will use the infrastructure of IIT Kanpur to work for the next nine months after which they will go back to KGMU to do meta-testing in the actual hospital facility to see if the device works right.
"If it does, then IIT Kanpur has a very good incubator and we will run their companies and then further funding and other support will be provided to make that equipment and sell it in the market", added Bandopadhyay.
Needs of local users
Faculty at IIT Bombay believe the way forward is to understand the requirements of local users including patients, doctors and hospitals. The products need to be suitable, reliable and affordable and have the latest technologies so they can compete with imports.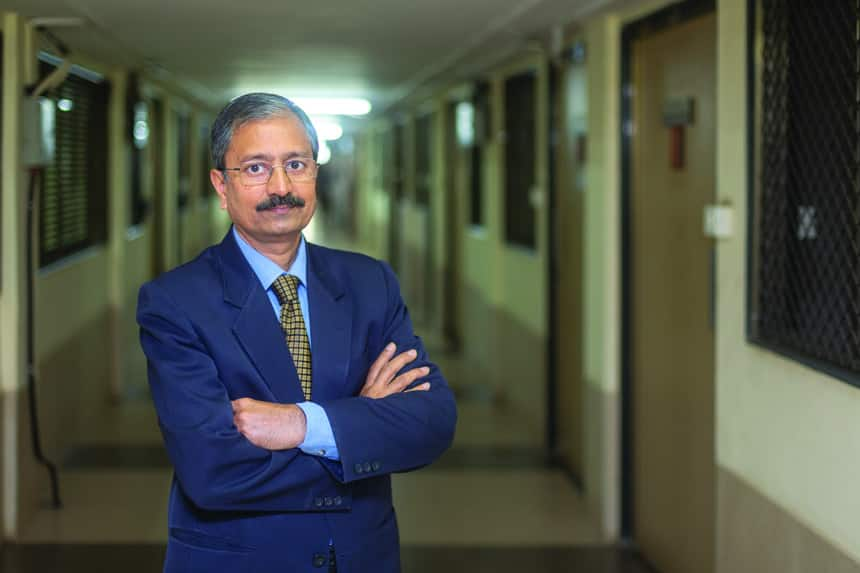 B.Ravi, institute chair professor, mechanical engineering, IIT Bombay (Photo Courtesy: B Ravi)
Talking about how the institute has been innovating, Ravi said that when a medical device innovation camp was organized in 2017, a participating doctor from a rural hospital wished for a stethoscope which could record the sound of heartbeat and breathing so that he can send that, instead of the patient, to a doctor in the city for a second opinion.
"The problem was taken up by two engineering students, who modified a conventional stethoscope so that it can digitally record the sound and share it via a mobile phone. However, they did not change the look and feel of the conventional stethoscope, since it forms the identity of a doctor," said Ravi, adding, "this proved to be a major advantage over digital stethoscopes imported from western companies, who incorporated headphones to listen to the recorded sounds."
The duo started a company called Ayu Devices in 2017, said Ravi. In less than five years, their product is expected to cross 10,000 units of cumulative sales. Most of these were purchased by state governments and placed in primary health centres for telemedicine.
"If the team had merely copied the design of imported digital stethoscopes, without taking into consideration the requirements of local doctors and without novel features (like noise cancellation and sound visualization on a mobile app), it may not have become a success story," said Ravi. "It is now featured in Harvard Business Review as a case study of an Indian med-tech start-up."
---
Follow us for the latest education news on colleges and universities, admission, courses, exams, schools, research, NEP and education policies and more..
To get in touch, write to us at news@careers360.com.
Know More About
NIRF Rank
20
Rating
4.6/5
Download Brochure