'It's a meat-grinder': Stress and despair at the IITs
'It's a meat-grinder': Stress and despair at the IITs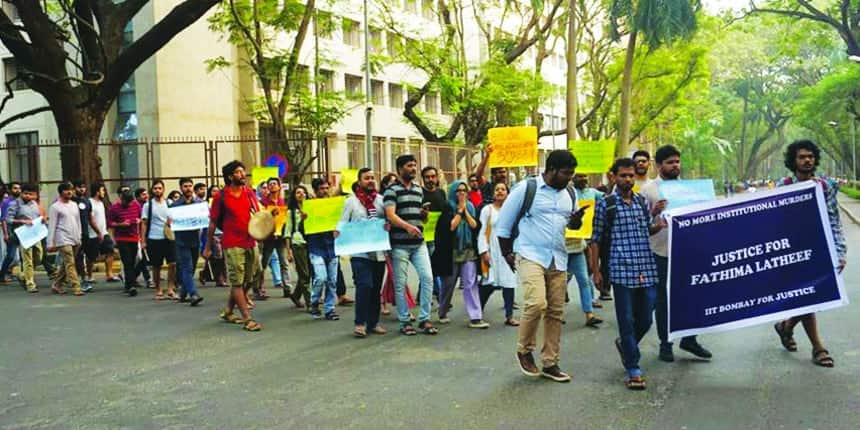 The premier engineering colleges, Indian Institutes of Technology, had four student suicides over just two months in October and November this year.
As one student seeking clarification on a post in an online discussion pithily observed: "IIT suicides are so common, you gotta specify the year, month and building."
Each death is followed by media reports and statements from the police, the institutions and in some cases, families of the students. Every group, even grief-stricken parents and bewildered officials included, seeks answers.
Some students have left notes, clearly explaining why they took the drastic step. Some have regretted the "daily grind", others have advised classmates to take it easy. In the case of Fathima Latheef, who was pursuing a master's in humanities and development studies at IIT Madras when she killed herself, a note left on her mobile phone alleging harassment by faculty members has led to controversy and protests.
But another death, at IIT Delhi and over the same weekend, left the institute's administration wondering. The student died in hospital following a suicide bid on campus. The director of IIT Delhi promised to investigate. In a note to students, he wrote that the first-year student "had a loving family, close childhood friends in her class and also a very helpful mentor in a senior student". She was doing well academically and had met her mother just a few minutes before making her attempt. "Obviously, none of this helped," he concluded.
Students and alumni have been attempting to puzzle out the reasons themselves, online and off.
The notes
Some students who killed themselves talked about the pressures and disappointments they experienced in their notes. On July 2, a design student of IIT Hyderabad, Mark Andrew Charles, hanged himself in his hostel room. In a note to his parents, he wrote: "Thank you for being the best parents... I am sorry I turned out to be such a waste." He also left some advice for the friends who eventually broke down the door to find him. "IT me kaam karte karte apni life matt bhul jaana (Don't forget your life while working in IT) … Live a little. Ek hi zindagi mili hain (We have only one life)."
Charles had died a short distance from where his senior Anirudhya Mummaneni crashed to the ground from his seven-storey hostel on February 2, 2019. Mummaneni's final words, in an email to friends, were blunt: "The decision to end my life is purely logical, based on my estimation of what the future contains. Life holds no intrigue anymore, the daily grind is becoming more difficult with time."
Burn out
In their discussions online, other students have mentioned academic pressure as a significant cause for distress. Speaking on Latheef's suicide, an alumnus of IIT Madras who did the same course, said: "It's a meat grinder. Half my classmates burnt themselves out running behind the high requirements. I and a lot of others just gave up and checked out, trading off high grades for peace of mind. Unfortunately, too many classes involved mugging up and regurgitating cr*p in the exam. I hated it and did not do well in that environment."
The institutes' administrations have not been entirely receptive to students' needs, complained some. "The administration won't do anything," said one student in an online discussion. "[They] just send out an email – even that is pre-drafted, because this happens so often now."
Dealing with failure
Students also dwelt on their inability to deal with failure. "Before these students go to IITs, they spend one or two years in a bubble where getting into an IIT is all that matters in life. When they get admitted, they are suddenly the apple of everyone's eyes...From such a bubble of adulation, it can be very difficult for kids to adjust with the reality at IITs where 50 percent of them will be below average, 20 percent of them will be at bottom of their class and quite a few would fail and drop out as well," said an IIT Madras alumnus who graduated 10 years ago.
That students have to go through this without the support of their families and old friends doesn't help. "For 80 percent of the class, it is the first time they are staying alone and are exposed to a life of minimal supervision," he continued. "It is very easy to fail and very difficult to live with failure - especially if you have never experienced it before and are completely alone when you are experiencing it for the first time. You cannot even confide in your old friend, parents, relatives, siblings etc. because they have put you on a pedestal."
An IIT Gandhinagar student agreed: "What makes it worse is almost everyone here has been a topper from their respective schools, and suddenly we get zeroes, and it can get pretty disheartening. And the expectations from parents - It feels like we're disappointing them."
'Lack of awareness'
While every incident is followed by instructions to students to seek counselling, the service itself is not seen as being of much help. "The counselling set up is for the name only," complained a student. "It's all run by students. When they themselves have so much to deal with, why would they care about some random person?"
Students have also pointed to the general lack of awareness regarding mental health among those on campus. An IIT Bombay student narrated his experience of seeing the cavalier attitude of his classmates to a mental health survey they had to compulsorily participate in. "The students flew aeroplanes out of the paper they got to colour in because they got bored of the session," he wrote. "Point is, the administration is trying to provide counselling, but the lack of education regarding mental health results in people shrugging it off as a joke."
On some campuses, the student population is just too large for the confidential and sensitive exercise of one-on-one counselling to be feasible. An IIT Kharagpur student pointed out the logistical problems such a programme would present: "Monthly one-on-one sessions would be an absolute gift but are next to impossible. There are approximately 15,000 students, which means around 600 sessions a day. You'd need like 70 counsellors, just for a measly 45-minute session. Compare it to the six counsellors and one psychiatrist available on campus."
For help, AASRA has a list of resources here: http://www.aasra.info/helpline.html
Write to us at news@careers360.com