JEE Main 2020: Aspirants worry about reaching exam centres amid floods
JEE Main 2020: Aspirants worry about reaching exam centres amid floods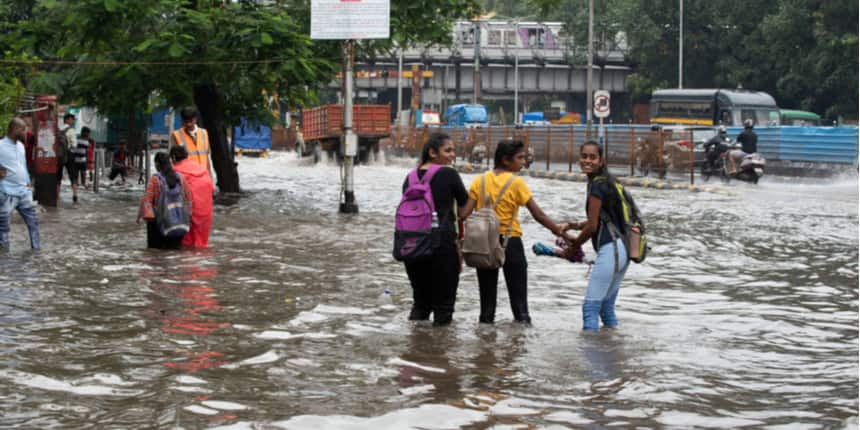 NEW DELHI: Just ten days ahead of the Joint Engineering Entrance (JEE) Main, students are worrying about reaching exam centres amid massive floods and absence of public transport.
Recommended: USE JEE Main College Predictor & make your college preference list for JoSAA Choice filling process. Click Here 
Latest: Apply to these TOP institutions with your JEE Main score - Check List here  
Adding to the woes of JEE Main aspirants is the immense distance they are required to cover to appear for the entrance exam amid the coronavirus pandemic. The National Testing Agency issued the JEE Main admit card on August 17.
With incessant rains, states like Rajasthan, Uttar Pradesh, Bihar, Assam and Andhra Pradesh are experiencing heavy floods or flood-like conditions.
The situation in Bihar seems to be the grimmest, where more than 80 lakh people are affected by the floods, the Hindustan Times reported. Many students from the state expressed their despair on social media about commuting over 400 kms to reach the exam centre. There are seven exam centres in Bihar.
Due to a spurt in coronavirus cases, Bihar has also extended the state-wide lockdown till September 6. The exam will be conducted from September 1 to 6 in computer-based mode.
#POSTPONEJEE_NEET think About bihar people how can they travel without bus service. In bihar alla district also doesn't have centre. And many region of bihar is suffered or suffering from flood.. All train are shut down till 30 September. How they able to give exam. 😔😔😔😔😔 pic.twitter.com/vigD77plNv

— Rohit Roy (@RohitRo12688111) August 18, 2020
'Village submerged in water'
Anxious about appearing for the exam amid floods, a JEE aspirant asked " I'm from Bihar. Our village is still submerged in water. My exam centre for JEE is 200 km away. How we will reach [the exam centre]?
I m from bihar.our village is still submerged in water from all around My exam centre for JEE is 200km away .how we will reach there plz listen us..we couldnt study properly due to flood and other situations..#POSTPONEJEE_NEET #PostponeJEEAndNEET @RahulGandhi @priyankagandhi

— Dhananjay kumar (@dhananjay827171) August 18, 2020
Another student expressed his anger about travelling 480 kms when railways and inter-state buses are not plying.
Railways are not operating until sep30.. Interstate buses are not yet started in our state..floods are in 3-4 districts..very less number of centres...no private vehicles...i have to travel 480 km to my exam centre..how sir??#SurakshaBeforePariksha pic.twitter.com/NfXoCOAn0N

— Jeevanreddy (@Mejeevan18) August 17, 2020
A student living in a flood-affected area took a jab at the authorities and asked for a boat to be sent to her to cross the flood.
I am ok to for giving my exam even in this situation.... please send me a boat ... because I don't know how to swim ...so that I can cross this flood to my exam centre#SCpostponeJEE_NEET

— Ishika Sinha (@IshikaS20007733) August 18, 2020
The Supreme Court on Monday dismissed a petition seeking postponement of National Eligibility cum Entrance Test and JEE Main 2020.
They are expecting to give the exam by us in this condition.
(1).Without solving our flood trouble we are facing with.
(2).Without availability of any transportations. @DG_NTA @DrRPNishank sir look at the situation. How would we reach our exam centre. #SurakshaBeforePariksha pic.twitter.com/7WerQ2zDF5

— Sandeep Kumar Singh (@Sandeepsingh150) August 16, 2020
Situation like this floods , covid and still goverment think we have to go and give exams my centre is around 400 kms how should i travel #RIPSUBHASRI_SAVE30LAKH pic.twitter.com/FLlPw8oNWz

— Parikshit (@Pariksh86277204) August 20, 2020
No public transport
As per the guidelines issued by the ministry of home affairs, public transport has also been off the roads. Without personal vehicles, students living in containment zones are also worried about reaching the exam centres.
Postpone jee @DrRPNishank @DG_NTA its not condusive time to conduct jee plz understand
My centre is 237 km from my home and my colony is seal due to covid pandamic now tell me how can i reach exam centre from my home ? 😰☹️ Plz @DrRPNishank postpone jee and neet . https://t.co/Ui0lMLXzF3

— Raj (@Raj81318496) August 20, 2020
Mam m sultanpur up se hu ar mera cntr Delhi h...mere ghr se 680 km h Delhi.. Mam m kaise jaungi exam dene upr se mere area m 50 covid cases ar 4 case to mere ghr k samne hi h sb kuch seal h mam.. M kya kru ab kaise jau exam dene mujhe kuch nhi smjh aa rha😞😞

— Shweta Dwivedi (@shweta071296) August 18, 2020
Sir, we don't have any personal transport facility to reach our nda or jee mains exam centre . We have to travel from deoghar to ranchi , jharkhand . So , please provide us transportation facilities. @DrRPNishank @HemantSorenJMM @EduMinOfIndia

— Aditya Anand (@AdityaA04231525) August 19, 2020
Discouraged by the long travel, students are also deciding to drop this year's examination.
I just called one my friend now , he said he will not give exam of JEE because his centre is 250km away from his house, and his father denied him to give exam...
Who will be responsible for his career , and lost of one year....@DrRPNishank @DG_NTA @EduMinOfIndia @PMOIndia

— Bhabani Nayak (@BhabaniPrasadN) August 20, 2020
This year, as many as 8,58,273 students have applied for JEE Mains. Candidates who are COVID-19 positive will also be allowed to take the JEE Main exam in isolation rooms, the Times of India reported.
Also read:
Write to us at news@careers360.com