JEE Main and NEET 2020 latest news: JEE Main admit card release date by Aug 15
JEE Main and NEET 2020 latest news: JEE Main admit card release date by Aug 15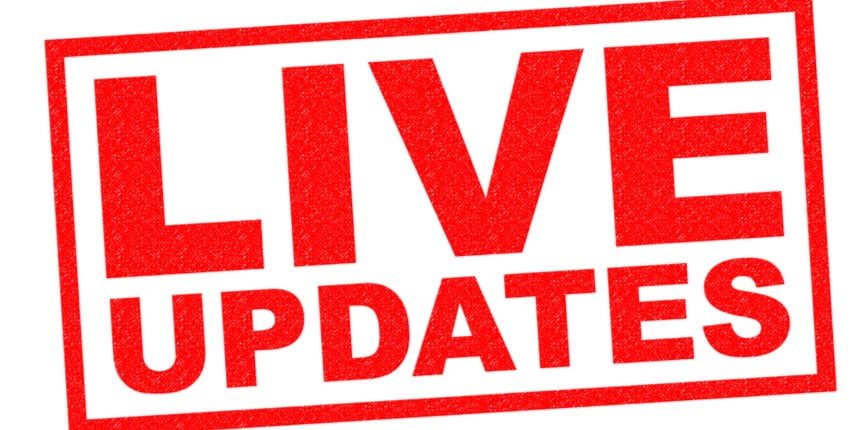 NEW DELHI: National Testing Agency (NTA) will release the JEE Main admit card date by August 15. As per its notification announcing the JEE Main 2020 exam dates, NTA clearly mentions this fact. JEE Main exam 2020 is scheduled from September 1 to 6 in online mode in 224 plus cities across the country. It si to be noted that the JEE Main exam centres abroad may not be functional on account of the COVID pandemic and the no travel restrictions placed.
The JEE Main notice clearly states, " The dates for downloading of Admit Cards indicating Roll Number and the Centre of Examination will be displayed 15 days before the conduct of examination on the official websites of NTA (nta.ac.in) and JEE (Main) (jeemain.nta.nic.in)."
Since JEE Main exam is scheduled from September 1 to 6, it can be said that the JEE Main 2020 admit card dates will be announced on August 15 or thereafter.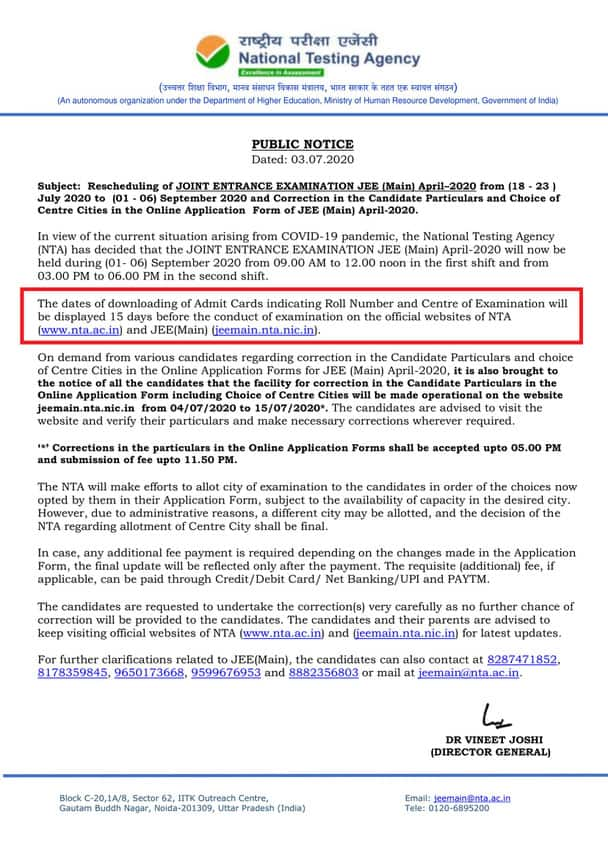 NTA is expected to announce the NEET admit card dates by August 30 which is 15 days before the NEET exam dates ie. September 13. This is as per the official notification and can be seen below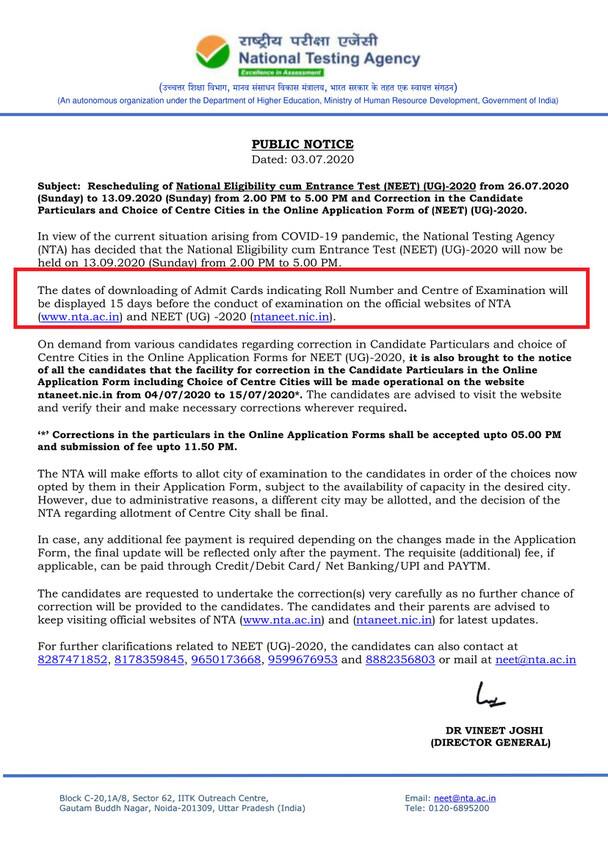 In a tweet on July 3 by the Minister of Education, Ramesh Pokriyal 'Nishank', the new dates for JEE Main 2020 and NEET 2020 were announced. The new JEE Main 2020 exam dates are September 1 to 6; NEET 2020 exam date is September 13 while JEE Advanced exam date is September 27.
NEET 2020 was to be held on July 26 for 16.84 lakh registered aspirants and JEE Main exam from July 18 to 23 for more than 9 lakh aspirants. The latest update on NEET and JEE Main as per reports is that it may be postponed till further notice. Candidates are advised to track the JEE Main and NEET 2020 latest news and live updates below to keep themselves aware.
Also read
Write to us at news@careers360.com
Live updates
JEE Main admit card dates will be announced on August 15 while NEET admit card dates will be released on August 30. On July 3, HRD Minister Ramesh Pokhriyal had announced the new exam dates for JEE Main, NEET and JEE Advanced.
July 17, 2020 | 11:25 AM IST
NEET 2020 application correction window extended
NTA has extended the correction window facility for NEET application form from July 15 to 20, 2020. Only the registered aspirants can make corrections in the personal, education, contact and other required details. The public notice also mentions that the photographs, signature and left-hand thumb impressions of some candidates are illegible, thus they need to upload clear images as per the specifications to avoid cancellation of their candidature.
July 4, 2020 | 05:47 PM IST
Who has to pay the NEET additional fee?
The following candidates must pay the additional fee
Candidates who wish to change category from General-EWS/ OBC-NCL to General must pay the additional Rs 100 online.
Candidates wishing to change category from SC/ST/PwD/Transgender to General must pay Rs 700 as additional fee. In case they wish to change to General-EWS/ OBC-NCL, they need to pay Rs 600 only.
Centre change can be only within India as NEET has no exam centres abroad.
July 4, 2020 | 05:39 PM IST
Who has to pay the JEE Main additional fee?
The following candidates need to pay the additional fee
Only candidates who have changed their category from a reserved one (SC/ST/PwD/ Transgender ) to General/ OBC. The application fee is different for both and hence the difference would be required to be paid.
Candidates who committed a mistake in the gender detail and need to change that. Only candidates who wish to rectify from female to male will have to pay the difference in the NEET or JEE Main application fee.
Candidates who planned to appear for the exam in India but are abroad and now have to choose one abroad centre on account of the international travel restrictions will also need to pay the difference in fee.
July 4, 2020 | 05:36 PM IST
Online payment to be done in case of any changes of category in JEE Main/ NEET application form
NTA has specified that any payment that is required to be made in case of correction of details in the JEE Main or NEET application form, will have to be made online through Credit/ Debit Card/ Net Banking/ UPI/ PAYTM.

July 4, 2020 | 05:28 PM IST
JEE Main and NEET Correction Windows open; Change of exam cities and correction of candidate particulars allowed
NTA has started the correction facility for both JEE Main and NEET 2020. JEE main correction is available at jeemain.nta.nic.in while NEET correction can be availed by registered candidates at ntaneet.nic.in.
The new registration window is also visible on these two website but are non functional once a candidate reaches the actual registration part. So, candidates can know that even if the fresh registration or application window of JEE Main and NEET are seemingly open, in reality they are not.
July 4, 2020 | 01:15 PM IST
JEE Main Preparation for last two months
Another two months to add to the preparation time. Candidates who haven't finished the preparation, can do now. Other than that, they can use the NTA app for practice purposes to test themselves
Previous year papers are the best tools to gauge how well prepared one is.
Short notes should be prepared for last time revision. Jot down all important formulae, topics that carry weightage and all those details that one needs to refresh before the exam.
July 4, 2020 | 01:08 PM IST
What are the states and Universities that take JEE Main Scores?
Well, this is one alternative that can also be used. Haryana, Bihar, Madhya Pradesh, Rajasthan, Jharkhand, Himachal Pradesh, Punjab etc use JEE main scores. Infact around 13 states and UTs plus many private and deemed universities accept JEE main scores. so students can look at applying here. Some like Rajasthan, MP have outside state quota too. Delhi counselling is through JEE Main scores and 15% of seats are for outside Delhi students.
July 4, 2020 | 01:06 PM IST
Other engineering exams to look at while preparing for JEE Main
While waiting for JEE main, engineering aspirants can also check out other engineering entrance exams that are equally good. The point is that JEE Main is for 21352 seats in 31 NITs, 4808 seats in 25 IIITs and 5635 seats in 28 GFTIs totaling 31,795 seats. JEE advanced is for admissions into 23 IITs only with an approved intake of 15398 seats. This is less than 50,000 seats inclusive of all categories so the competition will be high and cutoffs high too.
It makes sense for students to also look for alternatives so that they don't lose an academic year. some popular and good alternate engineering exams are BITSAT for BITS Pilani, AEEE for Amrita which also takes JEE Main scores, VITEEE for VIT university, SRMJEEE which is for SRM University (JEE Main scores also accepted here), MET for Manipal University. In addition, plenty of state entrance exams are also there. However domicile constraints may exist but popular exams are MHT CET for Maharashtra, AP EAMCET for Andhra Pradesh, UPSEE for UP, TS EAMCET for Telangana, KEAM for Kerala and KCET for Karnataka to name a few.
July 4, 2020 | 12:27 PM IST
JEE Main and NEET admit card dates announced; download available 15 days prior to exam
JEE Main and NEET admit cards will be available 15 days before the exam dates. This means that JEE main admit card 2020 download will start after August 15. NEET 2020 admit card download is expected from August 27.
Candidates will be able to download the admit card of JEE Main and NEET exam through their candidate login. Only registered users will be able to download their JEE main admit card / NEET admit card.
July 4, 2020 | 12:12 PM IST
How to change the NEET exam centre and correct candidate particulars?
The step by step process
Go to ntaneet.nic.in. Use the link activated by NTA for correction.
Login using candidate credentials.
Change the exam centre or update candidate particulars as per need.
Save and submit.
Take a printout of the NEET application form
July 4, 2020 | 12:05 PM IST
How to change JEE Main exam centre (city) and candidate particulars?
Steps to follow
Go to jeemain.nta.nic.in. Click on the link that will be activated by NTA.
Enter the application number and password and login.
Go to the exam centre details and choose the appropriate one.
Change in candidate particulars can also be done simultaneously.
July 4, 2020 | 12:02 PM IST
JEE Main and NEET Correction Window starts soon! Changes allowed till July 15.
Correction window can be used by candidates for edits till July 15. Candidates can change their details as well as exam centre (city). This correction of JEE Main application form will be through the JEE Main candidate login for engineering aspirants at jeemain.nta.nic.in and through NEET candidate login at ntaneet.nic.in for medical aspirants.
July 3, 2020 | 08:53 PM IST
The latest MHRD statement on JEE Main and NEET exams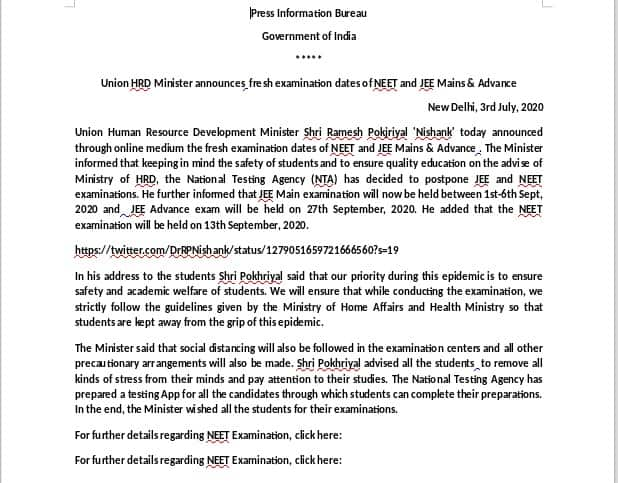 July 3, 2020 | 08:41 PM IST
JEE Main and NEET Application Correction to start from July 4 and end on July 15
NEET 2020 Application Correction:

JEE Main 2020 Application Correction:

July 3, 2020 | 08:32 PM IST
NTA notifications for JEE Main and NEET postponment
Check latest JEE Main 2020 July exam notification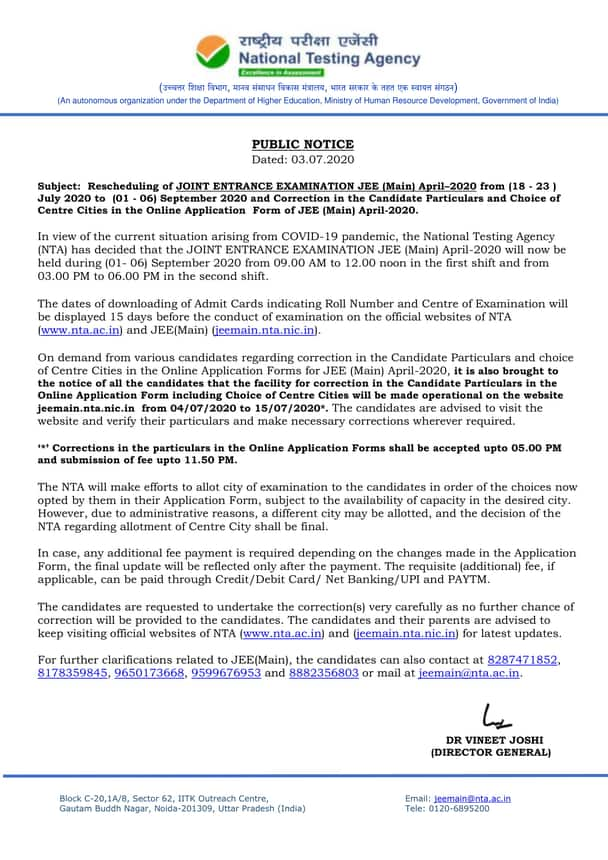 Check the NEET Notification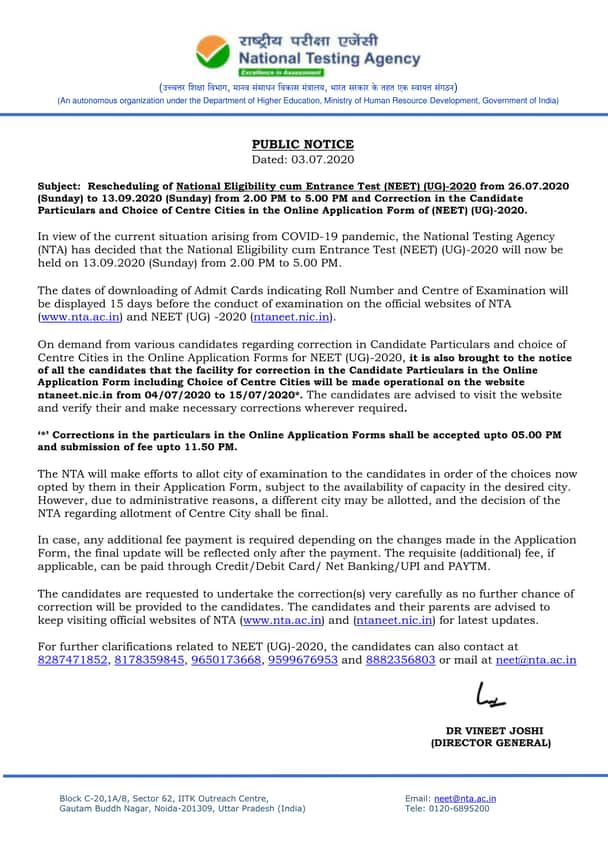 July 3, 2020 | 08:03 PM IST
Students reactions post HRD Minster tweet on postponement of JEE Main and NEET
Twitter is being flooded by messages from students thanking the HRD minister Ramesh Pokhriyal 'Nishank' for the postponement of JEE Main , NEET exams. Some students also were not happy with the further postponement but the overall feeling is that of relief considering the situation in the country.
"Congratulations to every student.Still there will be many mean people who may not have liked this decision, but we all know that safety first! say one message." "Thank you for taking such a good decision on our favour. we student are Thankful To You, At last Our Consistency And Hastag Paid of, Thank each and everyone for your help", saya another one.
July 3, 2020 | 07:32 PM IST
JEE Main and NEET postponed tweets HRD Minister.
JEE Main and NEET have been postponed. The new dates for JEE Main are September 1 to 6,. NEET 2020 will be held on September 13 and JEE Advanced will be held on September 27. 2020.
Keeping in mind the safety of students and to ensure quality education we have decided to postpone #JEE & #NEET examinations. JEE Main examination will be held between 1st-6th Sept, JEE advanced exam will be held on 27th Sept & NEET examination will be held on 13th Sept. pic.twitter.com/klTjtBxvuw

— Dr. Ramesh Pokhriyal Nishank (@DrRPNishank) July 3, 2020
July 3, 2020 | 06:42 PM IST
Meeting held by NTA, MHRD and IIT respresentatives
A meeting was held today by representatives of NTA, IITs and MHRD. The decision that has been taken in the meeting will be intimated soon as per the HRD minister's announcement in the 'Fit Hai to Hit Hai India' webinar held at 5 pm today. The minister asked students to keep patience and be assured that the authorities have their best interests in mind.
July 3, 2020 | 06:38 PM IST
July 3, 2020 | 06:36 PM IST
In an interview with Zee News on June 27, Ramesh Pokhriyal had explained that the authorities will "try to conduct" the engineering and medical entrance exam as per the earlier schedule. Giving an update on the entrance exam, HRD Minister had then confirmed that as per now there are no changes in the exam date.