JK Lakshmipat University confers former President Pranab Mukherjee with Laureate Award
JK Lakshmipat University confers former President Pranab Mukherjee with Laureate Award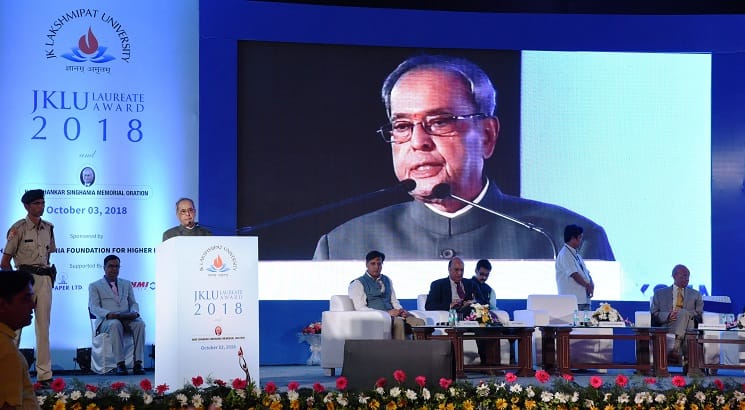 NEW DELHI, OCTOBER 4: JK Lakshmipat University recently honoured former President of India Pranab Mukherjee with the Laureate Award 2018 for his exemplary contribution in public service, governance and nation building.
Mukherjee delivered his insightful opinion on "Youth and Nation Building" during the 5th Shri Hari Shankar Singhania Memorial Oration, a unique segment constituted to commemorate JKLU'S first Chancellor Hari Shankar Singhania.
Marking the inauguration of this prestigious event through a lamp lighting ceremony and SaraswatiVandana, the trail of events continued with a welcome note from Dr. R.L Raina, Vice chancellor, JKLU, followed by a segment staged by the Chancellor, where the eminent personalities present were introduced to the core philosophy and idea of the laureate awards and Hari Shankar Singhania Memorial Oration. During the next session impactful personalities present and their achievements were celebrated with award presentations.
The former President of India expressed great appreciation for the JKLU Laureate Awards in promoting the cause of youth and education. "India is one of the youngest nations in the world with 65% of the population under 35 years of age. To reap this demographic dividend, so that is does not become a demographic disaster, it is very important that youngsters are trained and educated properly" observed Pranab Mukherjee.
The Chancellor of JKLU, Bharat Hari Singhania took this opportunity to express his views and said, "Youth in India are contributing to Indian economy significantly by adopting innovations and choosing Entrepreneurship as their career. JK Lakshmipat University was established in2011 with a vision to provide value-based quality higher education. With a view to make it one of the most innovative institutions of higher learning and research, in its chosen fields, the University is engaging itself with leading institutions in the world to further its academic and research agenda.Besides grooming good quality employable youth for nation building, the University is focused on orienting the young minds towards Community Service through various missions launched by the government of national importance while pursuing excellence in whatever they do."