Karnataka resident doctors: Training neglected due to COVID-duty
Karnataka resident doctors: Training neglected due to COVID-duty
Karnataka Association of Resident Doctors said their training is suffering as they've been on COVID-duty for months.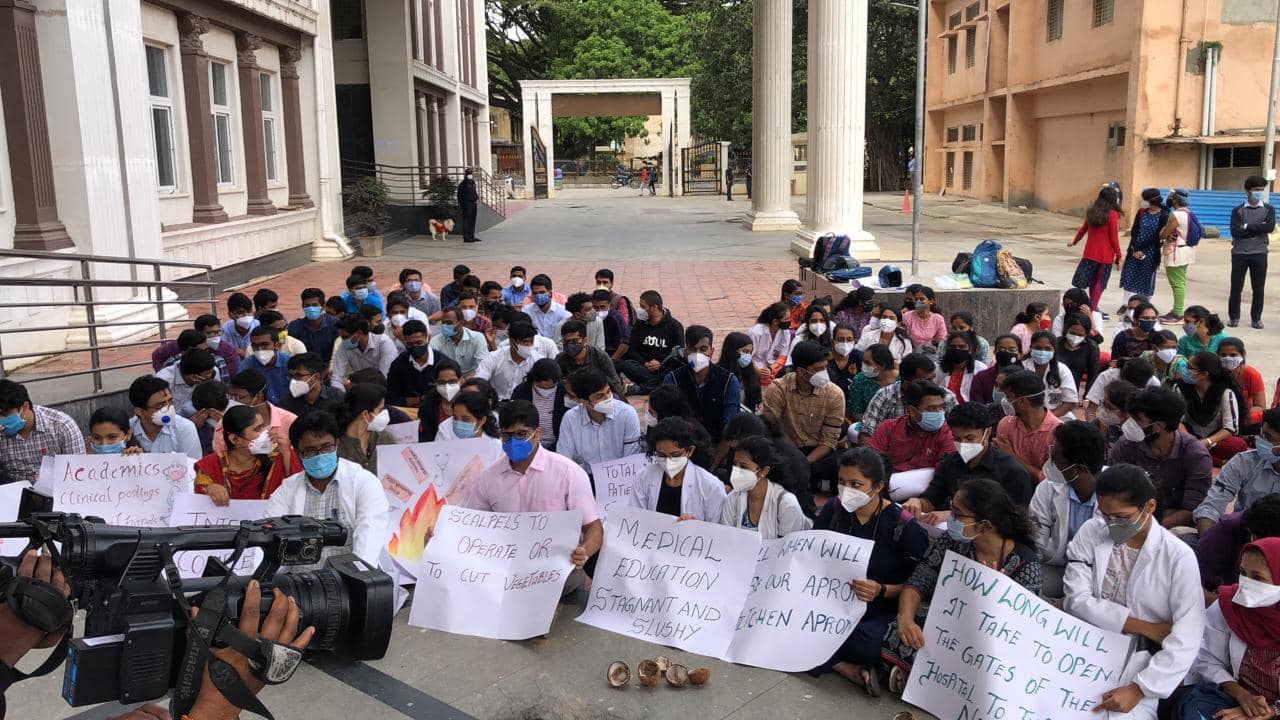 NEW DELHI: The Karnataka Association of Resident Doctors (KARD) has said that being on COVID-19-duty for months has resulted in the neglect of training in general surgery for postgraduate students of medicine. Resident doctors have had their internship period extended to make them available for COVID-duty.
With the pandemic claiming all attention and resources, the students said that they have been on COVID-19 duty exclusively for nine months without any exposure to general surgery. A postgraduate student of medicine should not be used for COVID-19 duty only, they say. The association, KARD, has also demanded that an end-date be announced for their internship.
The Karnataka doctors staged a symbolic sit – in-protest in medical institutions across the state on Monday to raise these issues. They have also demanded that they be given COVID allowance.
"The government has turned all the hospitals into exclusive COVID hospitals," said Dr Namrata, a postgraduate student studying in Bangalore Medical College and Research Institute (BMCRI).
No surgery training
The resident doctors say they have not been exposed to general surgery or exposure to treating patients suffering from other conditions or illness as all the hospitals and research centres are catering to the needs of COVID positive patients only.
"We have studied hard and taken admission in the prestigious government colleges to learn, to make our skills better and produce good quality doctors for the society," added Namrata, who does not use the last name. "What quality doctors are being produced in society in such a scenario?" she asked.
"We demand the term 'exclusively for COVID services' to be waved off from medical institutions where postgraduates are posted," said Dr Gayatri, a house surgeon at BMCRI said.
The students demanded Medical College hospitals be converted to non-covid hospitals and reserve other General Hospitals for COVID services.
Fee issue
The students are also demanding that their fees be waived for 2020-2021 as they could not attend classes because of COVID duties
"Since the past nine months, our academics are nil. No surgeries have been taught. We have paid one lakh of fees and super specialities have paid 2 lakh of fees. We want the fees to be waived," said Dayanand Sagar, President, KARD.
Alleging that the government has failed to recognize their work. Placards read, 'We want recognition from the government', 'Exemption of tuition fees for the year 2020-2021', 'Internship completion date soon'.
NEET-PG 2021
The students also sought payment of COVID risk allowances to all resident doctors, house surgeons, interns and undergraduates who were on COVID duty for recognition of their services.
Senior residents who have been working in various institutes as part of their compulsory bond are demanding that they be paid their salaries and postgraduates of Sanjay Gandhi Institute of Orthopedics and Indira Gandhi Institute Of Child Health be paid the revised stipends.
They say that these steps are very much necessary as uncertainty is hovering around the current batch of house surgeon regarding extension of the internship. Further, the entrance exams for postgraduate medicine -- NEET-PG 2021 -- as well as MBBS exams, have been postponed.
Also Read:
Write to us at news@careers360.com
More From Pritha Roy Choudhury