NEET 2019 counselling registration for AIQ extended indefinitely by MCC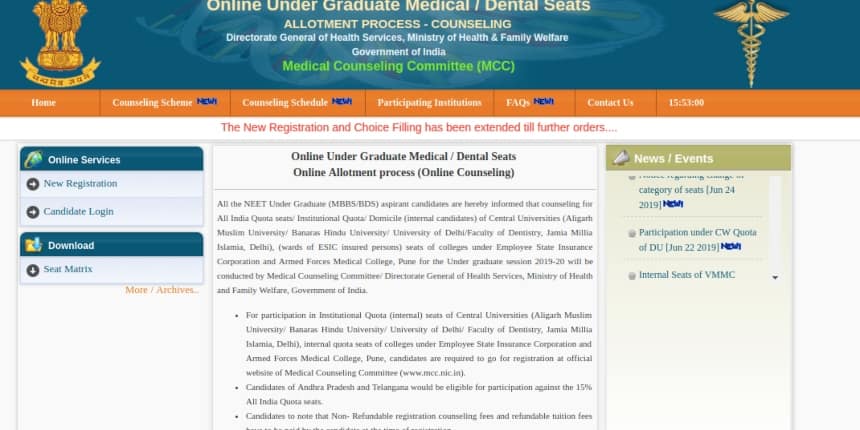 New Delhi, June 25: Medical Counselling Committee (MCC), through a notice published on its website today at around 3 pm, has further extended the deadline to register and fill choices of NEET 2019 counselling for AIQ seats, but this time till further notice. Earlier, the counselling conducting body had extended the deadline to register for first round of counselling till 11 am, June 25.
The original deadline to register for round I of centralized counselling conducted by MCC was 5 pm, June 24.
Candidates who have qualified NEET 2019, but haven't registered yet or have failed to register because of any reason may use the window to get registered. It must be noted that one can participate in the choice filling process only upon successful registration.
The allotment of seats for the first round of counselling is slated to declared on June 27. MCC authority hasn't notified whether the seat allotment process will get delayed, considering the registration is extended. And given the likelihood of a postponement of seat allotment result, candidates are urged to keep checking the MCC website.
Through centralized counselling conducted by MCC, a total of 4591 MBBS seats will be offered, up from 4064 last year.
Counselling for 15% AIQ seats
MCC is the counselling conducting authority for 15% AIQ, Central/Deemed/AFMC seats. The counselling process is conducted in online mode.
Counselling for AIQ seats is completed in two rounds, for the rest an additional mop-up round will also be conducted.
Counselling for 85% state quota seats
The respective state counselling authorities will conduct counselling process for 85% state quota seats and all seats of private medical and dental colleges.
How to apply for counselling
The candidate can participate in either central counselling (conducted by MCC) or state counselling ( of which the candidate is a domicile), or both. However, since the counselling is conducted by different authorities, one has to apply separately for the two.
Currently, along with registrations for NEET 2019 counselling conducted by MCC, registrations are also open for most state counselling, like Gujarat, Haryana, Karnataka, Assam, Kerala, etc.
Stay updated with latest Education News