'Person, not anatomy': How disabled MBBS students fight challenges in medical colleges
'Person, not anatomy': How disabled MBBS students fight challenges in medical colleges
Medical Colleges: Living with a genetic disorder, Archana Vijayan is training to be a doctor and hopes to make the healthcare system a little more empathetic.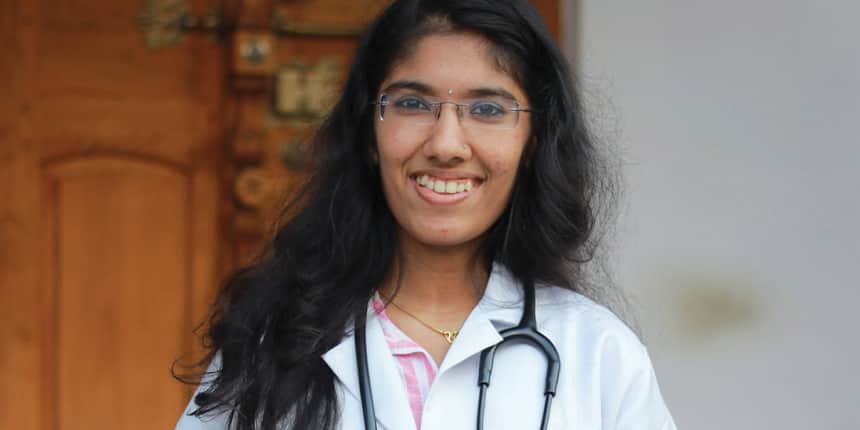 NEW DELHI: Archana Vijayan, 24, sees challenges as opportunities and rises to meet them. Even Spinal Muscular Atrophy (SMA), a genetic disorder, could not stand in the way of Vijayan's goals.
Visit here for NEET UG 2022 answer key updates, date, time, college predictor
Recommended: Use NEET College Predictor to check your expected NEET rank & admission chances in Govt/Private MBBS/BDS Colleges Check Now!


Don't Miss: Register for NEET Counseling companion to get complete guidance about counseling process, cut off, fee structure, admission documents etc.  Register Now!
MBBS Admissions @ Manipal University Malaysia. 69 Years Legacy. 10,000+ Alumni in the Malaysian Health Care Sector. Special Fee for Indian Students. Apply Now
Despite 60 percent disability, Vijayan, a resident of Palakkad, Kerala, is currently in her fourth year of MBBS at Government Medical College, Kottayam.
Confined with the walls of her home for most of her childhood, Vijayan grew up in the company of books. Frequent visits to doctors and regular physiotherapy sessions drew her to medicine.
"I have spent all my life, since the age of five, in and out of hospitals. The world around me was full of doctors. I was diagnosed with SMA. While it is a disease that does not spread in the body, the affected muscles erode over time," said Vijayan.
What the doctors overlooked while taking care of Vijayan's atrophying muscles was her declining self-esteem growing up in hospital wards. "The medications are not to cure this condition because as of now there is no cure. I visited the hospital every other day for physiotherapy that helps me maintain the function of my limbs. These well-qualified doctors took care of my disability but I was also struggling with low morale. A five-year-old child requires not only the best mind but an empathetic heart. That was missing everywhere I looked," she said.
The journey to and back from hospitals introduced Vijayan to a cold and dehumanising healthcare system that saw her "like an anatomy and not a person". "All discussions revolved around my disability and how it can be improved. It was as if I did not exist but just my disease," recalled Vijayan.
This led Vijayan to dream of becoming a doctor who could one day change the approach.
Also Read| Centre plans to roll out 'National Credit Framework' from Class 5 to PhD
Kerala School education
Vijayan decided to study biology in higher secondary school against the advice of teachers.
"I was so passionate about the medical field that I had decided to pursue science at a very young age. But the school I went to did not see a future for me in the science stream. My parents and I were counselled to drop out of science and look for alternatives but I was adamant. I changed my school and was finally allowed to attend science classes," Vijayan said with pride.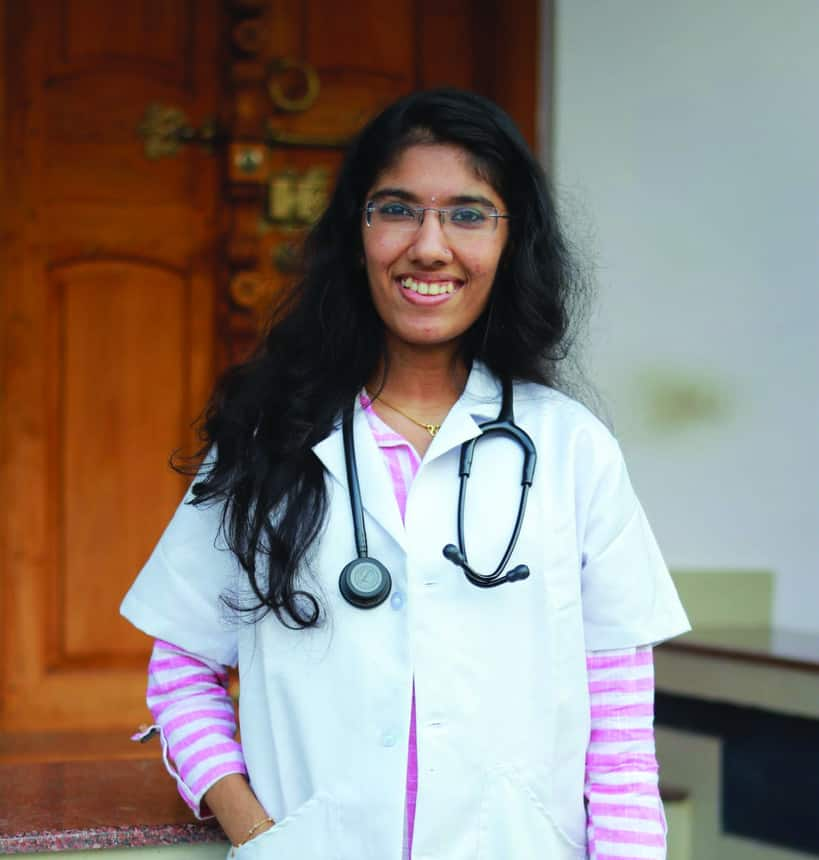 Archana Vijayan, fourth-year MBBS student at GMC, Kottayam
Her journey also exposes the lack of infrastructure that supports children with special needs in schools and colleges. Although admission was granted, daily school life presented many challenges. The school lacked ramps and elevators necessary to navigate in a wheelchair. Every day at school, Vijayan got ready for battle.
"The science laboratories were on the second floor. Some classrooms were also upstairs. It was a struggle to reach there. My friends were gracious enough to carry me to the class," she said.
Also Read| 2,699 students with disabilities in Odisha received scholarship during 2021-22
As per the UDISE 2020-21 report, 70 percent of schools across the country have ramps for children with special needs. In Kerala, 73 percent of schools have ramps for students with disability. However, only 24.25 percent of schools in India have disability-friendly toilets and Kerala's record, 21.3 percent, is even lower.
"Till the time I graduated Class 12, there were no ramps or lifts in my school. I had changed my school in Class 11 and I did not expect the school to suddenly build infrastructure that can accommodate my movement. These things take years," said Vijayan.
NEET Counselling: MBBS admission
In 2016, soon after graduating from Class 12, Vijayan wrote the National Eligibility cum Entrance Test (NEET) for undergraduate medicine and cleared it.
However, during the state-level NEET counselling, the medical board found Vijayan eligible for the PwD quota but unsuitable for medical courses. Not just rejection, Vijayan was subjected to mockery and humiliation by the state medical board, she alleged.
"A disabled candidate is required to appear for a physical examination before the medical board prior to admission. Upon examining me, the Kerala medical board at Trivandrum Medical College, Thiruvananthapuram rejected my application saying that I will not be capable of practicing medicine. The profession requires a doctor to be quick on their feet and my response time will be hindered by my locomotor disability. The board was extremely harsh. I was told to give up on my dream to become a doctor. That was an extremely low point in my life," she said.
Undeterred, Vijayan wrote the NEET in 2017 and again, in 2018. "I was determined to pursue MBBS and I wrote NEET once again. This time, too, the board members were the same and did not allow me to join MBBS. I was again subjected to bitter words," she said.
Also Read| MBBS Admission: Why NEET cutoffs vary widely for medical colleges at close NIRF ranks
MBBS course, PwD quota
In Kerala, five percent of the seats in government and aided medical colleges are reserved for candidates with benchmark disabilities. To be eligible, the candidate should be at least 40 percent disabled and certified as per Kerala government guidelines. A certificate from the state medical board is also a prerequisite document for MBBS admission.
"I appeared for the second time and was rejected again. The third time, I was accepted after appearing before the national board at Government Medical College, Madras," she said.
While Vijayan's case was considered without legal intervention, such cases usually involve litigation in the high courts, said Satendra Singh, a disability rights activist and a medical doctor at the University College of Medical Sciences, Delhi University.
"There is no appellate mechanism for a situation like this currently. Unfortunately, you are required to move the court on such occasions. In 2018, new guidelines were issued that made clear what kind of disability will be considered and rejected. The percentage of disability does not come under consideration because a candidate with 80 percent disability can also get admission," said Singh.
According to Singh, in 2017, a candidate with thalassemia moved to the Supreme Court and successfully secured admission in a medical course under the disability quota. The Medical Council of India (MCI) – now known as the National Medical Commission (NMC) – had informed all counselling authorities that all candidates with 21 benchmark disabilities would eligible for the disability quota. Later, in June 2018, the MCI submitted its new guidelines.
Also Read| Children, adolescents with disabilities more likely to be drop out of school: UN data
As per the guidelines, despite having benchmark disabilities, candidates with Specific Learning Disabilities (SpLD), visual impairment, hearing impairment, and autism are considered ineligible for the disability quota in the medical course. There is an upper cap of 60 percent for non-dominant upper limb disability and spine involvement; and 80 percent for disabilities arising from hematological and chronic neurological disorders and lower limb disabilities.
"There was a clause in these guidelines that both hands should be functional but it is very vague. Sometimes the disabled person may have amputation but the power to handle clinical procedures is there. There are many such doctors I know who are excellent doctors despite being amputees. In this case, the candidate's ability to move is brought into consideration which can lead to rejection," explained Singh.
Medical colleges infrastructure
Vijayan's medical education is also hampered by the lack of infrastructure in medical college. "The hospital part of the college is well planned and includes several ramps and lifts. However, the classrooms, seminars, or lecture halls where most of our theoretical education happens, are inaccessible. Thankfully, second-year onwards, clinical learning takes precedence over theoretical learning and therefore, it has been easier for me to study," said Vijayan.
Medical colleges are required to comply with NMC guidelines on accessibility failing which, their accreditation can be revoked.
Also Read| Inspite of proper eligibility, SC-ST aspirants not inducted as faculty members in AIIMS: Parliament panel
"The dean is required to sign and send a report to the NMC about the preparation, not just at the hospitals but even where the students attend classes and seminars. However, only 60 percent of colleges sent these reports making it difficult to implement these guidelines effectively. However, if anyone finds that the guidelines are not being followed, they can report it to NMC and the medical college will be held accountable," elaborated Singh.
Bringing change
Her experience on both sides of the doctor-patient relationship fuels Vijayan's desire to make two focused improvements in healthcare: psychological support for children with special needs and mental health of practicing doctors.
"Our medical education is fine but it lacks a sense of human touch. No doubt patients must be treated with medicines and drugs, but in my opinion, love is another drug that is needed," she said. She admits the doctors are often inundated with work leading to an exhausted workforce.
"In our college, we have an unofficial group where senior students mentor and counsel students to help with syllabus, mental pressure and other issues. So many students have come to me asking for help and I got help when I needed it. It is a self-sustaining system. The college does not have any official mechanism for this," said Vijayan, adding, "Mental health discussions are missing in general. If we all are tired and exhausted as doctors, how can we be expected to elevate a patient's health?"
---
Follow us for the latest education news on colleges and universities, admission, courses, exams, schools, research, NEP and education policies and more..
To get in touch, write to us at news@careers360.com.