NEET PG 2022: Chhattisgarh doctors may lose PG medical seats due to Rs 25 lakh bond
NEET PG 2022: Chhattisgarh doctors may lose PG medical seats due to Rs 25 lakh bond
NEET PG Counselling 2022: Many MBBS graduates of the state's medical colleges have cleared NEET PG but haven't completed the 2-year rural posting.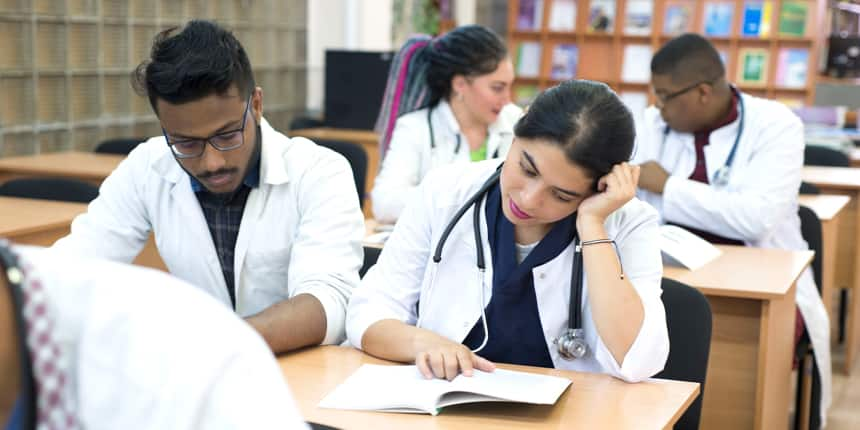 Sanjay
|
Sep 26, 2022 - 4:34 p.m. IST
NEW DELHI: Dr Manoranjan Chara is racing against time to arrange for Rs 25 lakh and submit the bond amount to Directorate of Health Services (DHS) Chhattisgarh for a no-objection certificate (NOC) to take admission in postgraduate (PG) medical courses.
Latest: NEET PG Previous Year Sample/Question Papers. Free Download
Don't Miss: Quick Guide to NEET PG 2023 Exam, Admission, Seats, Fees and more. Download EBook
Recommended: Join Medical PG (INI CET, NEET PG 2023) Counseling companion to shortlist colleges and get complete personalized guidance Join Now
Hailing from a middle-class family in the state's Kanker district, he has cleared the National Eligibility cum Entrance Test Postgraduate (NEET PG 2022) with a "decent rank" and hopes to get admission in PG medical course at a state government-run government college. After completing his MBBS degree from Chhattisgarh Institute of Medical Sciences (CIMS) Bilaspur, he has been posted at Community Health Center (CHC) Koyalibeda, Kanker, since February 2020. He still has four months left for the completion of his two-years mandatory posting at a government hospital in a rural area of the state. To be relieved early to join a PG programme, he has to pay the bond amount of Rs 25 lakh.
"I want to participate in NEET PG 2022 counselling and hope to secure admission in a PG course. I come from a middle-class family and I don't have land worth Rs 25 lakh or anything else that I can use as a guarantee for the bond amount. If the government does not provide any relaxation, I won't be able to get admission this year. I will end up wasting one year," Chara told Careers360.
NEET UG: Bonds for state colleges
While taking admission in MBBS courses at medical colleges in Chhattisgarh, students have to submit an affidavit stating that they will serve as a doctor in a rural hospital for two years after the completion of their MBBS course. In case they opt out of the mandatory rural posting for any reason, they have to pay a bond amount of Rs 25 lakh to the government. After completing MBBS, students will get NOC for further studies after fulfilling one out of these two conditions.
Chara explained that students who manage to get admission in PG medical courses will have to serve the remaining period of mandatory rural service period for undergraduate (MBBS) along with two years of PG course. After fulfilling this, they will get their Rs 25 lakh bond amount back. Otherwise they have to forgo their bond amount.
NEET PG 2022: Rural service, discontinuation bond
For postgraduate from the unreserved category had to pay Rs 50 lakh if they want to dodge the two-year rural service; for reserved category candidates, the amount Rs 40 lakh
Another student from CIMS Bilaspur, on the condition of anonymity, said: "I don't have money to pay the bond amount. I don't have property worth Rs 25 lakh to show as guarantee to get NOC. Six months are left for completion of my rural posting and till then NEET PG 2022 counselling for Chhattisgarh will be over. I will have to prepare and sit for NEET PG 2023 to get admission next year. I don't have other options."
Also Read | MBBS Internship: Medical students have mixed feelings about NMC's ban on 'externships'
The Chhattisgarh unit of United Doctors Front Association (UDFA) has requested the state government to relax rules for providing NOCs to medical students selected for postgraduate courses after clearing NEET PG 2022. Chhattisgarh UDFA, in a letter to the secretary of state health department, has said that many successful NEET 2022 candidates are unable to pay the mandatory bond amount of Rs 25 lakh to get NOC from Chhattisgarh Medical Council.
"In Chhattisgarh, signing a bond amount of Rs 25 lakhs has been made mandatory for contractual MBBS doctors to get NOC from Chhattisgarh Medical Council to study the PG medical courses for the last 2 years. There are many contractual doctors working in remote areas who neither have bond amount nor do they have properties to use as bond guarantee. Due to this, they are not able to get NOC and are being deprived of PG medical courses studies. Therefore, please bring laxity in this rule so that all the contracted doctors of Chhattisgarh get benefit and chance to study PG medical courses," reads the letter dated September 23.
Dr Hira Singh Lodhi, a PG student in the department of anesthesia at Pandit Jawaharlal Nehru Medical College, Raipur, and president of UDFA, Chhattisgarh said the Rs 25 lakh discontinuation bond amount is "ruining the dreams of students who want to study PG medical courses. There is already a shortage of doctors in Chhattisgarh and this will further worsen the situation".
"The meaning of this discontinuation bond is that I am going to study either by pledging my money or by mortgaging my land or property worth Rs 25 lakh. Many students texted us that they won't be able to fulfill this condition and hence we wrote a letter to the Chhattisgarh government. Authorities should bring relaxation in rules so that all eligible students can get admission in PG medical courses after clearing NEET PG 2022," he said.
In response to a question in the State assembly in March 2021, Chhattisgarh Health Minister T.S. Singh Deo said that the government will revisit and review the mandatory two-year service in rural areas imposed in Chhattisgarh. On December 9, 2021, he had tweeted that his department is considering reducing the mandatory rural service period from the present two years to one year and reducing the bond amount from Rs 25 lakh to Rs 15 lakh for MBBS students too.
However, there has been no progress so far in this regard. Government officials from the state's health department did not respond to calls from Careers360.
Chhattisgarh NEET PG Counselling 2022
Chhattisgarh's Directorate of Medical Education (DME) has announced the schedule for NEET PG Counselling 2022 for 50% state quota seats. The registration process which started on September 23 will end on October 2. Candidates can visit the website of DME, cgdme.co.in, to fill their application forms for counselling by paying Rs 2,000 as registration fee.
Chhattisgarh has eight medical colleges offering PG courses in medicine.
Also Read | The NExT Problem: Lack of clarity leaves MBBS students confused, prey to rumours
Meanwhile, the choice filling process for the NEET PG counselling 2022 round 1 has been closed by the Medical Counselling Committee (MCC) which is conducting the counselling for 50% All India Quota (AIQ) seats across the country. Seat allotment results for the NEET PG round 1 will be announced on September 28. It will be mandatory for candidates to report to their colleges from September 29 to October 4 to confirm the seat.
Based on NEET PG 2022 counselling, 26,168 doctor of medicine (MD) seats, 13,649 master of surgery (MS) seats, 922 postgraduate diploma seats, and 1,338 seats for the DNB CET will be filled.
---
Follow us for the latest education news on colleges and universities, admission, courses, exams, schools, research, NEP and education policies and more..
To get in touch, write to us at news@careers360.com.
Know More About

Download Exam Brochure