NIRF ranking has made Indian higher education system wake up to an objective assessment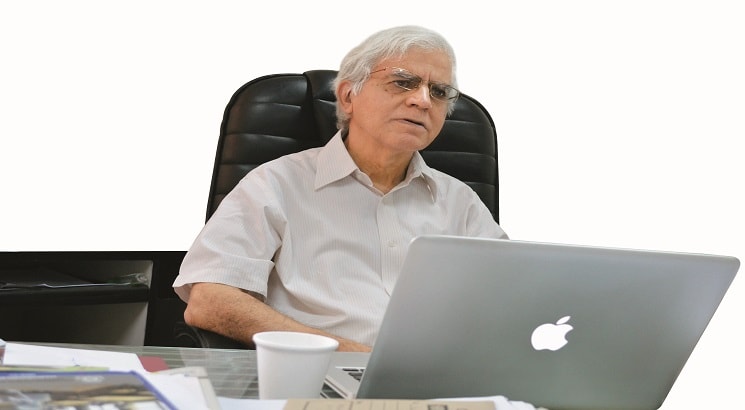 Prof. Surendra Prasad, Chairman, National Board of Accreditation, speaks to Careers360 on NBA methodology, rankings, and the growing acceptance for NBA Accreditation….

Q. What are the parameters used by NBA to accredit technical institutes?
A. NBA's system of accreditation is more than that of looking at a few parameters and granting accreditation. While basic ingredients, such as quality and numbers of faculty, quality of infrastructure are important for accreditation as well, the system pays great attention to 'student outcomes' as a basis for education delivery. The idea is to make student learnings conform to the graduation outcomes expected internationally for the engineering profession. This requires that the teaching-learning process be outcome-oriented.
It is expected that the faculty prepare and embed an outcome assessment plan along with course delivery that can throw light on the extent of attainment of the desired outcomes. Finally, such an assessment should be used to identify deficiencies and should feed into a continuous improvement of curriculum, infrastructure and pedagogy. The presence of such a robust system and attainment of the graduation outcomes form the basis of NBA accreditation.
Q. How does ranking help in the overall scheme of higher education in India?
A. Exact rankings by themselves, in my personal opinion, are not that important. It is difficult, and perhaps even meaningless to characterize the complex scope and diversity of college education through a single number called the rank. At best, it could be seen as a way of sifting the wheat from the chaff, with the actual value of the rank being less significant. The reason I am saying this is because the actual rank will very much depend on the chosen parameters and the weights assigned to each.
Having said that, I must defend the NIRF ranking work as being very significant for our country. First, it has made the Indian higher education system wake up to an objective assessment of its own status.
For the first time, these institutions are being asked to create pertinent data for reviewing their performance. Even without ranking, this data can be a very useful pointer to the institution itself about its strengths and weaknesses in a multi-dimensional assessment framework. With ranking, you know your relative standings on various sub parameters, and try to improve on those dimensions that you think defines your institution better.
Second, this is very different from the rankings produced by news magazines, which are largely driven by lay-perception. Third, except for a very few top institutions, most of the Indian institutions of higher learning are not visible in the international ranking space. And unless there is a very credible and transparent mechanism to measure their standing in an objective manner, they tend to remain invisible. Having an objective process for ourselves, many more good institutions come in the view.
Last, but not the least, the collective ranking data of the country's higher educational institutions can play an immensely useful purpose in the higher education planning of the country and also monitoring its health on a continuous basis.
Q. You conducted NIRF rankings in 2016. Do you think there has been qualitative changes in the rankings process and the quality of the institutions?
A. We have now conducted rankings for 2016 and 2017, and work of India Rankings 2018 is on its way. I personally think that the work of 2016 created a solid foundation since it was based on a very sound approach and meaningful parameters. Surely, in its very first year, there were some teething troubles. There was the huge technical task of creating a platform for capturing the relevant data on a common platform in a very short span of time, training the institutions to understand the framework and provide the right data, and the immensely challenging task of validating and authenticating the huge amount of data coming in, and getting it corrected as needed. Lack of our own experience in handling such a complex job and the speed with which it had to be executed did create some anomalies in the first-year rankings, which became more visible when the Rankings-2017 were announced. But the intervening period helped us to understand the difficulties better and take appropriate action, both in redefining some sub-parameters, and also developing more appropriate metrics for their assessment.
Even so, apart from a very few inconsistencies in the ranks of some institutions in the second year, the results were largely accepted as representative of the true picture. Yes, there have been qualitative changes since the first attempt, but these are more in the nature of improving metrics and a more objective methodology of authentication of data. The basic approach remains the same as it was in 2016.
Q. Do you think that other institutes get influenced by 'Brand IIT' to improvise and innovate their infrastructural standards and teaching methodology?
A. I think all good institutions believe in copying less and innovating and improvising more, to suit their needs and in keeping with educational objectives. Having said that, IITs are certainly regarded as a great brand (I think "branding" is an inappropriate positioning of an institution providing education at the highest level, but unfortunately it is  used often), but they have reached there because basically they had the freedom to evolve their own frameworks of education, while also learning good things from one another. This freedom comes from the autonomy they have enjoyed at least in academic matters, and the generous funding that has come their way.
Naturally success leads to becoming a model for others. This is not bad by itself, but the emulation should be from the grassroots level. A sound funding model, together with a lot of academic freedom are more important than specific infrastructure or curriculum. Given the right faculty, the academic freedom with a sense of direction and funds, many more institutions can reach the standards of IITs and in some cases might even surpass them.  
Over the last five years or so, the National Board Accreditation has been pursuing the goal of accreditation with credibility and with a firm commitment to excellence of its processes.
Stay updated with latest Education News