NIRF Rankings hugely misleading, might impact 'Institutions of Eminence' selection: Experts
NIRF Rankings hugely misleading, might impact 'Institutions of Eminence' selection: Experts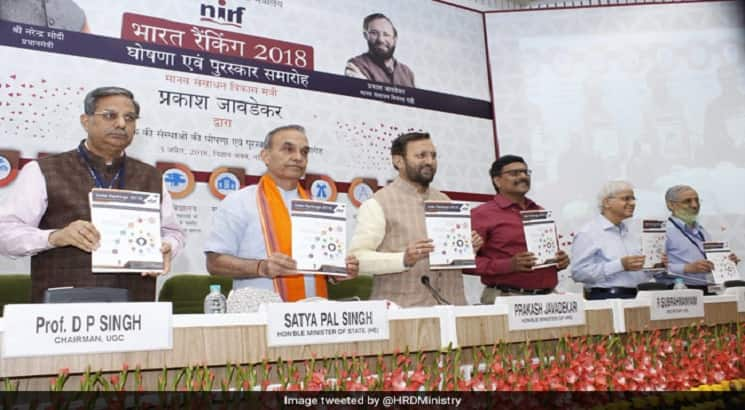 NEW DELHI, APRIL 9: Amid continued bashing of NIRF India Rankings 2018 by many institutions and key stakeholders, experts feel that the Union Ministry of Human Resource Development (MHRD) backed ranking will skew the ongoing selection process of 'Institutions of Eminence' (IoE). The concerns are validated by the fact that the committee responsible for recommending the list of institution will also factor standing of institutions in NIRF Ranking released by the Government of India.
The eligibility criteria for Government owned and controlled institutions to become 'Institution of Eminence' mentions that the applicant institution "should figure in the top fifty of the ranking in their category under the latest National lnstitution Ranking Framework as available on the last date of submission of application or in the immediate preceding ranking of NIRF".
The curse of NIRF Rankings
senior level academicians also feel that a reference of NIRF ranking will skew the selection of IoE as the ranking itself is flawed because it is based on a pool of non-validated data from institutions.
"The NIRF ranking will be one of the criterions for filtering the institutions for final recommendation towards awarding the tag of 'Institutions of Eminence'," said a member of the UGC's Empowered Expert Committee involved in selection of IoE.
 "It is sad that the NIRF ranking has no mechanism to validate the data provided by the institute. Thus, the ranking is blind and based on whatever data institutes are providing. Unfortunately, we will have to take into account this flawed ranking towards making our recommendation," the committee member said on the condition of anonymity.
The director of a prominent B-school in Delhi-NCR echoed the sentiment. "The ranking is based on data that is also publicly available on NIRF website. But the question is whether the data has been authenticated by a third party?" asked Dr Atish Chattopadhyay, Director, IMT Ghaziabad. He said that reference to NIRF ranking for selection of Institution of Eminence (IoE) may not do complete justice to the selection process.
Great Lakes Institute of Management Gurugram Director Dr Debashis Sanyal, however, says that the NIRF ranking is getting better. "It is still evolving and it will take a few years for the process to become a standard yardstick," he said.
A definitive disadvantage
While MHRD claims that NIRF rankings is a data driven exercise, many academician feel that the rankings would definitely bring disadvantage to many institution as their standing in the ranking table will referred as key parameter for selection towards 'Institution of Eminence'. This simply because ranking data doesn't take into account many crucial factors including the geographical disadvantage that a good institution may have due to its remote location.
 
"It is possible that if weightage to NIRF Ranking is given in selection of 'Institutions of Eminence' than universities which are new, located in rural and tribal areas or have less funding will always be at the receiving end," says Prof. Sachidananda Mohanty, Vice-Chancellor, Central University of Orissa.
"I have spent 25 years in the University of Hyderabad (UoH) and now I am with a new University located at a remote location. Now, this University cannot be compared with UoH as the location is remote, there is no industry around and it is also not receiving enough funding. So, we will always be ranked low but that should not impact an institution like ours to compete for the IoE status," he says.  
Why refer only NIRF ranking?
Many institutions feel that while selecting 'Institution of Eminence', the NIRF rankings should be one of the many factors which speak volumes for the quality of an institution. The other key parameter should be NAAC score, International accreditation and position in international rankings.
"Since NIRF is based on data which is not completely validated, it should not be taken as the only reference criteria," says Dr Rajan Saxena, VC, NMIMS. He says that institutions with existing international accreditation and ranking should be given equal or more weightage irrespective of their participation or standing in the NIRF ranking.
Dr Saxena also feels that private institution are no way going to get government funding for teaching and research processes after an IoE tag; and hence the tag is not much of an advantage for private institutions.
The current status of IoE selection
The selection process for the 'Institutions of Eminence' is currently being carried out by four-member University Grants Commission (UGC) Empowered Expert Committee (EEC) to finalise 20 institutions, 10 each from public and private sector.
The four-member Committee is headed by N. Gopalaswami, Former Chief Election Commissioner of India with Prof Tarun Khanna, Jorge Paulo Lemman Professor at Harvard Business School; Dr. Pritam Singh, Former Director MDI Gurugram and IIM Lucknow; and Dr. Renu Khator, Chancellor, University of Houston System as its members.
The application process for the same is over and the MHRD is likely to announce the names of institutions by May 2018.   
The 'Institution of Eminence' will be chosen from amongst the existing Government and Private institutions. While the public institution selected as IoE will be provided with a fund upto Rs 1000 crore, the private institution selected as IOE will get Institutions of Eminence (IOEs) Deemed to be Universities tag. Besides this, the IoE will get greater autonomy in faculty selection, student selection, and curriculum designing.
UGC has stated that an enabling regulatory architecture would be provided to 10 public and 10 private institutions so that they become world class teaching and research institutions.
According to the UGC, the objective is to provide for greater academic, financial, administrative and other regulatory autonomy to these institutions to emerge as world-class teaching and research institutions.
---
Follow us for the latest education news on colleges and universities, admission, courses, exams, schools, research, NEP and education policies and more..
To get in touch, write to us at news@careers360.com.