NMC Bill: Medicals students protest outside Health Ministry demanding Bill rollback
NMC Bill: Medicals students protest outside Health Ministry demanding Bill rollback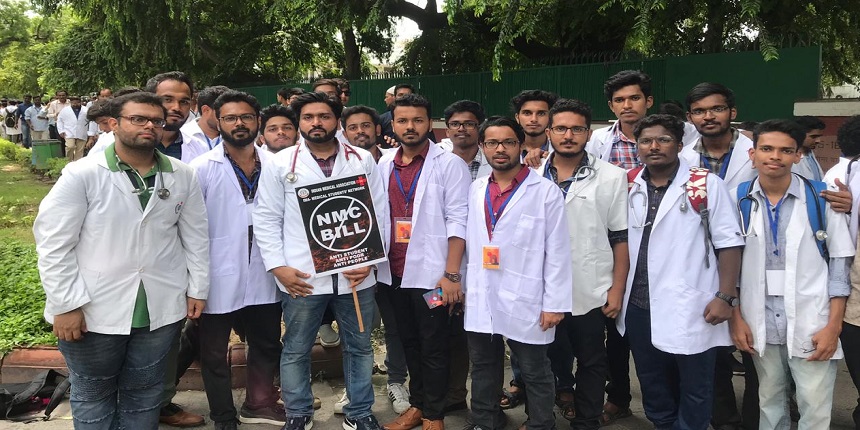 NEW DELHI, JULY 29: Hundreds of medical students today gathered outside the Ministry of Health and Family Welfare (MoHFW) to protest against the National Medical Commission Bill 2019. Medical students from different medical colleges all over the country gathered and demanded rollback of some provisions of the Bill, they alto termed the Bill in its present form as 'Anti People, Anti Poor, Anti Students, Anti Democratic'
Delhi Police also took into custody the protesting medicos. One of the protesting medical students said, "Is that demanding affordable quality education is a crime in India? Instead of curbing our voice, the government must listen to thousands of medical students who were on roads against NMC and take back this bill immediately.
"First time in the history of medicos unity, Thousands of medical students & doctors from across the nation were united against NMC bill and protested in front of Health Ministry. This is historic to demonstrate a grand show of strength and unity," said Dr Harjit Singh Bhatti, President Resident Doctors' Association (RDA), AIIMS.
He added that now the healthcare professionals are alert and aware and will not accept the imposed policies by the government.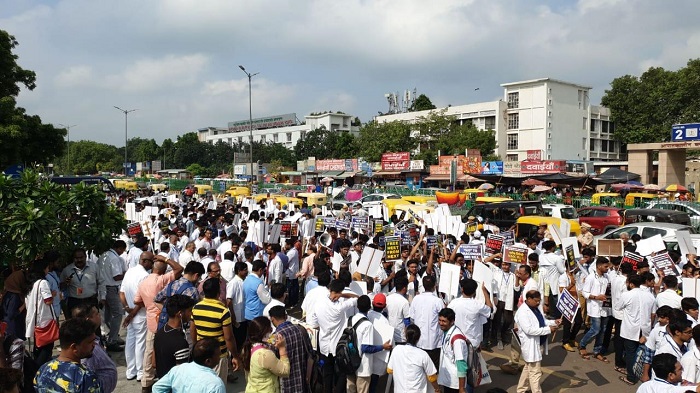 The students are demanding the Government to take back the Bill and have threatened that agitation will increase in coming days. The students have said that today's protest was a warning for the Government to take back the Bill and they would come out on the streets and shake the government from its core but will not accept this tampering of the medical education system.
The students have alleged that the present NMC Bill is the worst bill ever introduced to the medical education system and unfortunately a doctor health minister is adamant to destroy his own education system.
"We as medical students of this pious education system will protect our education and uproot this NMC bill so that no health minister ever dare to tamper our education. If they have majority inside parliament then we will stand together in the majority on roads but will not accept this bill," said another student.
Stay updated with latest Education News