Odisha school mergers forcing 10 year-olds to leave home for hostels
Odisha school mergers forcing 10 year-olds to leave home for hostels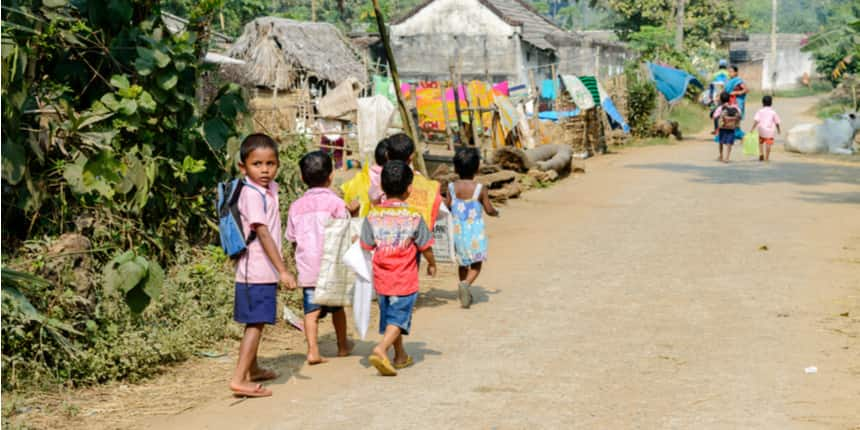 NEW DELHI: The government primary school in Sanalukti village in Rayagada, Odisha, was built in 2011 in line with the Right to Free and Compulsory Education Act (RTE), 2009.
Less than a decade later, it was shut down in July 2020, in the midst of the COVID-19 pandemic. The now-defunct school infrastructure will be handed over to the panchayat to do as they please with it, said the school headmaster, GP Brahma, who oversaw its closure.
The Sanalukuti school is one of over a thousand schools to shut in the state since it joined a programme launched by the Centre's think-tank, NITI Aayog in 2017. Another 8,000 is reportedly facing the axe.
The project, Sustainable Action for Transforming Human Capital in Education (SATH-E), was launched in partnership with private consultants and covered three states -- Madhya Pradesh, Jharkhand and Odisha.
Its main thrust has been "rationalising" or merging schools -- the process of closing schools with low enrollment and shifting the students to other schools which, argue its advocates, allows for efficient use of resources such as infrastructure and teachers. The Centre has consistently pushed for this, most recently in the National Education Policy 2020.
For eight out of the nine children who attended the Sanalukuti school, all under 10 years of age, this push for efficiency means leaving their parents and homes to live in a hostel run by the tribal welfare department seven kilometers away.
The hostel complexes host between 40 and 100 children; not all of them will get in. "We are still trying to get admission for one student in a nearby government school, once that is done all the students will have been enrolled," said Samunath Saraka, who headed the school management committee at Sanalukuti.
Incidentally, Odisha's Rayagada district features on the list of 115 most developmentally backward districts, also called "aspirational districts" drawn up by the NITI Aayog. According to Nihar Padhi, coordinator for Bharat Gyan Vigyan Samiti, a non-profit that works in the district, over a 100 of Rayagada's schools were merged over 2018-19 and another 400 have been sent for approval in 2020.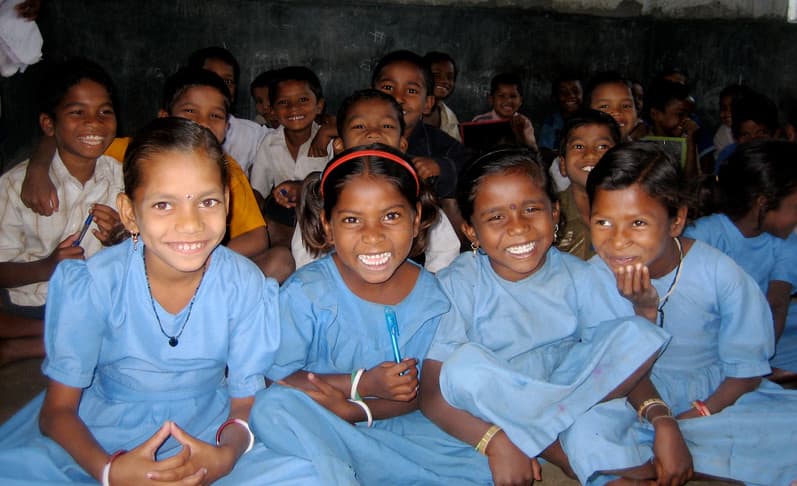 A government school in Balangir, Odisha. (Source: Wikimedia Commons)
NITI Aayog, schools and teachers
By December 2019, the NITI Aayog project had shut around 40,000 schools in the three states, education minister Ramesh Pokhriyal told Parliament that winter session. Out of those,1,016 school mergers were in Odisha.
However, activists and academics in Odisha have pointed out that the low enrolment is a result of proliferation of private schools and the state's failure to appoint teachers for the government schools it was building. In the same winter session of 2019-2020, Pokhriyal told Parliament that there are 4,410 teaching vacancies in elementary schools and 8,515 vacancies in secondary schools in Odisha.
"They were not appointing teachers but were constructing school buildings," said Birendra Nayak, professor at Utkal University, Bhubaneswar. "In one of the villages that I visited, teachers told me that the school there was constructed only last year and this year they have closed it saying that there were not sufficient numbers of students but that was the situation last time also."
Odisha government had modified its school merger policy along the way. Initially, it closed schools that had under 10 students. But in a recent notification, Odisha extended the policy to schools with less than 20 students and "irrespective of distance" -- meaning, no matter how far the next school is. Following this, close to 8,000 more schools have been identified for "rationalisation" in the state, say reports.
The government notification also stated that the state will show "continuous endeavour" to strengthen the policy of rationalization in view of its "immense benefit". All students have not been affected as badly as the nine from Sanalukuti. Nearby village Disariguda lost its school too but those students will move to a school that's also nearby but with better infrastructure.
Pressure to close schools
Brahma said that government authorities were pressuring him to close the school from last year itself. "We were getting constant pressure from the authorities to close down the school from last year saying that nothing can be done with two teachers and nine students," he said. "This is not right. Starting a school in the village is itself very difficult. It would be difficult to restart it once it is closed down. Initially they made one school in each village regardless of the number of children but now they are closing it down because of the lack of students. But this problem was there before also."
Nayak blames the proliferation of private schools for the situation. "Private schools are responsible for the closure of government schools with the backing of local politicians. They are deliberately trying to sabotage the government schools. Economic viability is an excuse to deprive students from getting education," he argued, adding that the NEP 2020 also envisions further deregulation of private schools.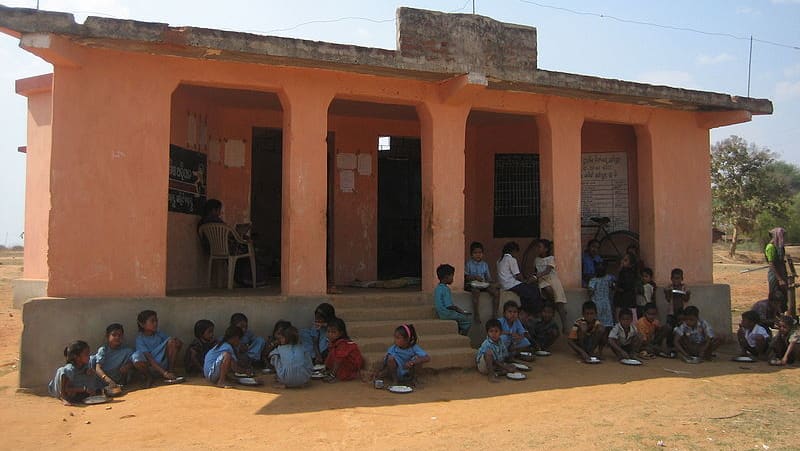 Children having mid day meal at a school in Balangir. (Source: Wikimedia)
Facilitation allowance, transportation fee
The Odisha government will provide a one-time facilitation allowance and also a transportation fee.
"The school will be providing Rs 6,000 a year as transportation fee," said Gopinath Biswal, headmaster of the now defunct Kusumguda Public School in Rayagada. "The money will be transferred to the students at the closing of the year. The new school is just two kilometers away and the children are commuting through a rickshaw."
But activists believe that providing money directly to the parents may lead to misuse. "If we give the money to the parents, it will be used by them. Those in poor households will use whatever they have at hand because of their dire need," said Pritish Acharya, professor at the Regional Institute of Education, Bhubaneswar.
'Students will drop out'
There are also concerns about more students dropping out as poor families may find it more financially viable to stop sending their children to school rather than paying for their daily transportation.
"Mostly in tribal areas, the people are employed as skill labourers and they might not have the time to drop their children off at a school which is kilometers away. Most of the schools being closed are in rural areas. They should analyse why this is happening," said Acharya.
"This will adversely affect enrollment numbers. When the government is taking such a decision they have to look at the total enrollment in the sense that universalization of education and 100% literacy are our goals, this economic loss should not have been the point for which the schools should be closed," argued Acharya.
Also read:
Write to us at news@careers360.com.