Exams, Solar Power, Alumni: How Osmania University is raising funds to meet budget shortage
Osmania University Hyderabad has raised fees drastically as a way of obtaining more funds from the government as many students are on scholarships.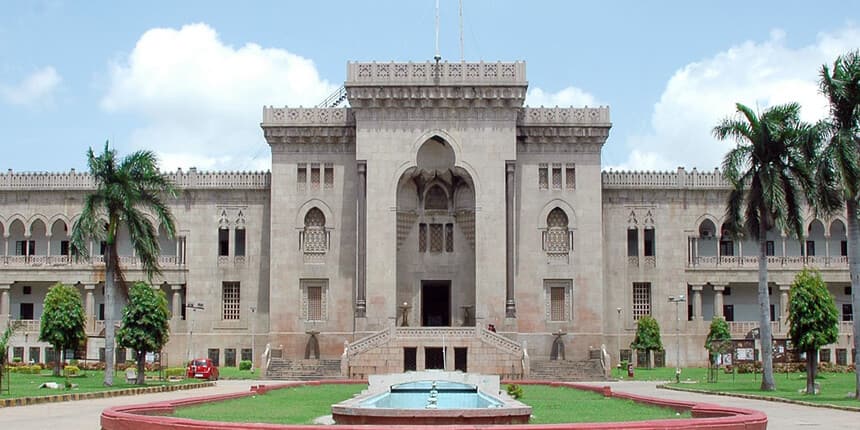 NEW DELHI: Osmania University, in the past few months, has raised tuition fees by over 300 percent, conducted its first global alumni meet and provided their alumni a chance to complete their back logs with a penalty of over Rs 10,000. According to officials, all of this was done in an effort to raise funds as the university faces a shortage of around Rs 350 crore every year.
The university hopes to have a huge solar power plant on its premises, in collaboration with the Public Sector Undertakings (PSUs), to drastically reduce its electricity bill.
While the university administration explores increasingly creative ways of finding resources, teachers are waiting for it to clear their pensions – another huge sum. More than two-thirds of the state university's permanent teaching positions are vacant. Osmania University, which is over a century-old, has around 500 affiliated colleges.
Osmania University: Lack of funds
Teachers unions have repeatedly protested about the university's inability to introduce the Contributory Pension Scheme (CPS). According to the scheme, both the employer and the employee pay toward a pension.
"The Contributory Pension Scheme (CPS) has not been implemented in Osmania University. Since 2004, it has been pending because the university does not have enough funds. Here, only employees are depositing but the university is not giving its share," said Surendar Reddy, general secretary, Osmania University Teachers Association.
Teachers said that the university has been unable to do so because of a shortage of funds from the state government.
Also Read| The public-university way of managing finances: cut electricity cost, start certificate courses

"Around every month, the salary expenditure will come to around Rs 30 crore and every month the university is mobilising around Rs 10-15 crore because the government is only providing Rs 10-15 crore for salaries. They mobilise these from examination fees, self-financed courses, tuition fees, etc.," said Reddy.
For the same reason, the university has only filled around 380 teaching positions out of the 1,260 permanent teaching positions, teachers said.
Senior officials said that the university faces a shortage of around Rs 350 crores every year.
"Our budget is Rs 800 crore per annum including salaries and pension. But the government is giving us only Rs 450 crore. The remaining Rs 350 crore we have to generate," said an Osmania University official on the condition of anonymity. "We have been seeing a reduction of funds for the past 10 years. Recently, the pay revision has also increased. So, they are increasing the pay for the employees but not giving a similar raise in funds for the universities."
Osmania University Exams: 'One-time chance'
In December 2022, Osmania University announced that students from 2000 to 2017 batches will have a "one-time chance" to clear all their backlog exams and complete their degree. The fee was initially absurdly high with students being asked to pay Rs 10,000 per paper for postgraduate backlogs and Rs 20,000 for submitting PhD thesis. Later, the fee for these OU exams was reduced but still to a very steep one-time penalty of Rs 10,000 plus Rs 1,000 to Rs 2,000, per paper.
Officials at the university said that the high fees were introduced to deter students from pre-2010 batches.
Also Read| Disabled university students are being ragged, harassed across campuses

"We introduced high fees because people have been there from 2000 onwards, that will be 20 years back and we wanted to discourage them from appearing. Someone writing it after 20 years will find it difficult because the pattern has changed, the syllabus has changed," said Pappula Laxminarayana, registrar, Osmania University.
"We were thinking of students from 2011. We are requesting students who are from earlier batches to complete it in distance mode. So, in the distance mode we are charging only nominal fees. But they don't want to do it by distance mode. We are encouraging them because if they have the subject knowledge, they can complete the degree. Both degrees are basically equal," he explained.
Some opined that the university might be looking to increase revenue as it has faced funding shortages over the past decade.
Osmania: Fundraising initiatives
In an effort to raise funds, the university held a global alumni meet in January.
"For the first time in the university we conducted a global alumni meet. We are requesting them, individually or as a batch, to come forward and help the university. Osmania University is almost 104 years old and the buildings are old. So, to maintain them, we need funds," said Laxminarayana. "Some of the students are coming forward. One person from the chemistry department came forward to bear Rs 3 to 4 crore of the funds of the chemistry department."
However, teachers claimed that the alumni meeting failed in its objective to raise funds.
"Only the chemistry department is getting funds. Not a single other department has managed to raise funds from alumni. They have conducted three meetings and nothing has happened. I don't think that will work out," said Reddy.
OU: Hiking fees, government funds
The university has taken other, less student-friendly measures as well. In November 2022, Osmania university suddenly raised the fees in many departments. The first-year fee of LLB, for instance, was only Rs 5,000 per year in 2021 but was increased to over Rs 16,000. Similarly, the first-year fee for University College of Engineering, also increased from Rs 18,000 per year to Rs 36,000 per year.
Senior officials at the university said that the fee raise was indirectly aimed at collecting more money from the government, which provides scholarships to marginalised students. The officials also claimed that around 90 percent of the students received scholarships from the Telangana government.
Also Read| Visva Bharati: A great university in chaos

"Yes, we are trying to raise funds. We have raised fees because many people studying in Osmania University are below the poverty line (BPL). So, for them the government is giving scholarships up to Rs 20,000 per annum. So, we raised fees up to Rs 16,000. We are hoping to collect the money from the government. Almost 90 percent of students are scholarship holders," said an Osmania University official on the condition of anonymity.
"We are not demanding that student pay Rs 20,000 to get admissions. We are not saying that we will only give admission once you pay Rs 20,000. You can pay the nominal fee Rs 1,000 to Rs 2,000, the Rs 16,000 we are trying to collect from the government," the official said.
Other sources
Officials said that the university will be looking into other means of generating more funds.
"We are slowly entering into the alternative ways of generating funds to maintain the salary and the pensions. If the government offers to pay up the salaries for the employees and the pension, then we can give education for free also. So, if the government is not giving directly, the alternative is to do this," the official said.
"The university generated almost Rs 60 crore from various fees. One source is the examination fees, we also raised tuition fees, and even in engineering we have raised the fees from Rs 18,000 to Rs 35,000. Because for the professional colleges the government itself was paying Rs 35,000 for each student. If all affiliated colleges are collecting this amount from the government, why can't we?" said the official.
To illustrate exactly how hard up the state institution is, the official pointed out that instead of building a new ladies' hostel which would have cost Rs 35-40 crore, Osmania is "converting the existing administrative building into the girls' hostel". They are building a new administrative building at a lower cost.
OU: Cutting electricity costs
Osmania University is also planning to tie up with PSUs such as the National Thermal Power Corporation (NTPC) and Coal India to create a solar power plant to meet their electricity needs.
"Every month, we are paying Rs 1-1.3 crore as electricity bill. We are planning to request the NTPC, Coal India, to create a solar power plant. We have almost 400 acres of land. They can give whatever power required by the university free of cost," said the official.
The university hopes to finalise the deal by December.
"No one is using that land. We want to generate power on the university campus. Maybe, by December we will be able to do it. We are in talks with NTPC, Coal India, GENCO. If it can be done in a public private partnership model that is also fine," said the official.
---
Follow us for the latest education news on colleges and universities, admission, courses, exams, schools, research, NEP and education policies and more..
To get in touch, write to us at news@careers360.com.
Know More About
NIRF Rank
22
Rating
3.7/5
Download Brochure