Outsourcing management is the next best practice, opined experts
Outsourcing management is the next best practice, opined experts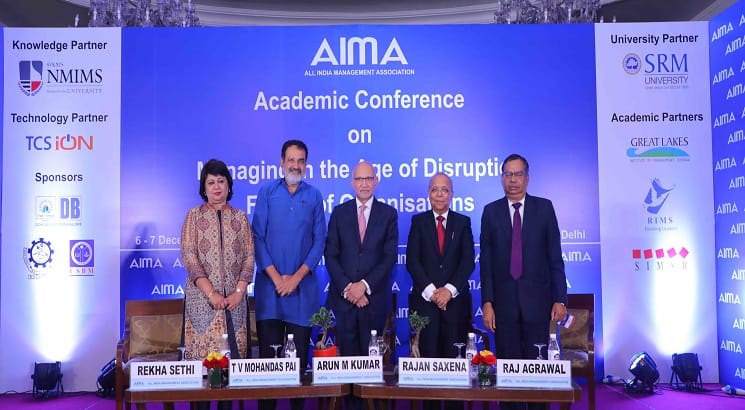 NEW DELHI, DECEMBER 6: Management best practices and benchmarks are getting disrupted and companies are trying to become more agile than massive, according to the experts speaking at the Academic Conference organized by All India Management Association (AIMA).
Eminent professors from top business schools and leaders from the technology sector are making presentations at the two-day conference about management research and industry-academia integration in the age of disruption.
"Most of the management functions can be outsourced," says TV Mohandas Pai, Chairman, Manipal Global Education and he sees the number of full-time management jobs falling. He added that companies cannot utilize most of the highly-skilled employees full time and they could hire them by the gig. "Companies need to change their organization structure and management behaviour," he said.
M Arun M Kumar, Chairman, KPMG India sees a growing preference among companies to become fluid and adaptive. "Clients are looking for solutions to complex problems and nobody has all the answers and that is forcing a shift from silos to network-based organizations," he said. Kumar finds that the management best practices and benchmarks have to be customized for each client. He also points out that the millennials are having an impact on organizational structure and behaviour because they want more control of their work and time.
Professor Rajan Saxena, Vice Chancellor, Narsee Monjee Institute of Management, sees the need for instant response from companies because of instant feedback from the market. He said, "Even before I finish my lecture, I have the student feedback on the social media."
Academics and industry executives are presenting management research papers at the conference and many leading management thinkers are speaking at its many sessions. The speakers include corporate leaders, management and legal consultants, professors from leading business schools and venture capitalists. The conference will continue tomorrow.
Stay updated with latest Education News