The Placement Trap: Students share the bitter truth about job drives
The Placement Trap: Students share the bitter truth about job drives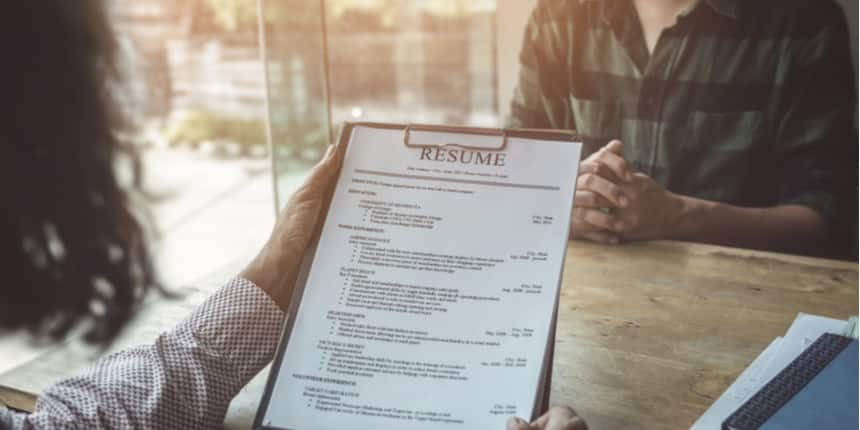 NEW DELHI: In October, Sandip Roy finally got the call letter for a job.
It ended months of stress and uncertainty that, at one point, had led him to do something very uncharacteristic. For a few days in August, he and his classmates had launched a protest against their college, a private engineering institute in Kolkata, affiliated to Maulana Abul Kalam Azad University of Technology, West Bengal.
On August 30, they locked the main gate of the college in protest against allegedly "fake" placement figures. The management called in the police. College officials were safely escorted off the premises as students were harassed in the melee, claimed some. Nothing came of students' demand: "Written confirmation about the number of companies coming to the college for placements of current year".
When Roy's batch had joined in 2015, they had all believed the promise of "87.5 percent placement" as it allegedly appeared on a prominently-placed "banner" on campus. They assumed, as most students confronted with such advertising do, that the banner told the truth and that it meant that the vast majority of students enrolling for engineering in the institute graduated with jobs in hand.
Upon joining the programme, the students realised they were wrong on both counts. "After some days I began to realise that the story is entirely different – placement is merely a myth [here)]," wrote a student in one of many similar rants posted on social media during the protest. She wrote that she had heard about students "not getting offer letters even after cracking interviews and [many] more stories from [her] seniors". There were other discoveries – not everyone enrolled in the programme was allowed to join the placement process and well-known companies didn't even come to campus. They joined "pooled campus placements" – the practice of several colleges holding common placements – but the host campuses allegedly rigged the process in favour of their own students. Roy told Careers360 that he got his job on his own.
While the scale and quality of placements are ready publicity material for institutions to attract students with, here is a fact that's rarely advertised: in 2017-18, the average percentage of students placed in the 196 engineering institutions ranked by the National Institutional Ranking Framework (NIRF) 2019 was under 64 percent.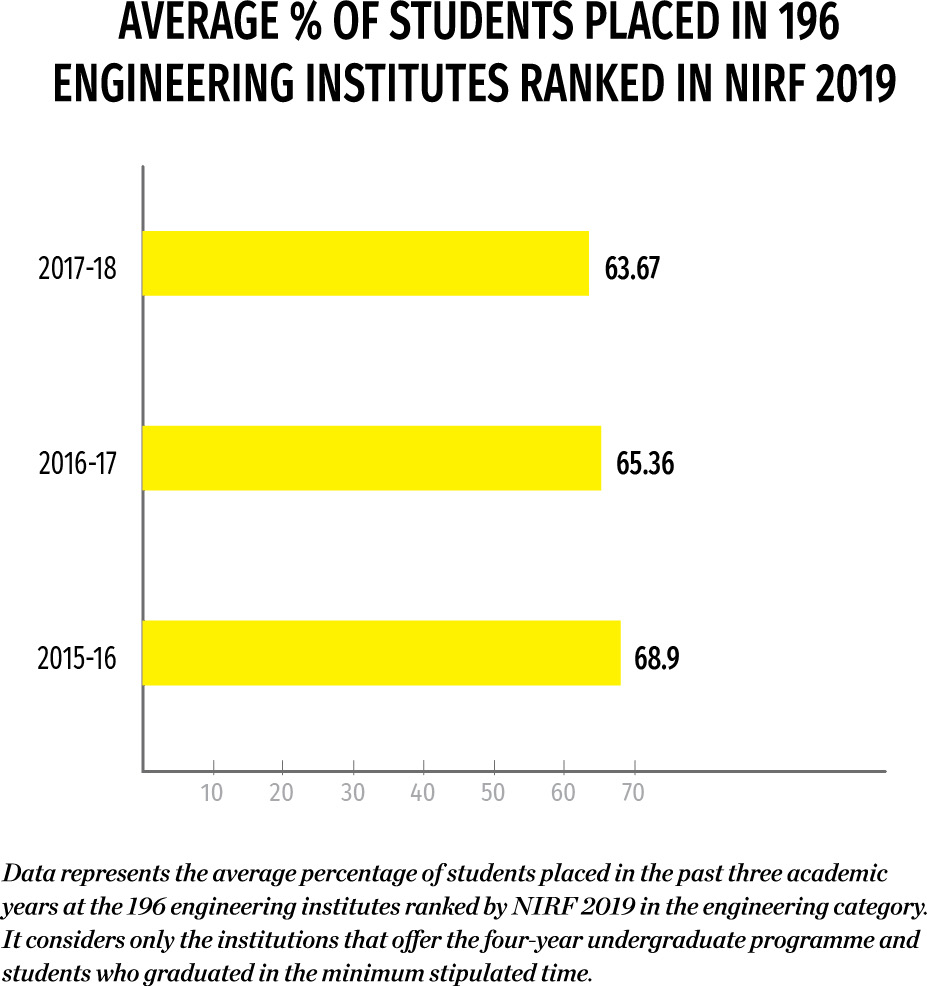 An analysis of data for the top undergraduate engineering and postgraduate management institutions as ranked by NIRF 2019 shows that even in some of the best institutions in the country, the percentage of students placed out of a graduating batch can be under 20 percent for engineering and 45 percent for management. Considering that the success rate with placements is a factor in determining the rank of an institution, the situation at the remaining engineering and management colleges is likely to be even more dire. Yet, many institutions, especially those relying on publicity campaigns to attract students, routinely project high placement figures.
The '100%' myth
At the time she took admission to the undergraduate pharmacy programme in a private university in Greater Noida, Supriya Singh, now 26, was told her college had a "100% placement policy". She took it to mean that every student enrolled would be placed and no one told her otherwise.
A few years in, she realised her mistake. As dozens of students across campuses discover belatedly, there are numerous restrictions to joining the campus placement process.
"If you have any backlog, you're not allowed to join," she said. A student who has failed and reappeared for any exam in any semester is automatically barred.
Beyond the percentage placed, colleges' policies on placements are deliberately kept opaque. Students discover the details depending on the level of their interaction with senior students and how much their teachers disclose. But at least half a dozen students and several teachers from across institutions and states, including graduates from the Kolkata institute, told Careers360 that they did not know the details at the time of admission.
"You are told campus placements are guaranteed, that there's usually 100 percent placements but not that everyone is not allowed to join," said Rajat Kumar, 24, another student who graduated with a B.Tech in Computer Science from a Greater Noida private college in 2017.
Placement statistics off all colleges, public and private, were not publicly available. However, data from institutions ranked by the latest round of the NIRF were. The following graphs show the average placement percentages of five institutions with the best and five with the worst placement records in NIRF's engineering and management categories. All institutions are among the top 200 engineering institutes and top 75 management institutes in the country.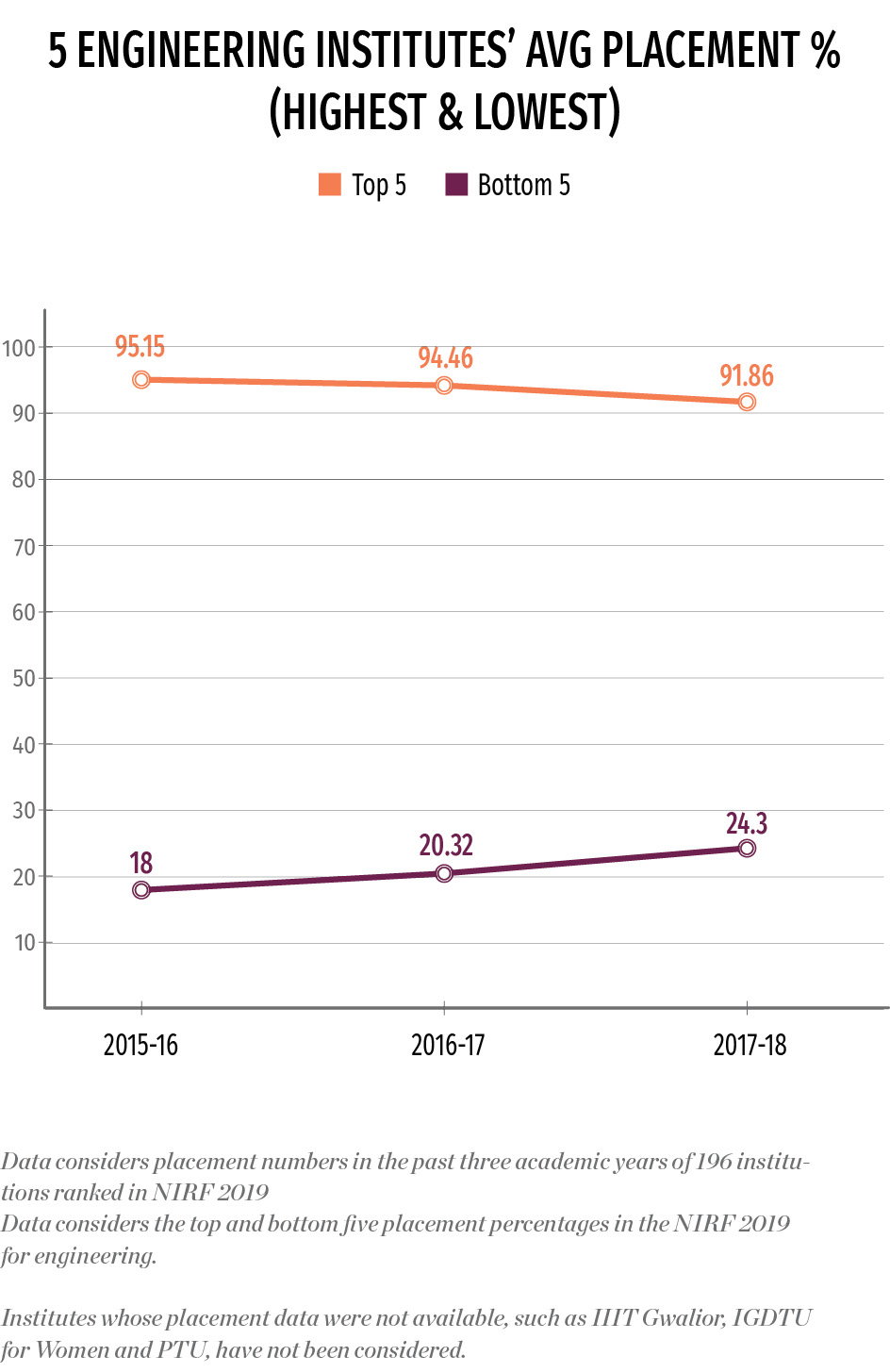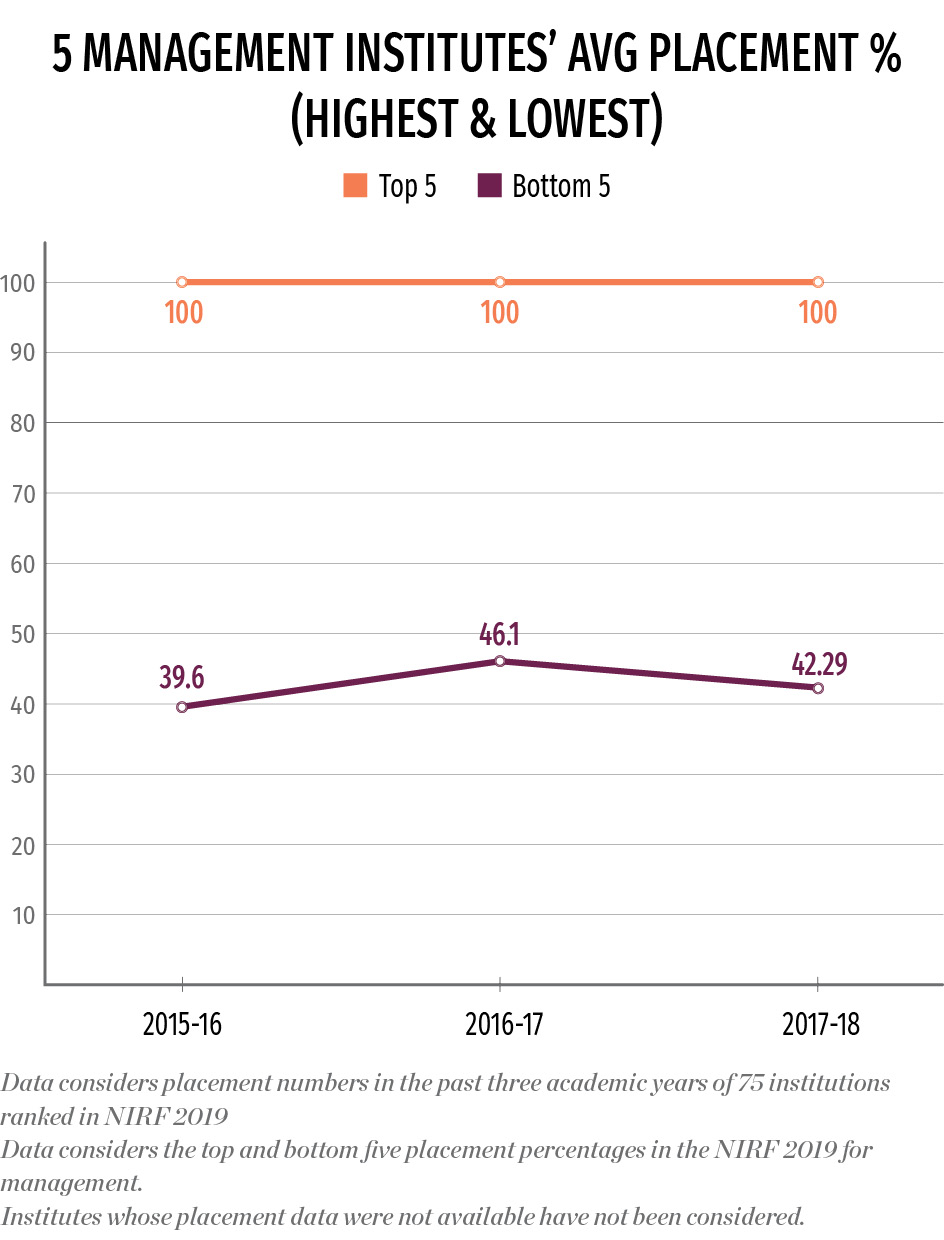 School marks
Affiliated to Dr. A.P.J. Abdul Kalam Technical University, Uttar Pradesh, Kumar's college, too, "restricted" students with any "backlog" from interviewing with top companies and required students to score at least 60 percent – later raised to 65 percent – in all exams to be eligible for campus placements. But it also went a step further – it demanded a minimum score of 60 percent even in the Class 10 and Class 12 board exams.
"Only a fraction of the total number of students could finally sit for placements and if they got jobs, the institute claimed 100 percent placements," he said. "Most students don't realise this till the fourth year." Kumar had "figured it out" in his third and said he used to "hang around outside the admission cell" and warn applicants and parents. "I must have driven off at least 30 people myself," he said.
Registration fees and declarations
There are other ways of masking placement figures. Sakshi Mani, 23, who graduated from yet another Noida private institution in 2019, said that her university got every student to sign declarations. Students who left without jobs simply declared they were going for further studies.
"A lot of people had skipped placements," she said. "Some went for higher studies, but others sat idle for a year and are getting jobs only now. But because the university talks about 100% placements, it gets students to sign forms. We have to say we are going for higher education, or have got a job, or sitting for placements or even that we are getting married to get our provisional certificates. Lots of kids who didn't get jobs signed forms saying they were going for higher education."
Some institutions even charge a "registration fee" for appearing in placement drives and take a month's salary if a student is placed, said a faculty member at one of the universities who has also served as placement coordinator for multiple institutions. He added: "Students are recruited for a few months and then found incapable or are charged with misconduct and dismissed."
He was echoed by an engineer who taught at a private engineering college in Odisha till early 2018. "Some institutions here take Rs. 2-3 lakh from each student to sit for placements and there is no receipt or anything for this," he said. "We think this is given to the company toward the salary it will pay. The students are kept on for a year and unless they are very good, they are let go or pressurized into quitting." As with everything else related to placements, students "are not told beforehand that they will be asked to pay" and the institute can still claim high placement figures.
Fake placements
In some cases, students were simply cheated. In 2017, Shiksha 'O' Anushandhan University in Odisha made headlines because hundreds of graduates from its engineering school had been given fake job offers during campus placements.
Graduates were handed offer letters that ostensibly came from major firms, including Huawei, Ircon Construction, Schneider Electric, Mitsubishi Electric, Honeywell, Toshiba, Intel and others. When the students went to their offices, they were told no such offers had been made. The university publicly admitted that its students were scammed.
In May 2017, the SOA registrar wrote to parents and guardians that many students had "unfortunately become victims of fake imposters who had no legitimate connection with these companies". It also offered relief: graduates who had no other option could choose to work as teaching assistants on a monthly stipend of Rs. 20,000 for a year, pursue an M.Tech course free of cost at the same institution or study management at the same institution with the fee waived for the first year.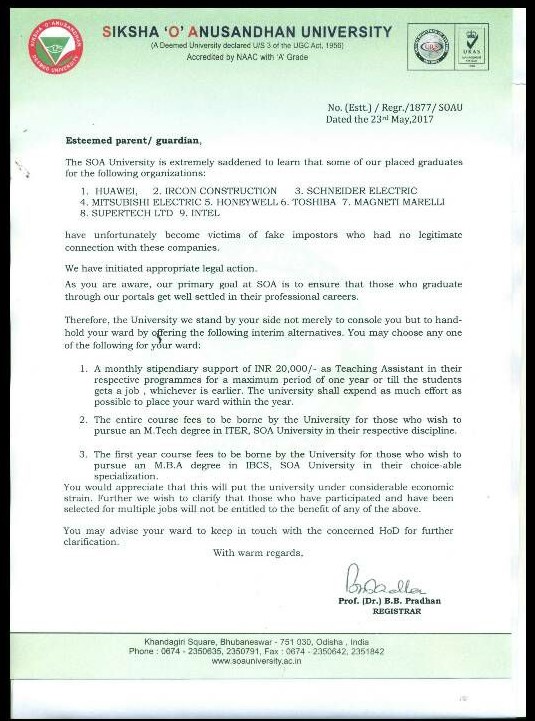 An old problem
The Odisha case was not the first. Now a research fellow, Satish Joseph had graduated from a public engineering college in Munnar, Kerala, in 2010 and participated in campus placements. "A software company had shown interest in recruiting from the college but we were asked to pay Rs. 2,000–Rs. 4,000 to join," recalled Joseph. Fearing a scam, their teacher asked the students to be careful and "verify the company's credentials".
The students attended the initial training. Then, a few of them even went to Coimbatore, Tamil Nadu, to see the company's headquarters. "They even showed us an office," recalled Joseph. "It was a four-storey building but the second and third floors were under construction. Only the ground floor looked like a proper office." The students did not find that odd. "We just thought it was a new company." About 30 of them paid up but never heard from the company again. "We heard this had happened to some others as well and realised the whole thing was fake," he said.
This problem is not restricted to engineering either. Vijay graduated in mass communication from a Noida institute in 2012 and without a job. "It was one of the institutes that claimed 100 percent placement on their websites," he said. "But I wasn't happy with the kind of media channels that were coming to recruit so I went back home to Hyderabad and decided to study further. A year later, a friend shared some publicity material from the college and I found that the college had claimed I was placed as an assistant director with a television channel." The institute had claimed that one of his friends had been placed as an anchor and another as a cameraman. In reality, all were unemployed at that time. "We laugh about it to this day," said Vijay, now a research scholar at a central university.
Problem with 'core areas'
Vijay's problem of not finding the companies coming for recruitment attractive enough is a common one.
Sharing his story on social media, Shekhar Dutta, a student who graduated from an institute in Budge Budge, West Bengal, this year said: "In computer science engineering, all are being placed through campus placement. But the companies that come here are all unlisted and not reputed ones."
Many colleges struggle to find recruiters from "core areas", major construction firms for civil engineering, for example. In August, one of the Kolkata institute students had asked: "Why are the well-known software and IT companies…not being brought to the college (and) what about core companies for …electrical engineering, instrumentation and controls engineering and civil [engineering] departments? Not a single on/off/pooled campus placement has been conducted for them till now."
Supriya Singh said her contemporary in college, a civil engineer, was forced to take a job in Information Technology because "no major infrastructure company came to hire". Despite what colleges claim, "the big guys just don't show up", she said. "The media students were not hired by any media company. They were not hired by even public relations companies."
Similarly Ajay Gupta, who graduated with a B.Tech in mechanical engineering from a private college in Aligarh said that in his branch, "no company visited [their] campus". He said: "Some students got jobs on their own and some computer science students were placed in BPOs through the college. They (college administration) are not interested in placing students, and they don't have the contacts to invite companies. They have fake placements records."
Data show that difference in the placement records of premier institutions such as the Indian Institutes of Technology and Indian Institutes of Management, and others is stark even in the NIRF ranks.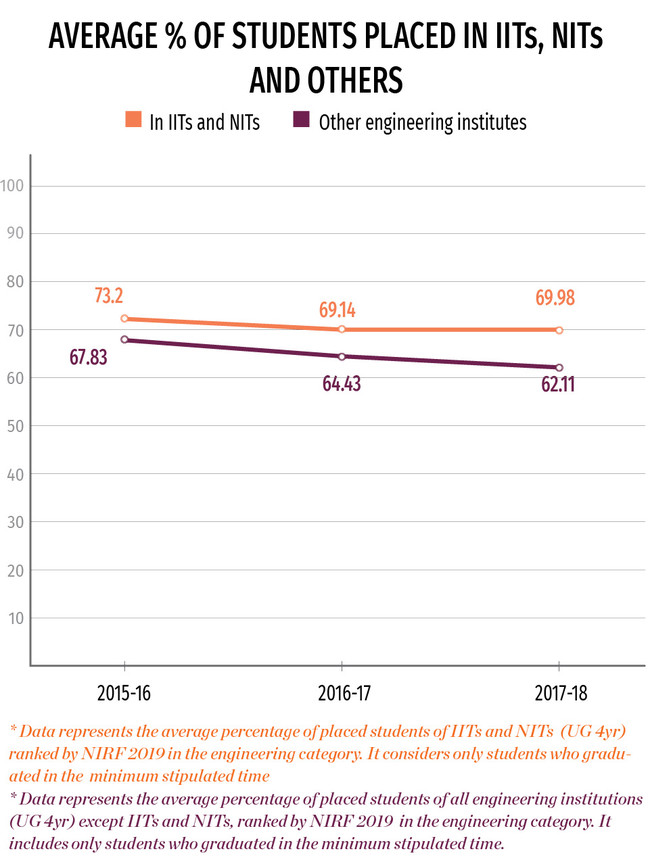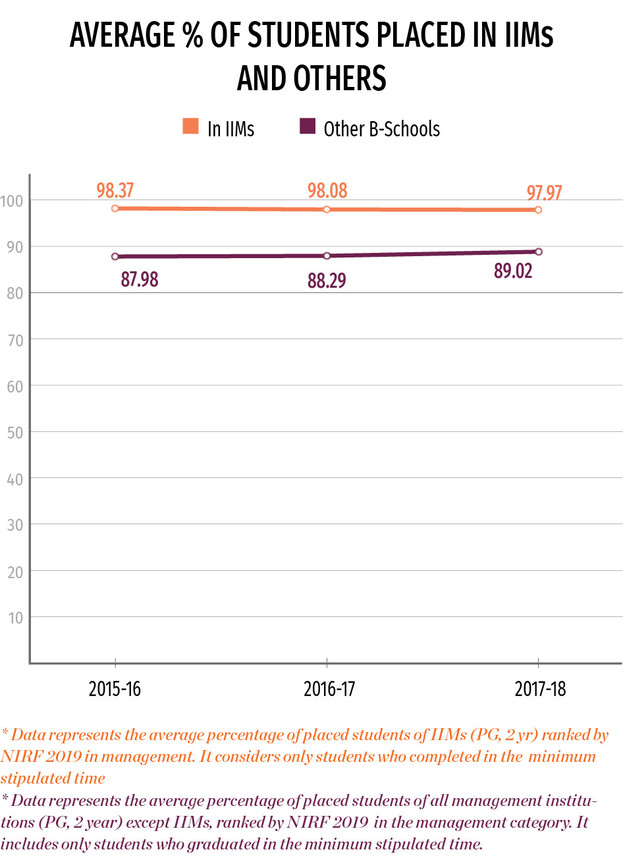 The 'TPO people'
Opting out of a placement round or refusing offers is discouraged and often made difficult. "If we are not interested in participating in these pool campus placements, then they harass us badly," said Dutta, adding that the alleged harassment comes from the academic departments as well as "TPO people", or the staff in the training and placement office.
In the best-known institutions, such as the IITs, placements are managed jointly by staff and students. But in the less popular ones, the process is managed entirely by the college administration. It is opaque, undemocratic and not student-friendly.
Several young professionals and graduates Careers360 spoke to complained of placement coordinators and staff caring more about reporting high placement figures and forcing students to accept positions they are not trained for or interested in. Some, including Kumar, alleged that the placement staff threatened them saying they would not be allowed for interview with other companies if they did not accept the offers made. Others said that the placement cells did not bother to verify claims made by any recruiter. As a consequence, students have found themselves in jobs they did not sign up for.
'No vetting or organisation'
Singh was placed in a firm in 2017 and told she would have a job, writing scientific content. "When I joined, I realised it was actually a marketing firm," she said. "It was run like a call centre and was offering paid publication of research papers in its fake academic journals. Clearly, there was no vetting or proper organisation of placements." She resigned within a few months.
Rajat Kumar realised the problem during placements in the winter of 2016-17 and refused to join. "I got a job for Rs. 3.6 lakh in Chandigarh in a well-known foreign company and was told I would eventually get an international position," he explained. "Two of us were selected to write a technical test. After writing tests and sitting for interviews the whole day in Chandigarh, we were given papers saying we were getting "data validation" jobs, not a software development one at all. They were going to pay me just Rs. 8,000 per month."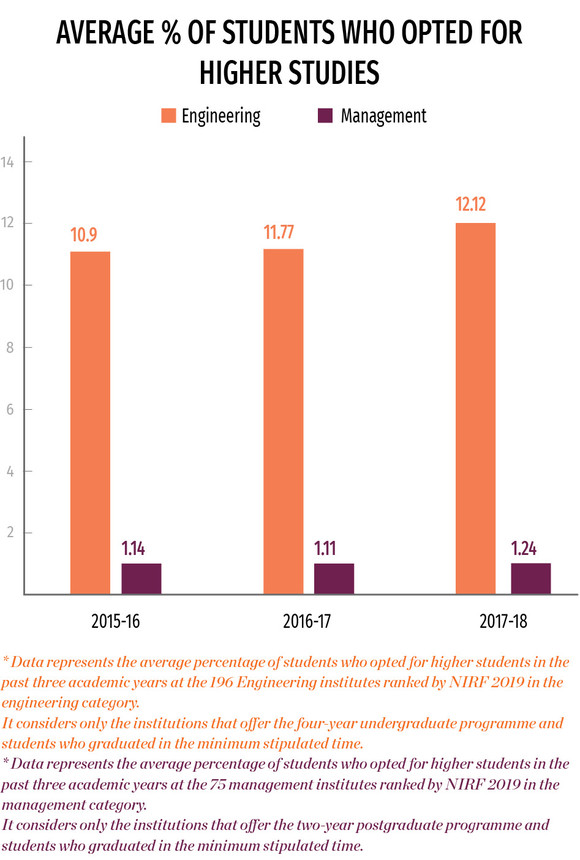 Since neither the salary nor the work itself suited Kumar, he refused the "letter of intent". That did not go down well with his set of "TPO people". "The college threatened they will stop LOIs from other companies if I didn't accept the offer," he said. The placement coordinator didn't stop there and suggested something even more outrageous. "I was sent to a college across the road to talk to the mediator who was conducting a test for their students, join that test and get the offer letter from her," said Kumar. "I did collect a letter for my friend who was away but I didn't want one for myself."
Long wait and LOIs
A "letter of intent" is not the same as an offer letter. It does not guarantee a job but represents the possibility of one.
Kumar was finally issued an LOI by a software startup. "The company's human resources team had told us that no one among us is industry-ready and needed more training on the technical aspect," recalled Kumar. "We were told we would be working on projects with the company as part of our training and could submit those for college assessment." But the LOI never translated into anything more concrete. "The company neither came to the college nor contacted us after that," he said. And when he made enquiries at the college, he was allegedly told he didn't get the job because he had not done the training. "That is how colleges bluff," he said.
Major companies do come to some campuses and test students in "bulk", as Singh put it, but months can pass before an LOI gets converted into an offer letter. "After placements, students write their exams and graduate and then wait, sometimes for a whole year, for the call letter or joining letter to arrive," she said. She and a few classmates received LOIs from a company that finally called them seven-eight months after they graduated. By then, Singh had joined elsewhere. "I graduated and started working in 2017 but six-seven students from my batch and about 50 from information technology finally joined in 2018."
Kumar did not wait. "I did not have any hope from college at all," he said. After graduating in June or July 2017 – he doesn't remember exactly when – he left for Bengaluru. Over the winter of 2017-18, he looked for jobs. "Searching for jobs off-campus is hell," he said. "About 6,000-7,000 people come on one day to write tests. Sometimes there are 12,000 people in a day. I must have gone through 10-12 such interviews and finally got a job through one of them."
Names of all graduates and professionals have been changed on request.
With data inputs from Aeshwarya Tiwari
Write to us at news@careers360.com
More From Team Careers360