"Protests will continue till fee hike is reversed": PU students
"Protests will continue till fee hike is reversed": PU students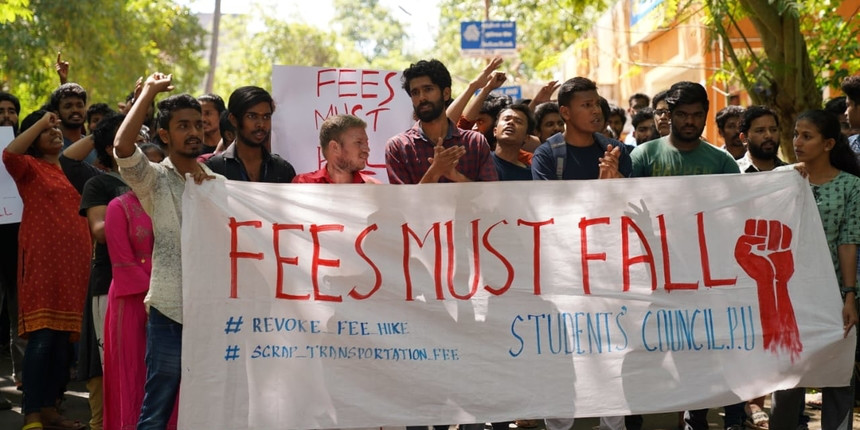 NEW DELHI: Students of Pondicherry University, who have been protesting for the past three days, said that demonstrations will continue indefinitely until the university revokes the fee hike which was introduced in last year's prospectus.
The students have been protesting since February 6, when they boycotted classes and marched toward the administration building.
We believe the university stands for students who come from marginalized sections. If the fee is increased, the students can't afford to study here," said Pradeep Yadav, President of Pondicherry University Student Council.
The fees were increased by 225 percent in some departments. For instance, fees for Master of Business Administration courses saw an increase from Rs 78,000 to Rs 1.56 Lakh. Some students who topped the MBA entrance exams this year did not take admission owing to the high fees, students said.
A "transport fee" of Rs 4,000 for day scholars was also introduced in the prospectus
'Denying access'
In a statement released on February 5, the Student Council said: "The hike in the fee structure will deny a large section of our society access to a central higher education university."
Prior to the protests, the students had been trying to approach the Vice-Chancellor. They have been trying to discuss the fee hike ever since the university reopened on January 28 but were denied permission to do so, members of the Student Council told Careers360.
"The students initially protested against the fee hike which was introduced in last year's prospectus. When the protests got media attention, the VC agreed to form a grievance committee to look into the issue," said Yadav.
The commission had four meetings in the past six months but it did nothing to resolve the issue, said Yadav who was part of the committee.
Write to us at news@careers360.com.
Stay updated with latest Education News