Reality of Reforms: Education policy and a Bihar college
Reality of Reforms: Education policy and a Bihar college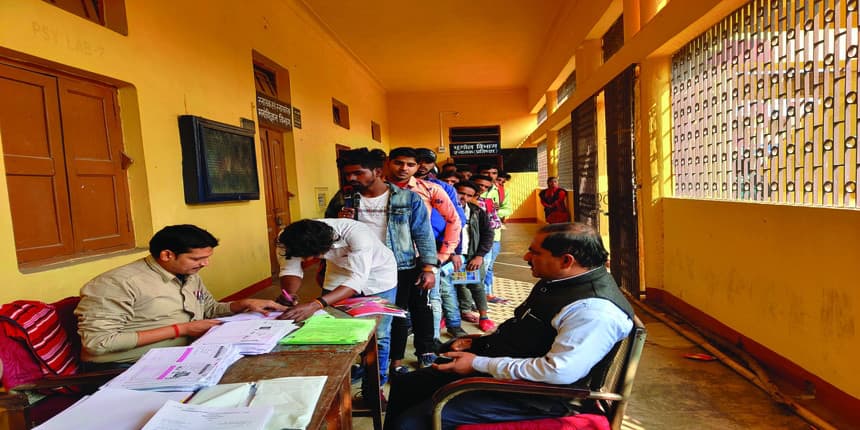 BEGUSARAI, BIHAR: Ganesh Dutt College in Begusarai, Bihar, offers a paper on gender economics as part of the postgraduate economics programme. It will enrol students, suggest books, conduct internal tests and assess them. It just won't teach it in class. Students opting for it are on their own.
This is not how the economics department wants to run things. But it has 960 undergraduate and postgraduate students and three teachers, who also teach hundreds more in Classes 11 and 12 (inter-college). No teacher has studied gender economics.
The situation is much the same in history department where papers on media, women's rights and human rights are on offer but no professor is equipped to teach, there are few books in the library and over 600 students in postgraduate studies alone.
The draft National Education Policy 2019 proposes a "complete overhaul" of higher education. It suggests ending the system of affiliated colleges, organizing institutions into research or teaching universities and colleges. Students will have "flexible curricular structures" that will "enable creative combinations of disciplines" and offer multiple exit points allowing students to leave the programme with various levels of qualifications, diplomas or degrees.
The draft NEP has India's classical universities Takshshila and Nalanda, the Indian Institutes of Technology and US' Ivy League schools as points of reference. The resultant fantasy couldn't be more at odds with the reality of GD College, Begusarai – total enrolment 31,540 and faculty-strength 64, including 22 guest teachers.
Word of the draft NEP has reached GD College but teachers are busy grappling with much older attempts at reform – replacement of annual examinations with semesters and the "choice-based credit system" (CBCS). Both centrally ordained by the University Grants Commission in Delhi, the semester system was thrust upon central and state universities in 2009, the CBCS in 2015.
Since education is on the concurrent list of subjects, states must adopt such policies and alter their laws. Bihar did so in 2017 and in 2018, in a near-perfect illustration of the impact of India's tone-deaf, top-down decision-making, they brought GD College to the brink of collapse.
Only PG for three districts
Until July 2019, when three teachers and one guest teacher joined, the commerce department had just Hem Chandra Jha for 4,740 students. In the equally populous history department, Ram Akbal Singh was similarly alone for several years till four teachers and one guest teacher joined in 2019.
GD College grew into its present bulk – and crisis – slowly. It was established in 1945 with around 4,000 students. Initially affiliated to Patna University, it became a unit of Lalit Narayan Mithila University in Darbhanga in 1975.
In 1983, it started post-graduation courses and remains the only PG college for three districts: Begusarai, Lakhisarai and Khagaria. It has Arts, Science and Commerce faculties and 16 departments. It also teaches inter-college students. Considered the area's "best college", it is a centre for two distance learning programmes – LNMU's and the Indira Gandhi National Open University, IGNOU's. Much of the expansion took place without a corresponding increase in teaching posts.
The number of seats is not determined by availability of resources, teachers say. "When I joined in 2017, I learnt that government allots seats here based on public demand," said a teacher who quit a central university in a southern state to teach in GD College because Begusarai is his hometown. What he saw stunned him. "At the central university, there were 160 faculty members for 1,000 students and my department had 30 seats," he said.
In GD College in 2017, there were 360 undergraduate seats and he the department's only teacher. "I would teach 20 and each of those would teach 20 more and photocopy the notes," he said. Still on probation, he asked not to be named.
Even if all existing vacancies were filled, there would be 250 students for every teacher. The college has 126 sanctioned teaching posts, said principal Awadesh Kumar Singh, pegged to an old and clearly invalid number of undergraduate seats. Lal Bahadur Singh, who heads sociology and is an elected member of the university's governing senate, added that funds for libraries and laboratories have also dried up.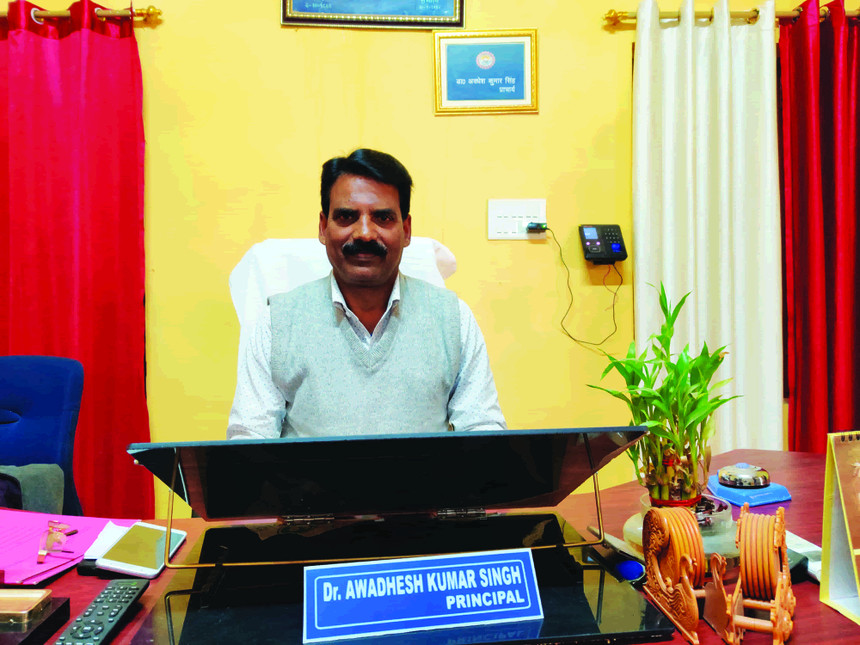 Principal, GD College
Naushad Alam, who runs the physics department "bhagwan bharose", or by God's grace, said the laboratories have been without demonstrators for two decades. Physics has over 5,000 students and two teachers.
When Alam joined in 1996, there were nine but "the student strength kept increasing, the teachers retired and were not replaced". A teacher requesting anonymity said this was possibly done to keep low the "wage burden" on the state government. However, this continued for all departments and by early 2019, total number of teachers dropped to just 28.
Into this "desperate situation", as Ram Akbal Singh described it, the semester system and CBCS were introduced for the postgraduate classes in 2018.
'See our situation theoretically'
The BJP-government introduced CBCS in 2015. The UGC decreed that all state and central universities must eventually implement it. In spirit, it is akin to the curriculum plans of the draft NEP. It allows students to opt for a "major" course in which they earn the degree but also pursue a "minor" course in another discipline as a nod to multidisciplinary training. There are several options within the major courses also, and papers on environment and skill-development along the way. It emphasises internal assessment by college teachers – assignments, seminars, viva voce. All of this is expected to make higher education flexible, student-friendly, multidisciplinary. The draft NEP endorses this and additionally proposes to make the undergraduate programme a four-year one. If implemented, this could increase GD College's undergraduate roll-strength of 18,526 by a third.
The CBCS has had some positive effects. Economics teacher Prem Vijay said it has forced universities to update obsolete syllabi. Other UGC-enforced reforms, such as moving admission processes online, relieved institutions of some administrative burden. This was welcome. At GD College, just nine of 23 non-teaching posts are filled.
However, as teachers fast discovered, reforms are resource-intensive. Institutions need more of everything — teachers, classrooms, library books and lab equipment. "Student-teacher ratio should be 20," said Ram Akbal Singh. In 2018, as his department's only teacher, he had 360 students in one batch of postgraduate history. "Teaching has become a mechanical, rather than intellectual, exercise. We are engaged in clerical work," he said.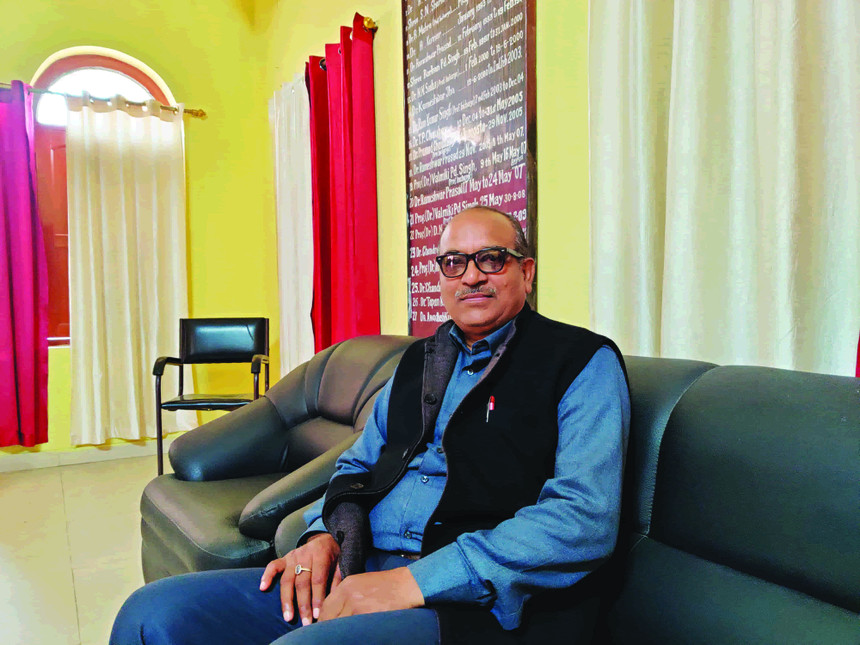 Ram Akbal Singh, GD College
Kamlesh Kumar, head of English, was scathing. "The semester system is a complete failure," he said. "My department has 16 sanctioned posts but only two teachers for the last decade. For MA alone, we conduct eight internal assessments – check assignments, arrange seminars, conduct viva." The added burden has "cast a shadow" over inter-college and undergraduate teaching, he added.
The offer of flexibility has been turned on its head. The "minors" have become like "pass subjects" students simply clear. There are no teachers for many of the elective papers and the economics department plans a "counselling session" with students to see what can be taught. "Policy-makers watch the top universities to frame their policies, they see our situation theoretically," said Abhimanyu Prasad who teaches history.
No one feels the resource-strain more keenly than a geography teacher who is an expert in Geographic Information System and remote sensing, a relevant field that also has jobs. Only, he cannot teach it. "We don't have the infrastructure. The software alone costs Rs. 10 lakh," he said. But the government has invested in a biometric attendance system with face-recognition to keep track of GD College's 64 teachers.
Principal Singh pointed out the college had received Rs. 1 lakh for practicals and Rs. 2 lakh for library books for each department just days before Careers360 visited the college on January 16 and 17.
But even he would concede the shortage of space. For Begusarai in 1945, GD College's sprawling 25-acre campus and large lecture-halls were "visionary". But apart from a few structures including a building for examinations and a staff room, there has been no upgrades.
"Today, even 25 percent of GD College's students wouldn't find place if they chose to turn up together," said Principal Singh.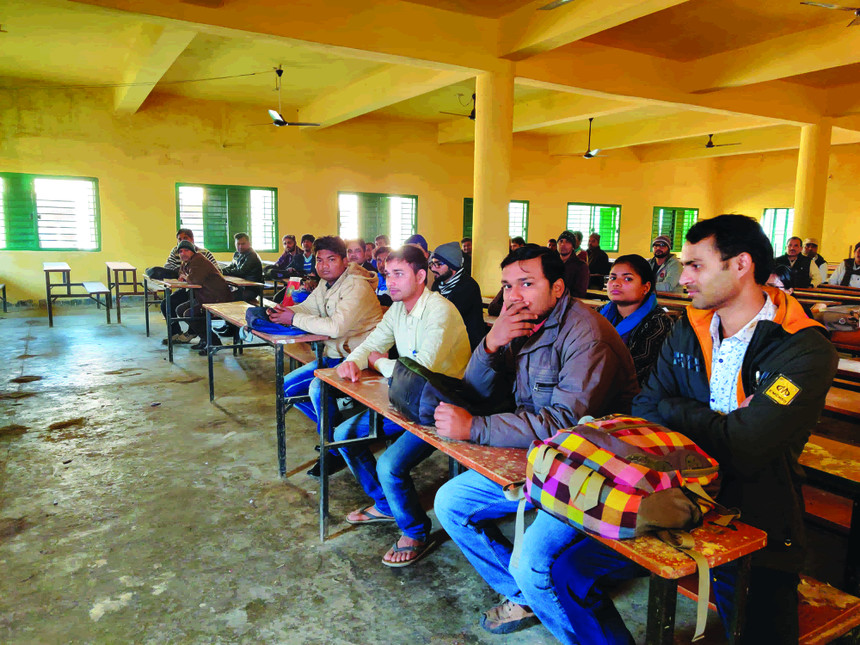 Distance education students wait for exam to begin
How do they manage?
Ironically, the only reason GD College has not buckled under the pressure of reforms is that the vast majority of its students do not attend classes. "If a boy is present today, he will be absent tomorrow," said Ram Akbal Singh. And they need to be absent for the institution to function.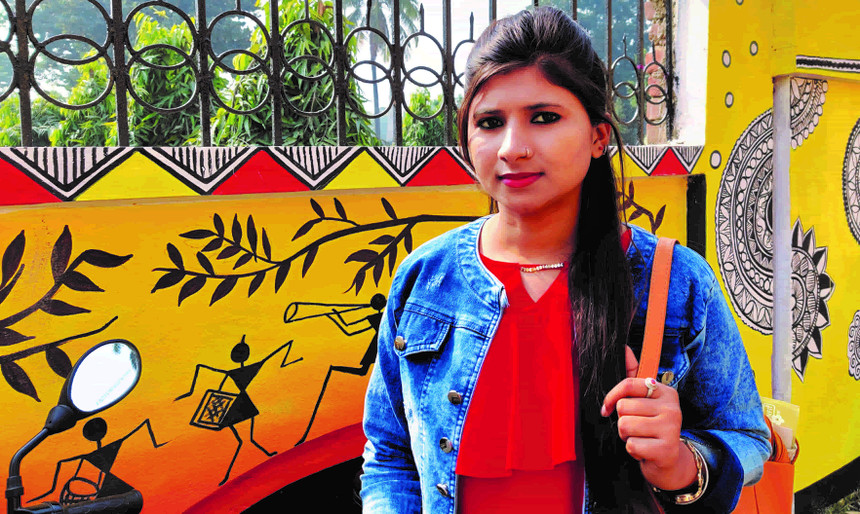 Jyoti Kumar
First year MA student of economics Rajvardhan said just 10-12 of his classmates attend regularly. He, Nitish Kumar and Gyandeep Kumar come together every morning from Khagaria by train. "I come only once a week from Bhagalpur," said Jyoti Kumar in first year of MA history. Women students from other districts are less regular. "Only locals attend classes," economics student Anjali explained adding that the college has students residing in Patna, about 100 km away.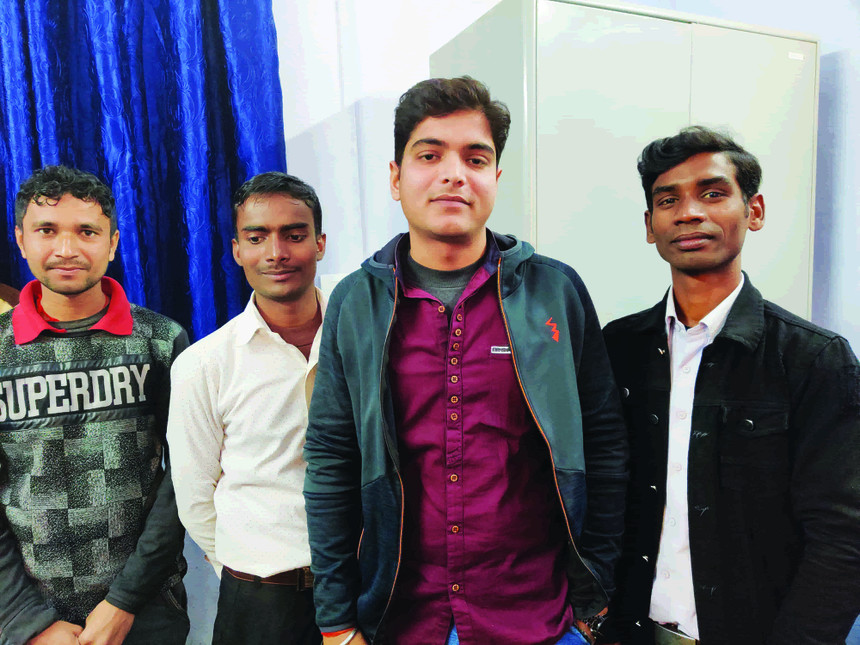 Students of MA Economics
The low attendance allows teachers to combine classes, PG with UG, "for basics in the same subject", said economics teacher Aruni Kumar. Students' main complaint, said Gyandeep Kumar, a students' union member, is that furniture is in disrepair and labs are short of equipment. For Shashibhushan in final-year MA economics, it is that "teachers get very busy during exams".
Exams have little sanctity. Off-record, teachers admitted to "widespread cheating" and said attempts to stop it or failing students can lead to violent retaliation. Teachers, dangeriously outnumbered, "are under pressure to pass students". As one put it: "If you don't, be prepared to have your skull fractured".
'This is not Delhi'
The CBCS is likely to be introduced in undergraduate classes at GD College from July 2020. Teachers are stoic about the frightening prospect. "There is no tradition of resistance here," explained Ram Akbal Singh. "Whatever the university sends, we implement. But the university never thinks at our level. Teachers should lead the modification rather than the other way around."
The draft NEP speaks of upgrading large multidisciplinary institutions into standalone universities and granting them academic autonomy. But as Sudhanshu Bhushan, of the National Institute of Educational Planning and Administration (NIEPA), writes in his report on higher education governance in Bihar, policymakers have repeatedly "confused" autonomy with a "centralizing tendency" and given certain agencies "enormous power to monitor" other institutions.
Bhushan noted the key role played by the Chancellor, who is the state's governor — appointed by the President on the Centre's recommendation. Policy-making – including framing of Bihar's CBCS syllabus – is under his watch. The Centre's influence is exercised also through the Rashtriya Ucchatar Shiksha Abhiyan (RUSA) — a Centre-state scheme funded in a 60:40 ratio. Its terms are set by the Centre. GD College is a beneficiary.
Bhushan also says that "no government -- Centre or state -- will bear the financial burden of restructuring" that NEP suggests. In fact, India's spending on education is yet to reach 6 percent of the GDP - a promise made since 1968. The NEP's solution is based on intense optimism about the Indian economy and reliance on private sources.
The draft NEP promises autonomy but suggests further centralisation of decision-making. It proposes a Rashtriya Shiksha Aayog, or National Education Commission — an apex body of mostly Union ministers and bureaucrats with some representation from states. It will be tasked to enforce the national vision "at all levels".
Academic freedom, Bhushan writes, is "subject to being accountable through performance appraisal". The appraisal brings its own pressures. UGC set up the National Assessment and Accreditation Council (NACC) in 1996 to assess institutions of higher education but they could choose to opt out. In 2005, GD College got itself accredited and attained a B++ grade. But in 2012, the UGC made NAAC accreditation compulsory and RUSA, introduced in 2013, had the NAAC grading as a condition for deciding funding.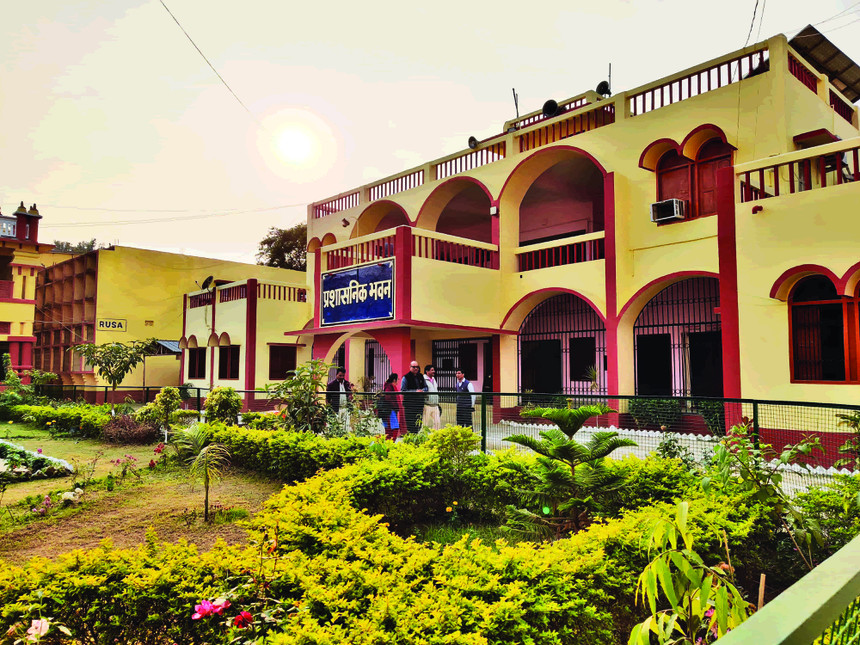 Administration Block
In 2014, GD College received a score of 2.61 and a 'B' grade valid till September 2019. NAAC downgrades institutions with adverse student-teacher ratios. As the college's fortunes declined and the accreditation's expiry approached, teachers grew anxious. The grading system has serious implications for its funding and functioning.
As 2019's RUSA guidelines show, institutions performing well find favour for funds. GD College was not performing well. "C-grade institutions don't get the university grant," explained Principal Singh. The college could not afford to lose funds. The group delayed its application for the third cycle of accreditation till appointments of permanent and guest teachers took place over July-August 2019. They are hoping for an improved score.
Despite this, there is scant discussion of the draft NEP in GD College, let alone any effort at a collective response. "This is not Delhi," said a teacher. "We are not well-informed. From Delhi, plans first come to Patna, then to Begusarai."
Write to us at news@careers360.com
More From Shreya Roy Chowdhury