Schools Reopening Updates: States resuming offline classes from today
Schools Reopening Updates: States resuming offline classes from today
Schools Reopening 2021: Karnataka, Madhya Pradesh, Assam, Haryana, and Rajasthan governments are among states that have decided to resume physical classes.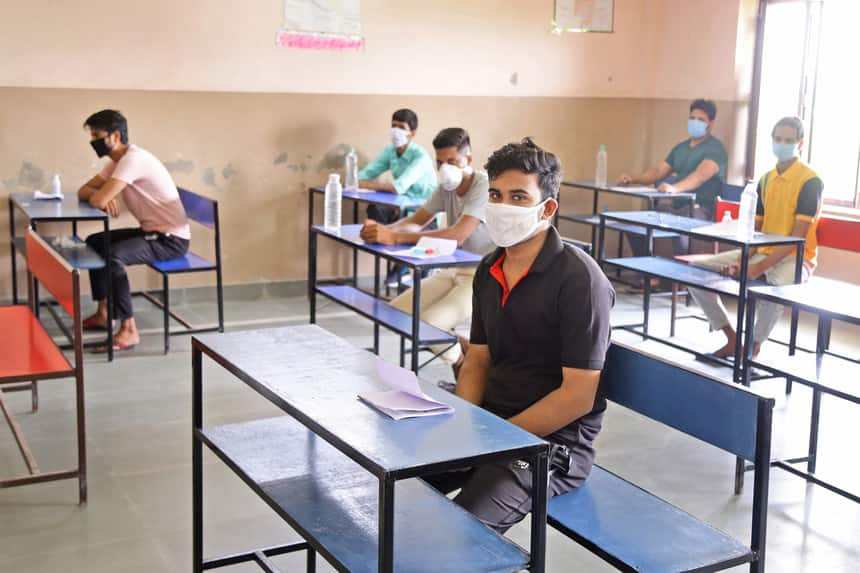 NEW DELHI: Many states are reopening schools for students of Classes 1 to 12 today (September 20). Schools are finally reopening and returning to a semblance of normalcy. However, state governments have issued COVID-19 guidelines for both government and private schools to follow, which include the compulsory wearing of marks, maintaining social distancing and proper sanitation.
Madhya Pradesh, Karnataka, Jharkhand, Rajasthan, Assam, and Haryana have decided to reopen schools for different classes today. Check the list of states reopening schools today and important guidelines here.
List of states reopening schools today
Karnataka
Schools are reopening in Karnataka for Classes 6 and 7 are reopening today. Schools for Classes 8 to 10 reopened on Friday with 60 percent of students attending offline classes on the first day. As per the instructions given by the district administration, the schools have to arrange proper sanitation and basic facilities for students and staff. Schools have also been asked to arrange for the accommodation of students arriving from neighbouring state Kerala. The administration has also asked the staff and teachers to attend schools only with RT-PCR test negative reports.
Jharkhand
In view of the declining COVID-19 cases, the state government of Jharkhand is reopening schools for Classes 6 to 8 today but students can also attend offline classes only with parental consent. The state government has also issued new COVID-19 guidelines for schools to follow. According to this, classes in schools will now continue in blended mode i.e online and offline, It is not mandatory for students to attend offline classes, group activities are prohibited to maintain social distancing inside the campus. Wearing a mask covering the mouth and nostrils is mandatory for all the students, teachers, and staff attending offline classes, additionally, it is compulsory for all teachers and staff to be fully vaccinated to conduct any campus activities and schools have been asked to use fresh air ventilation instead of air conditioning.
Also Read | Uttarakhand primary schools to reopen on September 21 after pandemic-induced closure
Rajasthan
According to guidelines issued by the Rajasthan government, both the government and private schools are reopening for Classes 6 to 8 today with attendance capped at 50 percent. For Classes 1 to 5 the school activities will resume on September 27 with 50% capacity and physical classes for Class 9 to 12 started on September 1. The guidelines issued do not allow schools to hold morning assembly prayer and school canteens are to remain shut.
Madhya Pradesh
Schools for Classes 1 to 5 will resume offline teaching at a 50 percent capacity and Classes 8,10 and 12 will resume at 100% capacity from today. Schools reopening are supposed to follow strict COVID-19 guidelines, as per the official order. Also, students of Class 11 can attend offline classes with a maximum capacity capped at 50%. Specific announcements were made for these classes but no information was relayed for the remaining classes.
Assam
As per an announcement made by Chief Minister Himanta Biswa, all high schools, high madrassas, residential schools, and day boarding schools for Classes 10 and above are reopening today. Earlier, the schools were to reopen on September 1 but that decision was dropped because of health concerns. The Assam State Disaster Management Authority also issued COVID-19 guidelines for resuming offline classes for postgraduate, graduate and higher secondary final year students who are vaccinated at least once with COVID-19 vaccine.
Also Read | Assam board HS special exam 2021 to begin from October 1
Haryana
Schools in Haryana are reopening for Classes 1 to 3 today. The state government issued SOPs to maintain COVID-19 guidelines and social distancing rules. Classes will be held online as well. Those who want to appear for the offline classes will have to bring a consent letter from their parents. Haryana government has also asked all government and private schools to have thermal screening and hand sanitisation and maintain a gap of six feet between two students.
Write to us at news@careers360.com.
More From Abhijit Srivastava