Science & Technology Research: How far are we from the top?
Science & Technology Research: How far are we from the top?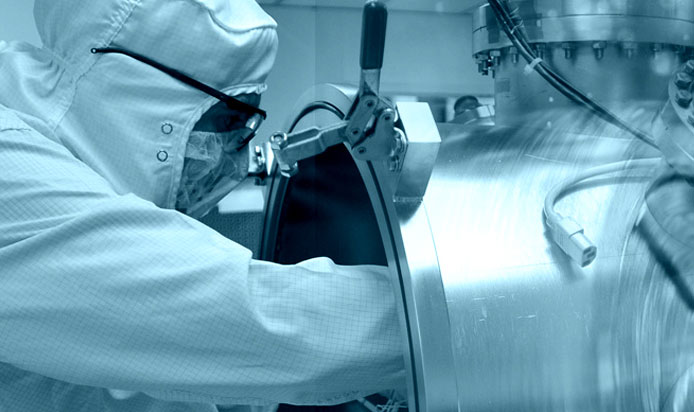 NEW DELHI: One of the key highlights of this year's Indian Science Congress was the discussion on Indian researchers publishing the third highest number of peer-reviewed publications in science and engineering globally. India published 1,35,788 articles in 2018. Prime Minister Narendra Modi and other ministers congratulated the Indian scientific community for this.
Multiple factors have contributed to this increase but the most important one was that scientific institutions have now started focussing more on international publications.
Fastest pace
Although far behind China and the USA, publishing 5.28 lakh and 4.22 lakh articles respectively, India had been steadily moving up the ladder for the past three years. The number of its publications grew by over 10 percent annually – significantly higher than the global average of 3.8 percent. Neither China nor the US, jointly accounting for over 35 percent of all publications, are growing at that pace. China is at seven percent and the USA at just 0.7 percent.
The growing emphasis on research in higher education is the driving force behind this jump, believes Ashutosh Sharma, secretary, Department of Science and Technology. "There are several factors and the most important one is the increased funding for science and research," he said. "Then, there are more projects and more PhD students. Good schemes are creating postdoctoral fellows and more institutes like the IITs, IISERs and central universities. The number of scientists is increasing." The private sector is also taking a greater interest in research and development, he added. "There is a whole ecosystem which is working."
At the turn of the century, there was a global shift with developing nations like India and China investing heavily in science and technology – a field long dominated by the US, western Europe and Japan.
A decade ago, in 2008, India accounted for just 48,998 articles. Since then, despite the existence of fake and predatory, academic journals, both the numbers and quality of publications have improved.
Some institutions are leaders in their domain. The Indian Institute of Science (IISc) and Jawaharlal Nehru Centre for Advance Scientific Research (JNCASR) in Bangalore, for instance, are placed seventh in the quality of research by Nature Index.
However, research claims considerable investment and there are still too few institutions committing sufficient funds to it, say scientists.
The following chart shows the top five countries, ranked by the number of peer-reviewed publications.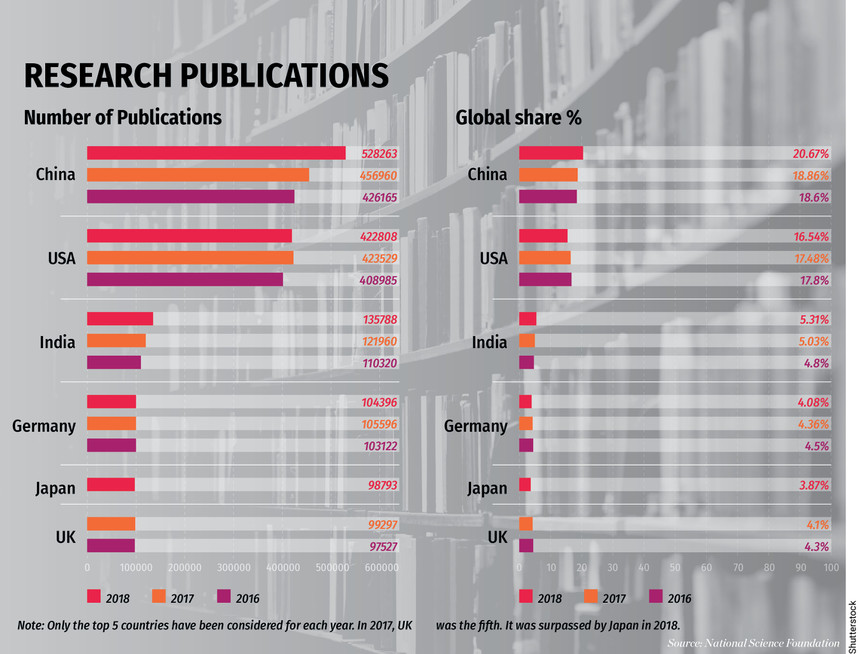 Attract the best students
India's ranking on the Global Innovation Index has also improved over the same period with the country placed at 52 in the 2019 edition. This represented a jump of five places over the previous year's, and a climb of 29 places in the past five years. India was at 81 in 2015.
According to a senior faculty member of IISc, research produces new knowledge and the number of refereed publications is a "tangible measure of research activity". He said that research output in the area of STEM (science, technology, engineering, and mathematics) in recent years has grown more rapidly in China and other developing countries. It picked up late in India, but is growing fast.
If India becomes a "knowledge-driven economy", publishes journals of the same calibre and validates knowledge generated in other countries, and works in international partnerships, India can even lead in STEM research, said Rajagopala Chidambaram, physicist and former principal scientific advisor to the Government of India. Attaining the third position is a good sign but "the field of science must attract the best students," he added. "We have to identify and nurture the gifted children and by the time their talent is visible, gifted children think differently and those are the children whom we need in science."
Countries have now realised that scientific and technical capabilities are essential for economic growth and are intensifying efforts to build their capabilities, he added.
India ranks at 10 for patents filed. The total number of patent applications researchers from the country filed increased to 61,788 in the 2018-19 financial year, from 47,857 in 2017-18, according to India Brand Equity Foundation.
Public-private partnerships (PPP) have promoted exchange of scientific knowledge between the private sector and academia and also created private channels for funding.
Chidambaram said that India needs to build and excellent research, development and innovative ecosystem, which allows Indian scientists and engineers to excel in basic and applied research, technology development and R&D-led innovation. "We want to build advanced superstructures, but advanced mega-science and mega-technology research and development projects can no longer be taken on by a single country," he said. "International cooperation is needed. India is participating in such projects today as an equal partner."
Funds and schemes
In developed nations universities are the main centres of excellence, carrying out high-impact research and providing graduate education in science. It is also important for education institutions in India to become centres of excellence, collaborate among themselves and with the industry for creating an ecosystem of research. It is also important for the government and funding bodies like the DST and Department of Bio-Technology (DBT) to provide more funding, said Ashutosh Sharma. He said: "The role of such institutions is more as there is a need to define good areas of research, keeping an eye on the future, where opportunities and challenges are going to be. It is important to define new challenges and schemes on how to deal with them, then competitively fund projects in different areas."
At present, DST covers almost everything from atoms to astrophysics, at different scales, in all areas and institutions. He said, "We have to remain prepared, see capacity, see capability, have human resources, PhDs, postdoctoral scholars. So, we do funding of basic research, applied research, then technology development and also incubation and start-ups."
'Spruce up journals'
Another important body is the Council of Scientific and Industrial Research, or CSIR. Its director general, Shekhar C. Mande said the Indian scientific journals must be spruced up for further improvement in India's research position. Most journals published from India are published by academies like the Indian National Science Academy, the Indian Academy of Science and CSIR. Mande plans to promote these journals for better results and visibility. "We are also continuously working on improving their quality," he said. "We are right now taking a review of our journals to know how we can up our quality. We will pick up some of the journals and see what value addition can be done."
Write to us at news@careers360.com
Stay updated with latest Education News