SNAP 2020 - Top 10 tips to crack the exam
SNAP 2020 - Top 10 tips to crack the exam
SNAP 2020 is scheduled to be conducted on December 20 and candidates can check the top 10 tips to crack the SNAP 2020 exam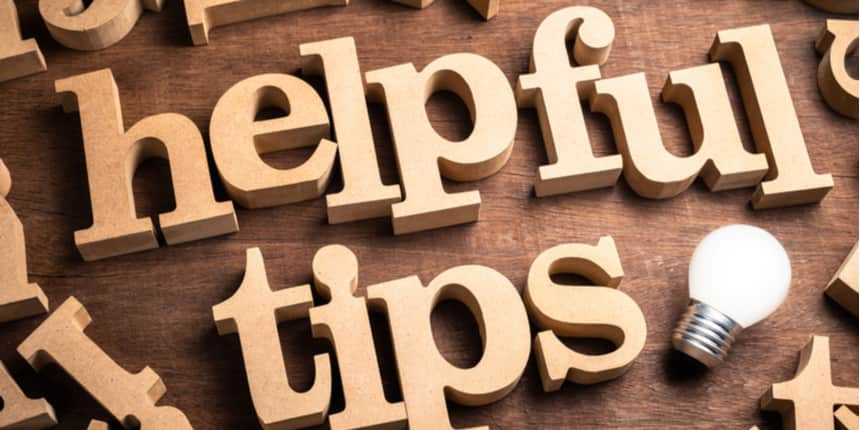 NEW DELHI: SNAP 2020 exam is set to be conducted on December 20, 2020, January 6 and 9, 2021. For the current session, the SNAP exam 2020 will be conducted in computer based mode. Candidates should keep in mind 10 important tips to crack the SNAP 2020 exam. Before the SNAP 2020 exam, candidates should not take any stress as it will affect their performance on the day of the exam.
Alert: Direct Link for SNAP Exam Registration, Click Here.
SNAP 2020 - Important Dates
Events

Dates

SNAP Test 2020

December 20, 2020 (Sunday)

January 6, 2021 (Wednesday)

January 9, 2021 (Saturday)

Announcement of SNAP Result

January 22, 2021
SNAP 2020 - Exam Pattern
Particulars

Details

Number of Section

General English

Analytical and Logical Reasoning

Quantitative - Data Sufficiency and Data Interpretation

Duration of the SNAP 2020

60 Minutes (One Hour)

Number of Question

60

Total Marks

60

Marking Scheme

For each wrong answer 0.25 mark (¼ mark) will be deducted
Some tips are as follows - How to crack SNAP 2020
Here are some tips to crack the SNAP 2020. By following these tips, candidates can definitely clear the SNAP exam 2020.
Practice on Basic Mathematics
Revise and do a practice on the basic mathematics for data interpretation and quantitative ability for SNAP 2020 exam

Once you have created a certain level of comfort with numbers, practice with squares, tables, decimal-fraction conversions, and cubes.
Three-way strategic approach
It is very important to plan accordingly according to the points mentioned below as you aim to crack SNAP 2020:
Practice seriously

Concept driven

Environmental sensitivity
Time Management
It tests your time management and priority, the same must be confirmed during SNAP preparation and execution.

In terms of allocating time to different sections, each question is about playing on your strengths and minimizing weaknesses.
Another important factor is biological clock
You need to set aside time to ensure excellence, so be prepared for exam time.

Practice like exam time will give you one more reason to take mock tests. As well as this way will help to face the SNAP 2020.
Take SNAP mock test and refer past year papers
It is very important to test what you have read so that you can find out where your preparation stands.

Solving SNAP mock and last year papers helps to bridge the gap between your current situation and the preparation/ practice required to resolve this SNAP 2020 exam.
Pay close attention and read the question carefully
When giving the SNAP 2020 exam, it is very important to read the question carefully because the examiner wants to confuse the candidate.

You need to have a good understanding of what the answer to the question requires.
Shortcut Tricks for DI and Quantitative Ability
Shortcuts are the key to comparative success, so have shortcuts to memorize, relate and solve things.

For Reading Comprehension, scanning and skimming are most important to increase your SNAP score.

Similarly for quantitative ability, there are many shortcuts to chapters such as time and work, number systems, which can help save time.
Method of Elimination
You need to eliminate two options that are unrelated to the question or incompatible with each other.

Post it and choose one of the two options you will manage even if you do not know, it will work for most people.
Stay calm, don't panic
First of all, remember to be cool and not lose mind.

Be confident, relax, this is a test for your performance and a person loses the cool when he/ she is stressed or anxious.
Sleep Well ahead of SNAP 2020
It is very important to have a good night's sleep ahead of the SNAP 2020 exam so that one feels fresh and is not mentally drained on the day of the entrance test. Lack of sleep might result in fatigue and have an adverse impact on the performance of the candidate.
About SNAP
SNAP 2020 exam is organized and conducted by Symbiosis International (Deemed) University (SIU) for admission to its various management programs offered in various SNAP participating institutes.
Also Read:
Write to us news@careers360.com
Know More About
Application Date

31 Aug, 2021 - 30 Nov, 2021