Study Abroad: Indian students in Germany double in five years
Study Abroad: Indian students in Germany double in five years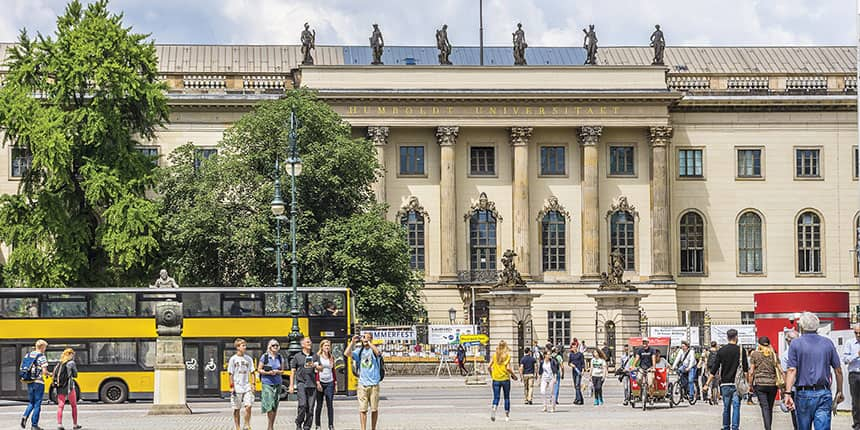 NEW DELHI: Germany continues to attract Indian students despite COVID-19. The admission season began last month and, according to the German Academic Exchange Service, or DAAD, India tops the list of foreign applicants with over 8,300 applying for various undergraduate and postgraduate programmes in German universities.
As per Quacquarelli Symonds (QS) I-Gauge study published in May this year, Indian students mostly prefer the USA (30.27%) for higher education followed by the UK with 15.84 percent and Germany is at the third position with 14.33 percent.
According to recent figures released by Uni-Assist, an association of German universities, and DAAD, almost 60,000 prospective international students from over 180 countries, have applied for the winter semester 2020. This is around 80 percent of the 2019-20 figure, showing that in spite of the pandemic, German higher education continues to draw students.
Indians form the second-largest group of foreign students in Germany.
| | |
| --- | --- |
| Academic Year | No. of Indian students |
| 2015-16 | 13,740 |
| 2016-17 | 15,529 |
| 2017-18 | 17,570 |
| 2018-19 | 20,810 |
| 2019-20 | 25,149 |
Indian students in Germany
India sends the second-largest number of students to foreign countries for education, behind only China. More than 7.8 lakh students went abroad in 2018 followed by 6.2 lakh (not counting the UK) in 2019 for higher education, the Ministry of Education told Lok Sabha in November 2019.
As per the latest figures released by the Federal Statistical Office of Germany, the number of Indian students in Germany has grown by 20.85 percent over the last year and stands at 25,149 (winter semester 2019-20).
The total number of international students in Germany has increased by 4.3 percent reaching 411,601. The rate of growth in the number of Indian students going to Germany is close to five times that of the global average with Indians forming the second-largest group of international students enrolled at German universities.
The number of Indian students in Germany has almost doubled in the last five years.
Joybrato Mukherjee, president of DAAD, said: "In times of crisis such as these, German universities can be seen to have a very solid standing thanks to public funding – not least in terms of their international competitiveness."
Popular courses
The science, technology, engineering, and mathematics, or STEM, courses continue to be the most popular domains with engineering alone drawing nearly 70 percent of all students from India. It is followed by the natural sciences and mathematics.
Apart from the traditional branches of engineering and science, fields such as environmental engineering, engineering with management and other interdisciplinary courses are becoming increasingly popular.
Last year, the largest number of Indian students joined German universities to study engineering (67 percent) followed by management and social studies (15 percent), and mathematics and natural sciences (12 percent). Of these, 63 percent chose universities or technical universities and the remaining 37 percent enrolled in universities of applied sciences (FH). The majority of these students, 72.6 percent, are men.
English courses and cost
One reason for the growth in numbers has been German universities' proactively increasing courses taught in English. These have been key for attracting Indian students. This year 8,300 Indians have applied for various programmes, the highest figure so far, followed by China and Syria.
Although the cost of living in Germany is higher than in many countries, including some in Europe, the tuition fee is nominal or nil.
According to DAAD, despite COVID-19, 60,000 prospective international students from over 180 countries have applied for admissions till now.
Amandeep Singh, an Indian student who is pursuing his master's degree at the RWTH Aachen University said: "Top healthcare services, proactive response to the pandemic situation and the low cost of education are some of the factors inspiring students to consider Germany as a preferred higher education destination."
The German universities also responded early to the health crisis, taking measures to ensure the application process is smooth. "In order to give as many applicants as possible the opportunity to study in Germany in spite of corona[virus], many of our member universities contributed to making the application process more flexible right from the beginning of the crisis by participating in the online system and extending application deadlines," said Jens Strackeljan, chairman of the board of Uni-Assist. A number of German universities also accept applications directly and not via any central body or association. Those numbers are not included in the data shared by Uni-Assist and DAAD.
Jobs, internships during Covid-19
Several German universities and the governmental machinery are taking extra measures to ensure foreign students already enrolled in programmes in Germany do not suffer from financial difficulties due to the reduction in the number of off-campus jobs.
Along with most universities across the globe, German universities are also largely offering online classes for a number of programmes. Laboratories at universities are open only for small groups of students and for science subjects. These are being run with extreme caution with stringent sanitisation and hygiene protocols.
Also read:
Write to us news@careers360.com