Two-hour exams, projects, common entrance tests in UGC Panel's report
Two-hour exams, projects, common entrance tests in UGC Panel's report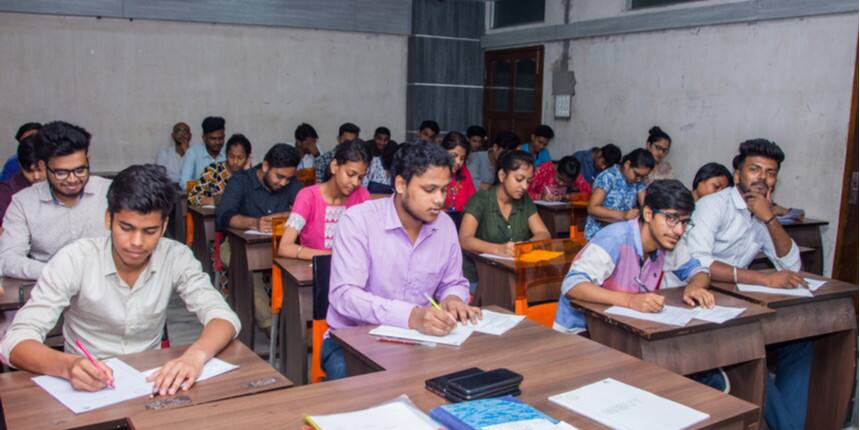 NEW DELHI: The University Grants Commission (UGC) expert committee formed to suggest measures to deal with the delay in the academic cycle due to COVID-19 has suggested continuing teaching online till May 15, having summer vacations in June, exams in July and admission in August.
The new session, the committee suggests, can begin on August 1, 2020 for enrolled students and on September 1 for new entrants. It has suggested holding the admission process in August and streamlining it by holding common entrance tests at the state or national level.
On exams, the committee has suggested reducing the duration of each, emphasising on internal assessment and project work and promoting those of have failed or are absent, but only on the condition they take the exams later. It has broadly earmarked July for exams and left universities to decide whether they want to hold them online or off.
Led by Central University of Haryana's Vice-Chancellor, RC Kuhad, the committee was formed on April 7 to suggest ways to get the academic schedule, thrown out of gear by the coronavirus pandemic, back on track. The report was discussed at the commission's meeting on April 27.
Academic calendar
It has suggested declaring summer vacations for the whole of June, 2020 and regrouping in July for exams. Results will be declared over late-July and early-August and the new session can begin on August 1, 2020 for second-year onwards. For new admissions, the session can begin on September 1. To make up for the lost session, the committee has suggested that universities follow six-day week pattern. It has also suggested that examination to be conducted based on the relaxation in the lockdown, keeping in mind the guidelines of the social distancing.
The calendar recommended by the committee is given below.
Start of even semester

January 1, 2020

Suspension of classes

March 16, 2020

Delivering lessons in e-learning mode

March 16 – May 15

Finalising dissertation / project work/ internship reports/ e-labs/ completion of syllabus / internal assessment / assignments / placement drive (All through online resources only)

May 16 – 31

Summer vacations

June 1 – 30, 2020

Examinations

Terminal semester / year

Intermediate semester / year




July 1 –15, 2020

July 16 – 31, 2020

Evaluation and declaration of result

Terminal semester / year

Intermediate semester / year


July 31, 2020




August 14, 2020
Admissions 2020-21
The committee suggests conducting college and university admissions in August, 2020. It has suggested conducting national and state-level Common Admission Test for admission to undergraduate, postgraduate and research programs. The report says: "only minimum amendments may be required to be made by the universities."
The schedule for admissions is given below.
Admission Process

August 1 – 31, 2020




Commencement of Classes

Students of 2d Year and 3d Year

ii. Fresh batch (1st Semester/ Year)




August 1, 2020

September 1, 2020

Conduct of Examinations

January 1 – 25, 2021

Commencement of Classes for Even Semester

January 27, 2021

Dispersal of Classes

May 25, 2021

Conduct of Examinations

May 26 – June 25, 2021

Summer Vacations

July 1 – 30, 2021

Commencement of Next Academic Session

August 2, 2021

On semester exams
The committee report says universities "may adopt alternative and simplified modes and methods of examinations". It has left to the institutions to decide if they want to hold exams online.
It has suggested reducing the duration of each exam to two hours from three and holding exams in shifts but "without compromising the quality". It has also suggested considering 50 percent of the marks as internal assessment – in place of the customary 30 percent – and for the remaining 50 percent, "assignments, project work, term paper, mini review, open books exam etc." These can replace exams for undergraduate and postgraduate students. But "terminal year or semester" students – those in their last year or semester of the programme will have to write exams which will be conducted as soon as it becomes "feasible" to do so.
Further, the committee has also clarified that the existing scheme of ""carry forward" will be allowed for the current academic year in the universities and every student will be promoted to the next semester". Under the "carry forward" scheme, students who fail and exam are promoted but must clear the exam later. The committee report says: "Such students may clear the examination for the course in which he or she has failed or remained absent, whenever the examinations are held next." It also says "students will be allowed to improve their grades by offering one additional opportunity to appear in the current semester course is in succeeding semesters or years or through supplementary examination."
Online learning
The committee has emphasised the virtual mode of teaching and recommended that universities prepare themselves and train their teachers in ICT tools on priority.
The committee has suggested for continuing the teaching learning through online mode through platforms like Google classroom, SWAYAM platforms. It has also suggested using social media and messaging platforms like WhatsApp for sharing feedback on the work submitted by the students as it is of the view that it counts as a form of substantive interaction.
Careers360 earlier reported that the committee is looking at suggesting online mode of teaching. In the report, it has also suggested for development of virtual classroom and video conferencing facility and all teaching staff should be trained with the use of technology. "Universities should prepare e-content, e-lab experiments and share the same on their website," says the report.
Also read:
Write to us at news@careers360.com.
More From Team Careers360