UK Prime Minister Theresa May felicitates 104 Indian Women STEM Scholars
UK Prime Minister Theresa May felicitates 104 Indian Women STEM Scholars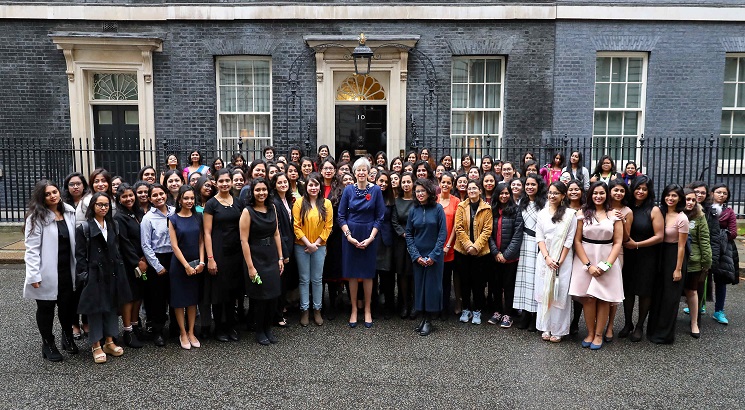 NEW DELHI, NOVEMBER 5: British Council has announced the second edition of its 70th Anniversary Scholarship programme for Indian Women pursuing a master's in Science, Technology, Engineering and Math (STEM) in the United Kingdom.
The announcement was made at a felicitation ceremony with Prime Minister Theresa May United Kingdom for the 104 Indian Women STEM scholars. The scholars are currently completing their Master's in STEM education in 43 British Universities across England, Scotland, Wales and Northern Ireland.
PM Theresa May met with British Council's 70th Anniversary Women STEM scholars, demonstrating United Kingdom's commitment to attracting the brightest Indian students to United Kingdom's top universities. The awardees also met United Kingdom parliamentarians and connected with key businesses and universities to explore potential work placements and internships.
The announcement of a second edition of the scholarship scheme edition follows a hugely successful first round, which celebrated the British Council's 70th Anniversary in India. More than 50% of the 104 scholars are from Tier 2 and 3 Indian cities, underlining the British Council's commitment towards improving access to quality education, skills and qualifications across the country; and creating opportunities for Indian women to succeed in India and globally.
In the second year, the British Council and some of the world's best universities located in the United Kingdom will fund full tuition scholarships worth GBP 1 million, for 70 Indian women to study a Master's programme in STEM in the United Kingdom for the academic year 2019-20.
Alan Gemmell, OBE, Director India, British Council said, "Meeting the Prime Minister at her home in 10 Downing Street is an unforgettable day for our scholars. The scholars' visit is a reminder of the critical importance of the educational relationship between Britain and India and that the UK welcomed 18,000 students from across India last year. The 104 women who comprise the 2018 British Council 70th Anniversary Scholars are ambassadors for the future relationship between the UK and India - a relationship focused on creativity, innovation, and life-changing opportunities. I'm delighted we are announcing an investment of £1 million to award 70 more women British Council 70th Anniversary Scholarships in 2019."
Stay updated with latest Education News