Byju's ad claims it helped 37% of IAS 2020 batch crack UPSC. It's misleading.
Byju's ad claims it helped 37% of IAS 2020 batch crack UPSC. It's misleading.
UPSC CSE: Byju's ad claims it coached 36 of the top 100 candidates selected to be IAS officers. But several of them said they didn't use its paid service.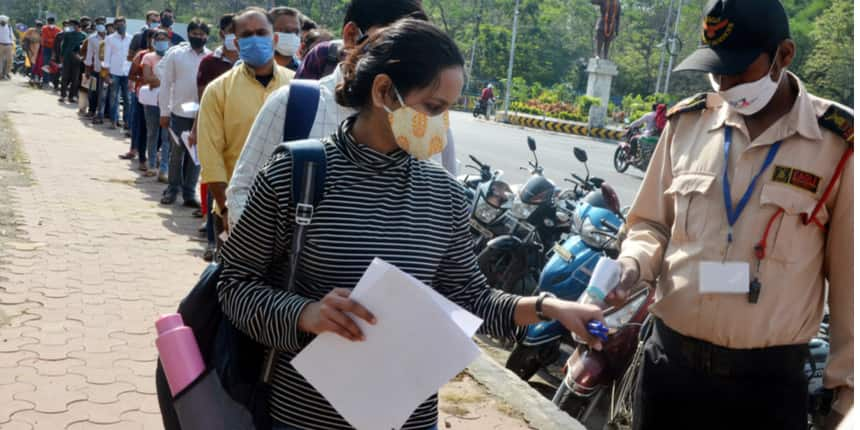 NEW DELHI: In a full-page advertisement published in a national daily on October 2, Jagriti Awasthi's face was prominently displayed.
Just a few days before, on September 26, the Union Public Service Commission (UPSC) had announced the results of the notoriously difficult three-stage Civil Services Exam and Awasthi had cleared it, ranking second in the country, and been selected for the 2020 batch of Indian Administrative Services officers. In the ad, India's most prominent education technology firm, Byju's, was claiming its civil service coaching branch, Byju's IAS, had coached her to clear the exam. Except, it hadn't.
Also read - IBPS RRB Officer Scale 1 scorecard 2021 released at ibps.in; Check steps to download
Like Awasthi, Sarthak Agarwal (all-India rank 17) was also part of the ad. Once a Central Board of Secondary Education's (CBSE) Class 12 topper, he told Careers360 he hadn't used any paid coaching service at all.
The full-page advertisement featured dozens of candidates; claimed 36 in the top 100 had prepared for the civil services exam with them and that 281 out of 761 ranks – about 37% -- had all trained with Byju's.
If it were true, training 37% of an IAS batch to clear the hugely competitive selection exam wouldn't just imply startling success on the part of one coaching firm but, in this case, would serve as a testament to the efficacy and impact of online learning itself. Except, it isn't.
Also Read: NEET 2021 result soon; check cut-offs for government, deemed, central colleges
CSE: Exam in three stages
How Byju's has been able to claim such a large chunk of a batch of future bureaucrats as its alumni is linked to how the civil services exams are structured and at which stages coaching centres must do the most heavy-lifting.
Over 10.4 lakh candidates applied for the Civil Services Exam for selecting the IAS 2020 batch. Of them, just 10,564 qualified for the written, or "Mains" round held in January. Of this group, 2,053 made it to the personality test and interview in the final round. At the end of it all, 761 out of 10,40,060 candidates cleared all tests to become India's next batch of IAS officers. That is a 0.2% rate for qualification to personal interview and 0.073% success rate for becoming an IAS officer.
Competition has remained just as intense every year for years. In 2019, out of about 11.35 lakh applicants, 2,034 were called for interviews and 927 were finally selected. Taking all three levels of the selection process together, the success rate is in the range of 0.07% to 0.08%.

It is abundantly clear that the major hurdles are the first two exams – the "Prelims" and "Mains" – and claim the most effort as by the time a candidate reaches the interview stage, they are already in the top 0.2%.
Also Read: CBSE Term 1 Date Sheet 2021-22 Class 10, 12 (OUT) Live Updates: CBSE Board exam 2022 time table at cbse.gov.in
Interviews: Mock and real
As congratulatory comments and interviews of toppers flooded social media on and after September 26, coaching institutes across the country began posting advertisements congratulating toppers and claiming they had been their students. This is a common practice adopted by coaching firms who rely on such subterfuge to get the next lot of IAS aspirants to sign up. Some were honest enough to state in their publicity material exactly which part the candidate got help with – the full coaching programme covering years, a test series, or a "mock interview" – but not Byju's. Their full-page ad suggests the ed-tech giant saw each candidate through, right from Prelims to interview. It didn't.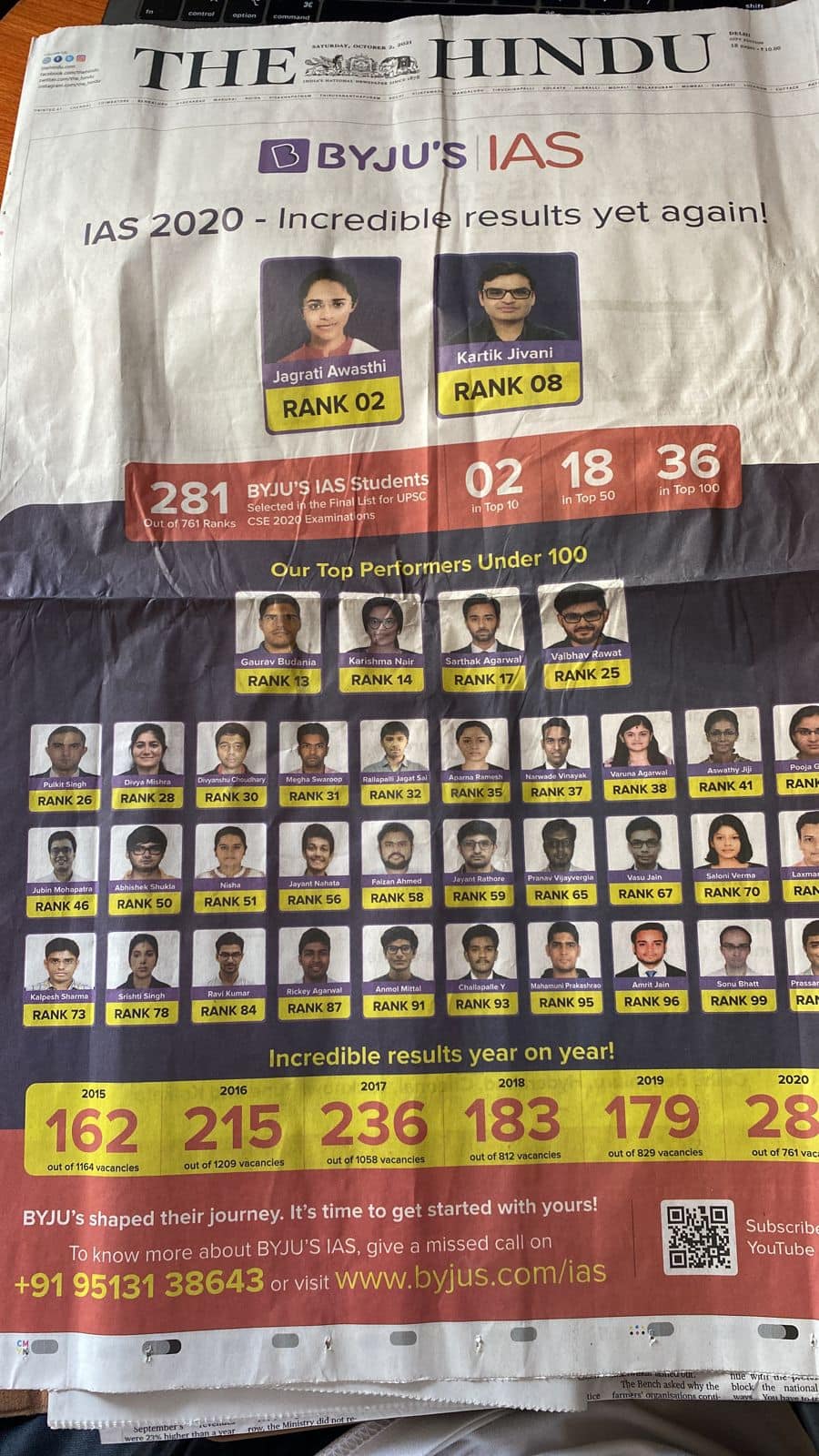 A full-page advertisement claims UPSC 2020 toppers as "Byju's top-performing students"
"I did not study with any coaching institute but very close to my interview, I attended quite a few free mock interviews that [coaching institutes] offer. When I was preparing for my interview, I looked up free sources online and Byju's was one of them. To be honest, I spent close to half an hour with them," Sarthak Agarwal told Careers360.
Careers360 attempted to trace all the rank-holders featured in the advertisement and contacted over two dozen via their social media pages, emails or phones, whichever was available. Of those who responded, few were willing speak on record about their experience – or lack of it – with Byju's.
Of the candidates who spoke to Careers360 on record, none were trained by Byju's to clear either the UPSC Preliminary or the UPSC Mains examinations. None was a paid customer of Byju's IAS and all had only utilised the free "mock interview" offering. None had used the Byjus material for either Prelims or Mains exams, a test which sifts 1,000 candidates to just two.
Also Read: IIT Delhi final-year engineering physics student dies by suicide in hostel
With just a tiny fraction of the original number of applicants left in the race, competition at the interview stage is less fierce and the success rate significantly higher. For the IAS 2020 batch, it was about 37%.
'Tendency to claim success'
In 2021 (for the IAS 2020 batch), the 2,053 candidates had almost five months to prepare. At this point, most candidates work on building confidence and practicing questions through "mock interviews" offered free-of-cost by practically all coaching centres. Each one would have attended multiple such interviews. The group Careers360 spoke to did so too and Byju's IAS was just one such mock interview.
"Due to Covid, interviews were [pushed back]. Earlier it was scheduled in June and then September. I had already used most of the mock interview information which was readily available. When the interviews were rescheduled, I was looking for more resources. Meanwhile, Byju's approached me for the free online mock interview. It was a half-an-hour long…The coaching institutes have a tendency to claim success even if you take a single support from them. I am not against Byju's, but they just helped me for a very short time of 30 minutes for a mock interview and that's how these institutes work," said Jagrati Awasthi. She added that the question about Bundelkhand – she had stated her hobby was Bundelkhandi music – helped her in the final interview as well.
Also Read: UPSC IAS 2021: Tips and tricks to revise syllabus in last 10 days
Varuna Agrawal, AIR 38, who has been named in the advertisement, did not attend any form of coaching with Byju for the UPSC 2020 exam. "I was not [Byju's] student. I only gave a mock interview during the CSE 2019 attempt. In my journey of two UPSC CSE interviews, I ended up giving 25 to 30 mock interviews of which 90 percent were free. Byju's was just one of them," said Agrawal.
C Yashwant Kumar Reddy, AIR 93, said he attended mock interviews offered by as many as 30 coaching institutes and Byju's was just one of them. "I did not attend any course with Byju's," he said. "I had a mock interview with them for around 30 minutes and it was good and very helpful."
Agarwal said he would not have minded having his name published if Byju's had been honest about the nature of the service he had used. "It is important for any coaching institute to also provide the context in which they have trained the aspirants because there is no one-size-fits-all in this industry. Some enrol for a two-year programme and there are people like me who enrol for half an hour," he said.
Although he wasn't claimed as Byju's own, Shubham Kumar, the top ranker in UPSC 2020 has been similarly featured in publicity material as bait by several coaching institutions – admittedly, much smaller and of a far lower profile than Byju's – to draw the next lot of IAS aspirants. The practice so irritated him, he clarified the issue in a video. In it he says: "The UPSC Journey is made up of Prelims, Mains and Interviews. At the interview stage, all the coaching institutes conduct mock interviews free of cost. To build confidence, I had gone to all these coaching institutes and given mock interviews. It looks as if I am a class room student of these institutes which is untrue".
'Enrolled across programs'
Careers360 sent a detailed questionnaire to Byju's in which the following questions were asked:
1. How many of the UPSC toppers 2020 took coaching for Prelims at Byju's? Please mention their names. Did these toppers use a paid service, free service, or both?
2. How many of the UPSC toppers 2020 took coaching for the UPSC Mains examination at Byju's? Please mention their name. Did these toppers use a paid service, free service, or both?
3. How many UPSC toppers took coaching for the UPSC interview preparation at Byju's? Please mention their name. Did these toppers use a paid service, free service, or both?
4. Do you think it is misleading to claim these IAS toppers are "Byjus's top-performing students" and that "Byju's has shaped their journey" in the advertisements if they attended only mock interviews?
5. Some of the toppers have said that they do not wish to be named in the advertisement unless it is made clear that they only attended 30 minutes mock interview with your platform. Do you take consent from these toppers before using their name in the advertisement?
Byju's spokesperson did not respond to any specific question and offered no data or names. The statement they sent in reply says, "At BYJU'S, we are committed to providing students with the best learning resources and experiences. Our UPSC programs are designed to assist aspirants at every step of their preparation journey. The results published include details of students who have enrolled across programs like the online classroom, digital courses, test series, and interview preparation over the years."
Also Read: UPSC CSE question paper 2021 - Official prelims question papers released
Byju's affliliate, WhiteHat Jr had been sanctioned for violating the Advertising Standards Council of India's code and had to withdraw misleading ads in October 2020. The issue of misleading advertising by ed-tech companies came up in Parliament as well. In response to a query raised in the 2021 budget session, the education ministry conceded that ed-tech companies were airing "inappropriate advertisements" and "misleading the customers". Ramesh Pokhriyal 'Nishank', then education minister, said: "The ASCI has issued advertising guidelines for educational institutes and courses".
Update: This copy has been updated to include Varuna Agrawal's response.
---
Follow us for the latest education news on colleges and universities, admission, courses, exams, schools, research, NEP and education policies and more..
To get in touch, write to us at news@careers360.com.
Know More About
Application Date

02 Feb, 2022 - 22 Feb, 2022
Download Exam Brochure