Why exploited private school teachers doubt Kerala govt's minimum wage promise
Why exploited private school teachers doubt Kerala govt's minimum wage promise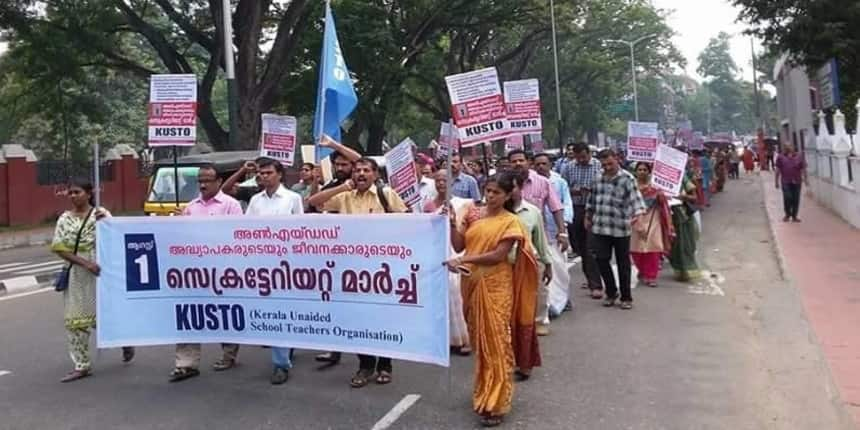 NEW DELHI: In October, the Kerala government announced it will introduce a Bill ensuring minimum wages to private school teachers. Private unaided schools have a major presence in Kerala's school education system with 3,260 schools, according to the Unified-District Information on School Education, U-DISE.
However, teachers in these schools, who accounted for 26.5 percent of Kerala's school-teaching staff in 2016-17, remain overworked, underpaid and pessimistic about the possibility of change. Many of them see it as an election-time gimmick.
"We are forced to stand for hours in the class. If we by chance happen to sit, the principal or the management comes in and verbally abuses us in front of the students," said a primary school teacher, explaining why a law is needed to protect this group. They requested not to be named. "Even daily-wage labourers…earn more per day than we do, that is the state of us private school teachers."
Due to the absence of pre-decided a pay scale, teachers are paid according to the whims of the management. In spite of the Kochi High Court's remark in 2012 saying private school teachers should be given minimum wages, no conclusive action was taken by the government or school managements over the years. The High Court had suggested a minimum wage of Rs 10,000 for primary; Rs 15,000 for secondary and Rs 20,000 for senior secondary teachers.
'Mere statements'
On its part, the state government has been talking about but failing to act on such a policy for years.
The Kerala government had first proposed a law mandating minimum wages for private school teachers in 2007. It took close to a decade for the Bill to be drafted and the version that was ready in 2016, has never been introduced in the State Assembly. But then, as now, there were government statements promising it.
"No development has happened since the Bill got drafted," said M Shajar Khan, vice president, Kerala Unaided School Teachers' Organisation (KUSTO). "Once elections are due, the authorities make statements saying that the bill will be introduced but that's about it. These remain mere statements." Kerala had by-elections in five Assembly constituencies in October.
'Illegal practices'
Meanwhile, the exploitation continues.
When Glory M, joined a primary school in Varkala, in 2001, she was asked to 'deposit' Rs. 75,000 after her interview to be guaranteed a job. She was also forced to submit her original certificates and sign a two-year bond. Glory, who got into a conflict with the management over a decade later, in 2015, demanded that her 'deposit' be returned but the management refused to acknowledge its existence. The management is also refusing to release her documents. "Signing such bonds is illegal under the bylaws of the CBSE [or, Central Board of Secondary Education] but I had to do it as getting a job was more important at the time," she told Careers360. "Since the incident, they have been refusing to release my original documents. I filed a case in the High Court in 2015 and am still awaiting a decision."
In 2016, Chitra CR, a primary school teacher, was offered a job by a private school at Pallipuram at a salary of Rs. 6000 per month. She was promised a raise the next year. Chitra later discovered that she and a few other teachers had been duped. Their credentials were used to create bank accounts used by the management for illegal transactions. "We found the management had made accounts in our names and had withdrawn money," she recalled. "I took out the account statement and saw that nine cheques of over Rs. 10,000 [each] had been withdrawn from the account. I blocked all the cheques and gave a written complaint saying no one should operate my bank account other than me. The management forced me to resign."
Moreover, who gets paid what is entirely on the whims of the management and even teachers with decades of experience are paid only around Rs. 20,000. Raising their voice against the management is risky. School managements routinely resort to threats to suppress any sort of protests to the point that teachers are even afraid to unionize. "Although we represent these issues through the union, we are also afraid of losing our jobs for protesting. The union members are usually targeted by the management so most are forced to work like slaves without raising our voices" said a primary school teacher on the condition of anonymity.
Similar pay scale
The teachers also accuse the government of taking the management's side in the issue. "The bill was drafted in 2015, over the years they have not even been able to present it in front of the assembly. It clearly shows that they are siding with the management," said Khan.
According to U-DISE, Kerala's private schools had over 12.89 lakh students in 2016-'17. But the government is doing little to ensure the financial security of their teachers. Teachers' unions have been crying out for the introduction of a pay-scale at least similar, if not equal, to that given to government school teachers.
"What we are actually asking is for private teachers to have a pay scale which is still not mentioned in the draft bill. The government looks at it as a wage, the concept of salary does not arise in it," says Khan.
Stay updated with latest Education News