The Week In Education: Class 10 exams cancelled; more teachers lost
The Week In Education: Class 10 exams cancelled; more teachers lost
Coronavirus: The GSEB Class 10 and MPBSE Class 10 were cancelled. Several states announce relief for children who have lost parents to COVID-19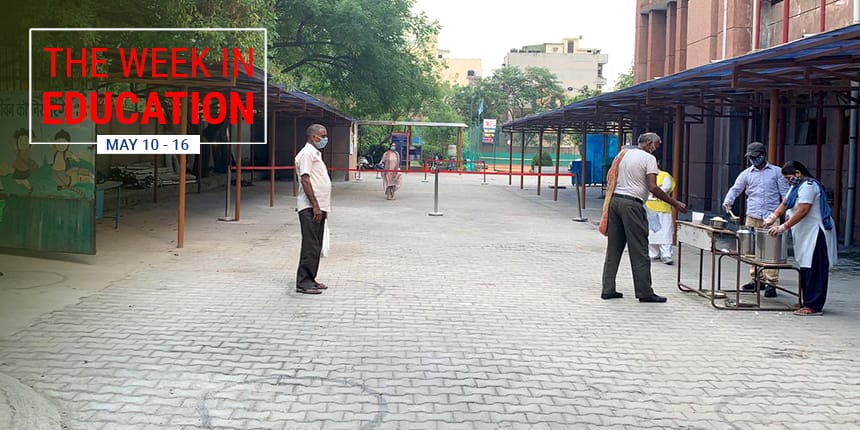 NEW DELHI: Delhi Government schools have been closed since March but many of them are now serving as COVID-19 vaccination centres and spots for distribution of food to workers caught in the lockdown.
The situation is much the same elsewhere -- academic activities, including board exams have been cancelled or postponed and the vacant buildings are being utilised in the fight against the coronavirus pandemic.
Delhi schools and colleges, including Hansraj College, have offered their rooms and hostels to serve as COVID-care centres. The Jamia Teachers' Association of Jamia Millia Islamia University in Delhi has initiated a fundraiser to set up a 50-bed hospital; Aligarh Muslim University (AMU), already a major centre for COVID-19, has sent samples from campus to Delhi for testing after over30 current and retired faculty members passed away in quick succession.
Careers360 has been tracking some of the educators lost to the pandemic in a new series.
Read More | COVID-19 has claimed hundreds of teachers. These are their stories.
These were the most important developments in education this week.
The Gujarat government decided to cancel the Class 10 board exam (GSEB SSC 2021) due to the sharp increase in COVID-19 cases. These students will be granted mass promotion.
Madhya Pradesh has also cancelled the Class 10 MPBSE exam and postponed the Class 12 exam.
The West Bengal Council of Higher Secondary Education said that it is waiting for the state government's decision on holding the Class 12 board examinations scheduled in June, amid a raging second wave of COVID-19. The council had earlier announced that the higher secondary exams would begin on June 15 and continue till July 2.
The Madhya Pradesh Government announced free education and a pension of Rs 5,000 per month to children whose parents died of COVID-19. The chief minister, Shivraj Singh Chouhan, has also promised to provide free ration to such children even if they do not fall in the eligibility criteria.
Following MP, Chhattisgarh announced a similar plan as did Delhi's chief minister, Arvind Kejriwal.
दिल्ली के हालात सुधर रहे है लेकिन कोरोना के ख़िलाफ़ जंग जारी है। इस मुश्किल वक्त में मैं आपके साथ खड़ा हूँ। https://t.co/CwK6HdPkx0

— Arvind Kejriwal (@ArvindKejriwal) May 14, 2021
With dozens of present and retired faculty members across universities in the country losing their fight against COVID-19, the University Grants Commission (UGC) has urged vice chancellors to keep their campuses safe. UGC Chairman, DP Singh in a letter to universities has urged them to follow COVID-appropriate behaviour and encourage the university community to get vaccinated.
The Punjab Government said that it will raise a demand before the Centre for additional funds under the mid-day meal scheme to feed all students at the government and aided schools in the state which have witnessed enhanced enrolment.
Write to us at news@careers360.com.
More From Team Careers360